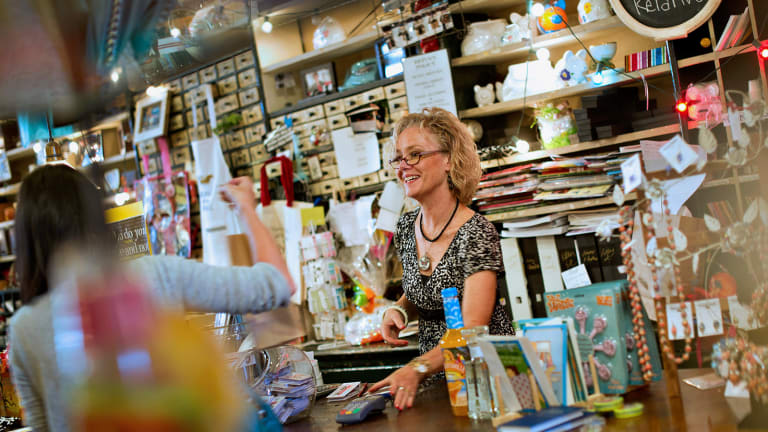 Small Business Owners Choose from Many Financing Options
Startups and emerging companies are choosing to obtain capital through less traditional methods ranging from Kickstarter to alternative lenders for faster access.
When Douglas Baldasare needed financing to expand his company's team and technology last year, he turned to SeedInvest, a New York-based equity crowdfunding platform that connects startups with investors.
Baldasare raised $863,000 within two months for ChargeItSpot, a Philadelphia-based provider of secure cell phone charging stations for retail stores. He stayed away from obtaining traditional venture capital to retain more control of the company.
"We wanted the flexibility and to grow our business at our pace without external pressures from stakeholders," he said.
Startups and emerging companies are choosing to obtain capital through less traditional methods ranging from Kickstarter to alternative lenders for faster access. Competition in the market has risen steeply as crowdfunding has given typical investors access to budding companies while alternative lenders can offer financing within a couple of days, but at higher interest rates and faster repayment terms.
Three MBA students at Babson College in Babson Park, Mass. opted to fund their startup business via Kickstarter this spring to speed up the process in manufacturing Teplo, a smart bottle that brews tea and connects drinkers with their smartphones. Kazunori Kawanobe, Abhinav Sureka and Mayuresh Soni, who are graduating this year, raised over $73,000 from 1,141 investors within 30 days. They are planning to ship out their first round of products in August from Kickstarter and have also launched an Indiegogo campaign.
Newer small business owners are often limited in their options, especially when they are service firms and need immediate access to capital and must settle for paying costlier loans from companies such as OnDeck, Lending Club, Bizfi or SoFi, which are often two to three times as expensive as traditional bank loans given to more established companies.
Since alternative lenders can promise business owners "instant" financing, this is "spurring financial institutions to become more nimble with their own decisions," said Jay DesMarteau, head of small business banking at TD Bank, a Cherry Hill, N.J.-based financial institution. Entrepreneurs should bring their approval letters from these lenders to their local banks to see if they can match or improve the offer.
"More banks are using online applications and credit scoring, but back up this convenience with expertise to analyze an application," he said. "This is like a consumer getting a pre-approval for a car loan and taking it to a dealership to negotiate a better deal."
The interest rates can range from 5% to 35% and higher, depending on where companies obtain the alternative financing, said Jeff Golding, chief growth officer at IRH Capital, a Northbrook, Ill.-based finance company.
"The issue in the industry is there is an abundance of marketing for these lending products, but entrepreneurs need to know what types of loans are available because the rates are often not disclosed and less savvy borrowers will not know," he said.
Why Alternative Lenders Are Popular
The lack of a longer financial history means that many new businesses can not obtain financing from banks, which offer the most competitive interest rates. One Florida owner was seeking financing for his third Florida restaurant, but did not fit a bank's financial profile, said Golding. He turned to an alternative lender and was ready to sign off on a $100,000 loan at 44%, meaning a large amount of his profit would have been allocated towards interest of $12,000 a month over a 12-month period. In the end, he obtained two separate $50,000 loans from IRH Capital, a small business finance company, reducing his payments by $6,000 a month, providing more breathing room for a new business.
Some alternative lenders can provide financing within one day to a week for business owners to expand their business or replace equipment, but require owners to pay back the loan daily for the next six to 24 months, he said.
"They will debit your account on a daily basis," said Golding. "These loans are designed for small businesses that need capital to pay an invoice, payroll or hire someone to do construction or a marketing campaign and have limited cash on hand."
The repayment structure can be quite hefty, even though the daily rate appears to be nominal such as $100. Yet with interest rates rising as high as 35%, business owners can easily get behind on their loans, he said. With about 80% of small businesses failing within the first 18 months, choosing the wrong options or capital structure can play a large part of the equation.
"In the wrong scenario, they can get into trouble," Golding said. "The challenge is that people are good at what they do such as operating a restaurant business, but many of them have very little, if any experience with financing."
Although banks charge an average of 4% to 7% in interest, since they face stricter regulatory requirements, the length of time to complete the underwriting process for a $100,000 or $5 million loan is similar. Banks also require business owners to produce multiple years of financials and collateral for a loan and also examine the average daily balance.
"It takes an extremely long time and a lot of banks won't touch anything under $250,000, because it is not in their wheelhouse," he said.
Finance companies who are brokers can be more flexible with their loan offerings by taking a customized approach giving owners an average of five years to pay back the loans, said Golding.
"A longer term loan lowers the monthly payment for business owners," he said. 
When Baldasare sought a $350,000 loan this year to build his cell phone charging stations, he selected San Francisco-based Fountain Partners, an alternative finance lender, because they were more flexible.
"We needed the capital and the lender didn't put us through an endless maze of paper paperwork," he said. "They approved it within a few weeks."
Small businesses have access to a diverse range of options, including short-term and medium term financing, lines of credit, equipment financing, franchise financing and even invoice financing, said Stephen Sheinbaum, founder of Bizfi, the New York-based alternative finance lender.
"As more small business financiers enter the marketplace and technology becomes more efficient, alternative finance products are becoming less expensive," he said.
A growing number of aggregation platforms offer additional access to a variety of lenders, which means a business owner only needs to fill out one application to receive several offers from an range of companies.
"It is significantly easier to access growth or expansion capital than ever before," Sheinbaum said. "We can approve and fund companies quickly, because we get data from third parties such as credit bureaus, bank statements and fraud verification companies."
The advantage of attaining a loan from a bank is, because they can offer a wide variety of term lengths, especially when they leverage state or federal programs such as the SBA, said Neil Hosty, a senior vice president for business banking at M&T Bank based in Buffalo, N.Y.
"Utilizing SBA backed financing allows the bank to offer term lengths up to ten years for non-real estate loans," he said. "This ability reduces the debt service requirements on the borrower, allowing them to use the excess cash flow to reinvest in their business."
The trade-off of receiving quicker access to funds is facing higher interest rates and unfavorable repayment terms, Gavin Geraci, a business lending portfolio manager for PNC Financial Services, a Pittsburgh, Pa.-based financial institution.
"Although it might take longer on average to get a loan approved through conventional bank channels, there's often good reason for it and it benefits the small business owner in the end," he said.