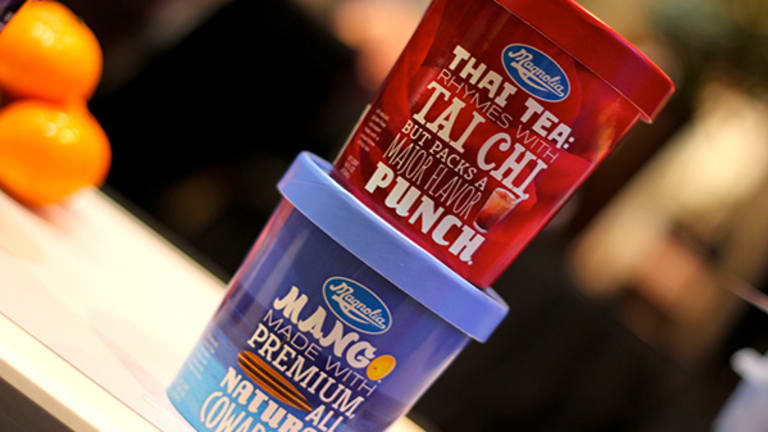 Small Biz Battles Popular Ice Cream Brands With Unusual Flavors
A family business in Pittsburg, Calif., has launched some unique tropical ice cream flavors as an alternative to plain frozen dessert products sold in supermarkets.
NEW YORK (TheStreet) -- In a country where the most popular ice cream flavor is vanilla, it might seem crazy to sell such strange-sounding flavors as purple yam and avocado. Sure, you'll find some unusual flavors in restaurants and ice cream shops every now and then, but few end up in supermarkets next to conventional flavors.
With its Magnolia Ice Cream brand, Ramar Foods, a family-owned business in Pittsburg, Calif., is going head to head with the likes of Unilever's (UL) Breyers, Nestle's (NSRGY) Edy's and Kroger's (KR) Turkey Hill. Some of the flavors to look out for are avocado, purple yam, lychee, Thai tea, guava, mango and young coconut. (Click here to see photos and descriptions of each ice cream.)
Previously confined to Asian and ethnic grocery stores across the U.S. and Canada, Magnolia Ice Cream and milk bars are now available at mainstream supermarkets such as Whole Foods, Fresh & Easy, H-E-B, Kings, Balducci's, Morton Williams, Market District, Giant Eagle and Gourmet Garage.
"We have seen an overwhelming positive response from customers looking for a new ice cream experience," says PJ Quesada, Ramar Foods' vice president of marketing. "Over 90% of American households stock ice cream in their freezer regularly; we are happy to offer an alternative to the ordinary."
Made from California milk and tropical fruits almost exclusively imported from the Philippines, Magnolia Ice Cream hopes to attract shoppers with its colorful packaging and catchy phrases printed on the labels. For example, the label on a pint of avocado ice cream reads, "Tasty in a taco, mind-blowing in an ice cream."
Corn and cheese ice cream, anyone? That's actually a popular flavor among Magnolia's ethnic customers, but for now is only sold at Asian retailers.
"We look forward to introducing more flavors to our mainstream audience, but are taking the introduction to tropical flavors one sandy step at a time," Quesada says.
Check out these unusual ice cream flavors from Magnolia Ice Cream.
Purple Yam
Different from but commonly mistaken for taro, purple yam has a rich purple color. A popular dessert in the South Pacific and a favorite in the Philippines, purple yam is Magnolia's bestselling ice cream flavor to date. Known in Filipino as "ube," it is often accented with young coconut, which is sweeter and has more fruit than common coconuts.
Thai Tea and Mango
Green tea is no longer an uncommon ice cream flavor -- many Asian restaurants serve it and Haagen-Dazs sells it -- but this blend of Thai Tea and sweet cream from Magnolia is still a novelty. It is an interpretation of a popular drink in Thailand known as "cha-yen" or cold tea.
Mango ice cream is also not uncommon, but Magnolia's flavor is distinctly different from others sold in the U.S. This one is made with the rich and very sweet-tasting Philippine mango chunks, and the ice cream's color is a golden shade of yellow.
Avocado and Guava
Although commonly used for salads and dips, the ripe, buttery texture and mild, nut-like flavor of avocado makes a surprisingly delicious ice cream. This flavor is made with North American avocados, but the inspiration comes from the avocado shake, a Filipino tropical treat.
Magnolia's guava ice cream is a light pink ice cream made from the sweet guava fruits, grown on trees in tropical climates.
Lychee and Coconut
The lychee ice cream is delicately sweet, rich and creamy. It is made from purees of lychees, which are tropical fruits covered with a rough, pinkish, leathery rind grown in the South Pacific during the summer.
Coconut is another popular ice cream flavor for the Magnolia brand. It is made with real coconut bits and is available as a milk bar.
Azuki Red Bean and Halo Halo
Azuki Red Bean is a common dessert ingredient in the Pacific Rim. It is also incorporated in the Halo Halo milk bar, which is a tasty mishmash of coconut, jackfruit, azuki beans and purple yam. It is based on a traditional Filipino summer treat, served with milk over shaved ice.
Corn and Cheese
This ice cream is made with sweet corn and cheddar. It is an adaptation of a summer refreshment, "maiz con hielo," where sweet yellow corn is topped with shaved ice, milk and sugar and creamy cheese ice cream.
Disclosure: TheStreet's editorial policy prohibits staff editors and reporters from holding positions in any individual stocks.