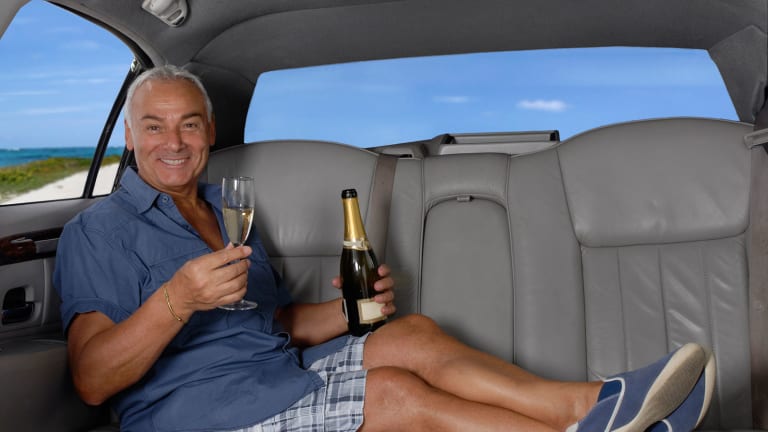 Should You Spend It All or Leave Some for the Kids?
If you're worried about securing your children's financial future but aren't so sure you can pay for retirement, it's time to determine your priorities.
If you're worried about securing your children's financial future but aren't so sure you can pay for retirement, it's time to determine your priorities.
NEW YORK (MainStreet) – You can't take it with you, but you don't have to leave it behind, either.
A report from HSBC finds that working Americans don't necessarily want to leave their earnings to heirs when they die. For 62% of workers, that means financially supporting another family member. For 43% of retirees, that means providing regular financial support to at least one other person — including 10% who are still supporting at least one of their adult children.
But why give it away when you can use it on your own retirement or just spend it on yourself? HSBC found that 23% of working-age people feel it's better to spend all their savings while they're around to enjoy it and let children create their own wealth. Only 9% plan to save as much money as possible to pass on to the next generation.
"Even the smallest amount saved today can contribute to the lifestyle you want in retirement and the legacy you hope to leave," says Andrew Ireland, executive vice president and head of premier banking for HSBC Bank USA. "Those who fail to plan may find that any kind of inheritance is unlikely and also that a comfortable retirement is beyond reach."
As retirees often find out, the choice between a comfortable retirement and a financial gift to the kids is one they end up making on the fly. HSBC found that 59% of working-age Americans expect to leave a financial legacy to their children, but only 31% of grown children report actually getting one.
If you decide not to leave an inheritance for your children, it is important to communicate this fact," says ReKeithen Miller, a certified financial planner with Palisades Hudson Financial Group in Atlanta. "The last thing you would want is your children being blindsided by your decision not to leave them an inheritance. Most people will be surprised by how receptive their children are once the situation is explained to them."
It also prevents them from staking too much of their future on an inheritance that doesn't exist. As the HSBC survey indicates, roughly 26% of those who've received or expect to get an inheritance believe it will fully or partly fund their retirement. Also, there's 49% of the current workforce that firmly believes they're getting some sort of inheritance down the road.
Considering that nearly two-thirds of retirees (59%) have been unable to realize at least one of their hopes and dreams since retiring, there's a strong chance at least some of those potential benefactors may want to keep some more of that fortune for themselves.
A desire to support loved ones during your lifetime is of course understandable, but for many people this comes at a cost to their retirement dreams and to their ability to leave a legacy." HSBC's Ireland says. "At the same time, people are putting their future finances at risk by relying on an inheritance from retired loved ones, as this may not always be forthcoming."
Palisades Hudson's Miller notes that some clients have given their children a portion of their inheritance early just to see how they handle the situation. If those kids can't handle a small amount of money now, the thinking is that they likely won't be able to handle a larger amount later. From a tax standpoint, that approach has certain advantages.
"When you transfer your assets during your life, you have a $14,000 annual federal tax exemption and you have a $5.4 million lifetime gift tax exemption," says James Grimaldi, a certified public accountant and partner at Citrin Cooperman in New York. " Anything over that is subject to tax, so in general it's better to give assets away during your lifetime if you have the option."
That said, it isn't a good fit for everyone. The "living inheritance" is a concern for 25% of retirees who worry about not being able to support family or friends financially. That forced 22% of retirees to "semi-retire" and work part-time before retiring completely. They're still in a better position than the 42% of working-age Americans who are going to have to work part-time when they reach retirement age just to fund full retirement.
Roughly 23% fear becoming reliant on family or friends for financial support. Nobody wants their children to inherit years of care or a mounting financial burden, but Palisades Hudson's Miller says any reason for not leaving an inheritance should be discussed with potential heirs well in advance.
"Choosing whether or not to leave money to your heirs is a very personal choice, but whatever the decision, it should be done for the right reasons," Miller says. "A common explanation I've heard for why people don't want to leave an inheritance is they fear that their children won't learn the proper work ethic or they will feel entitled. This is a valid concern, but I would counter that there are other ways to teach your children the value of a dollar without disinheriting them."
In Grimaldi's view, that can be accomplished by setting up a trust and making a potential heir a co-trustee with a trusted accountant. The heir can prove his or herself financially responsible enough to deserve an inheritance, or they can fall below expectations and have their inheritance left to the trustee's discretion or to someone else entirely.
Heirs can also be left to run a charitable foundation responsible for distributing your assets to the organizations of your or their choosing. They wouldn't get those resources, but they'd make sure those assets found their way into good hands while giving you a 30% deduction against your gross income while you were alive. In Grimaldi's experience, however, high-income benefactors are loath to withhold an inheritance entirely unless there is friction within the family. Even if they don't hand down the bulk of their estate, they'll provide a stable foundation upon which heirs can build their own wealth.
"In accumulating wealth, being successful is a matter of hard work, doing certain things right and also some luck," Grimaldi says. "To think that your child is going to have those same ingredient is speculative."
— Written by Jason Notte in Portland, Ore.
To follow the writer on Twitter, go to http://twitter.com/notteham.
This article is commentary by an independent contributor. At the time of publication, the author held TK positions in the stocks mentioned.