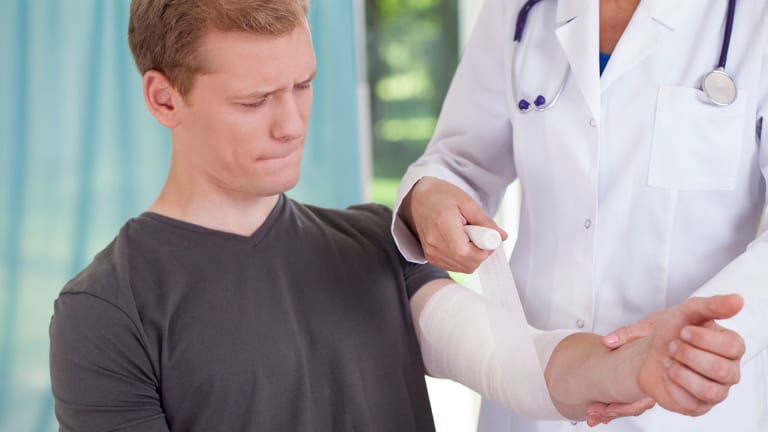 Should You Head to the ER or Urgent Care for Your Minor Ailment?
When you are faced with a minor injury or illness, heading to the an urgent care facility is your best bet and will save you hundreds of dollars.
NEW YORK (MainStreet) — When you are faced with a minor ailment, such as a sprained ankle from a weekend basketball game or a minor cut from attempting to make your first gourmet meal, heading to the an urgent care facility is your best bet and will save you hundreds of dollars.
Unless you are faced with a life-threatening illness such as sudden severe pain, problems breathing or a more serious injury such as a broken bone, going to the ER does not ensure you will receive better treatment. The only guarantee you will receive is waiting for several hours, because more critical patients will receive treatment first.
Depending on your health insurance plan, your co-pay and co-insurance, costs are often even five times as expensive in an ER compared to urgent care facilities, which are cropping up in more neighborhoods. In Springfield, Ill., the average cost for non-emergent care in an ER was $1,563, compared with $277 outside of the ER, said Brian Swierczek, a senior director for Health Care Service Corporation, the Chicago-based operator of Blue Cross Blue Shield in five states, including Illinois and Texas.
When you are ill and go see a doctor, you might expect to make a small co-pay of $15 or $20. Co-pays can come in different sizes, especially if you see a physician out of your network. Expect to pay $50 or more for an ER copay, said Nate Purpura, vice president of consumer affairs at eHealth.com, an online health insurance exchange based in Mountain View, Calif. You could be hit with other additional fees such as the ride to the ER, and some health insurance plans may automatically charge you $100 or $200 for an ambulance ride.

"Ambulances and ER care are expensive, and they should only be reserved for dire situations, not resorted to for convenience," Purpura said. "When it comes to shopping for a health insurance plan, make sure you understand the different kinds of co-pays you may face for different kinds of medical care. In some cases, you may not have any co-payments at all for annual checkups and preventive care."
Of course, consumers haven't adjusted their behavior in light of these exorbitant ER costs. The number of ER visits has doubled since 2008, but 50% of ER claims were for treatments and illnesses which did not require emergency care like slight back pain, minor respiratory infections and light sprains, said Swierczek. Patients need to determine if their ailment really warrants an ER visit or would be treated quicker in an urgent care or retail clinic. In the U.S., $60 billion is spent annually on emergency room care, yet tens of millions of dollars could be saved.
Too many people head to the ER automatically, which drives up costs of healthcare and "ultimately impacts health insurance premiums, affecting the price we all pay for access to quality health care," Swierczek said. "Research shows that many people opt for the ER, because they believe they have nowhere else to go or their medical problem is too serious for other care settings."
Both Millennials, those aged 18 to 34, and Generation X-ers, aged 35 to 44, are more likely to visit the emergency room for non-life threatening situations, while those over the age of 45 are more likely to rely on primary care in non-emergency situations, according to a survey conducted by FAIR Health, a New York-based healthcare and insurance non-profit organization.

Not heading to the ER can save you hundreds of dollars – the average cost of an AFC/Doctors Express urgent care center is $125 to $140. You will still be seen by doctor, receive an exam and x-rays, have appropriate medicine prescribed and "receive quality care at urgent care centers when most doctor's offices are not open in the evenings and weekends," said Glenn Harnett, chief medical officer at American Family Care and AFC/Doctors Express, based in Birmingham, Ala.
Walk-in and urgent clinics are a good alternative during off hours, said John O'Brien, a professor at Clark University Worcester, Mass. Be sure the physician or hospital you want to use is in your insurer's network.
"Health care is an extraordinarily complex industry, and hospital and physician pricing are among the most convoluted components of it," he said. "When you have hundreds of insurers and thousands of health plans and hospitals, it makes price transparency nearly impossible. In a typical city, no two hospitals charge the same for the same procedure."
Americans needs to become "better consumers" by understanding their health coverage, O'Brien said.
"Getting care for a minor ailment in the emergency department can be a timely and costly experience due to high co-pays," he said.
Consumers should be aware of the differences between standalone ERs and urgent cares. Depending on his insurance plan, a consumer should pay his urgent care co-pay at an urgent care clinic and his emergency room co-pay at any ER, even at standalone facilities whether they are affiliated with a hospital or not.
"An all-too-common scenario occurs when people walk in to a standalone ER for simple ailments like strep or the flu and are then charged for the equivalent of a full emergency room visit," said Keith Miller, president of Legacy ER & Urgent Care in Frisco, Texas.

Other Options To Help You Decide
Most insurance carriers have an online member portal where you can search via your laptop or mobile phone to check on coverages and co-pays and even see how close you are to meeting your deductible for the year, said Matt Martin, a web portal manager for SKYGEN USA, a Mequon, Wis.-based benefits administration company. This might be a better option than calling the insurance company because often there are fewer customer service representatives available on evenings or weekends.
"Having that information may also play into whether you go to the emergency department or wait until your primary care doctor's office is open," he said. "A good portal will be mobile-friendly, which means you could check on all of this from your smartphone while you're getting bandaged or applying ice to the injury. It can save you a lot of time and a lot of needless pain as well."
Other insurance companies such as HCSC offer a round-the-clock nurse line where members can connect live with a nurse to share their symptoms and get advice about where they should go to get treatment or which over-the-counter options are available, said Swierczek.