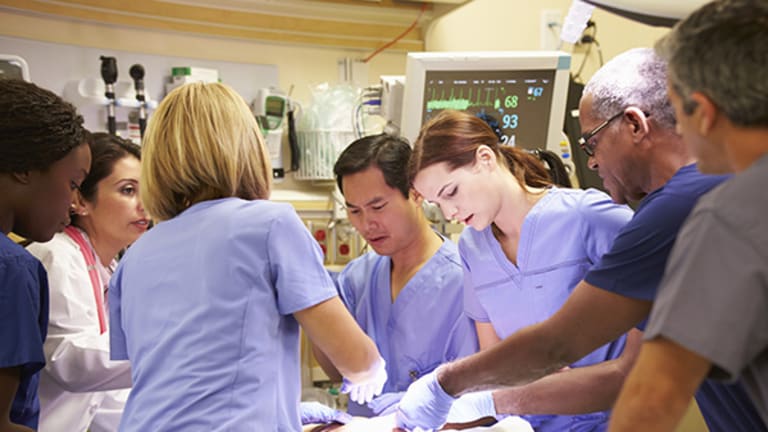 Should You Go to an Urgent Care Center or the Hospital ER With Your Screaming Child?
When making that split-second decision, most parents err on the side of caution and head to the hospital ER, especially when their doctor's office is closed.
NEW YORK (MainStreet) — When making that split-second decision on how to handle a child's serious injury or ailment, most parents err on the side of caution and head to the hospital ER, especially when their doctor's office is closed.
But not Megan Warner, whose 5-year-old son abruptly started complaining and crying about severe ear pain this past Christmas Day. "He rarely complains of medical issues of any sort...so we took him very seriously," says Warner, a clinical psychologist from Guilford, Conn. "We moved very fast, not knowing what was happening, but opted for urgent care since it was during the daytime, on Christmas, and we didn't feel it was serious enough for the emergency room."
It turned out to be a huge ball of wax causing the ear pain.  The urgent care physician was able to remove it and relieve the pain, and the Warners were thrilled at not having to spend hours at the emergency room on a holiday. Other parents, when presented with similar challenges, may do well to follow suit -- especially if they're also interested in protecting their financial best interests.
According to an overview entitled "Children in the Emergency Department" and published by the Agency for Healthcare Research and Quality, most emergency room visits by children are unnecessary. A full 96% of emergency room visits resulted in children being treated and released instead of admitted to the hospital with a true emergency.
The 2010 National Hospital Ambulatory Medical Care Survey showed, in those under age 15, almost none of the recorded ER visits were true level 1 emergency visits requiring immediate assistance (a visit in which the patient should be seen in less than one minute). Only 7.4% were of the Emergent Level 2 variety (a visit in which the patient should be seen in one to 14 minutes). The majority (42.6%) of visits were of the semi-urgent type.
It's matter of saving money
It used to be that at night and on weekends, when doctors' offices were closed, there was no place other than the hospital ER to go with a hurt or sick child. But with the advent of so many alternatives, a visit to the emergency room could be an unnecessary exercise in overspending.
The most recent 2013 release of data for the Medical Expenditure Panel Survey shows the average cost for an ER visit was $1,354 in 2011. But now with more than 9,000 urgent care centers nationwide (and growing at 300 per year) open 24/7, and extended doctor's office and walk-in hours, you may have a less expensive choice in your area. By choosing after-hours care at your doctor's office or an urgent care center in a non-emergency, the cost will likely be comparable to that of a primary care visit. That's just a fraction of that hospital emergency room charge, for both you and the insurance company, according to The Urgent Care Association of America Foundation.
The Warner's Christmas Day ear pain visit only incurred a small co-pay and was mostly covered by insurance.
So, what are your urgent care options?
Many physicians' offices now offer "after hours" care. Dr. Ari Brown, founder of 411 Pediatrics, whose clinic is open seven days a week, offers walk-in, after-hours care and minor emergency care on weekday evenings and weekend days with a pediatrician for any child, not just 411 Pediatrics patients.
Urgent care centers are typically staffed by physicians along with other healthcare professionals operating every day (including holidays) during standard business hours and into the early evening. An urgent care center may or may not treat fractures, provide IV fluids or have X-ray and lab processing onsite, so you always want to ask about services they offer first, advises Brown.
Michelle Katz, licensed practical nurse and author of Healthcare Made Easy (Adams Media, 2014), stresses there are major differences between the urgent care centers.
"Every state has different rules about who must be onsite and who must operate the urgent care facility," she said. "One facility may have a sweet office staff, but you may not see the on-call doctor on-site while another may be staffed daily with on-site physicians and specialists. Some facilities are owned by major hospitals and some are privately-owned. Some may offer only very basic services while others will have x-ray machines, labs and even an on-site pharmacy for dispensing basic medications."
Katz advises visiting each center near you for a tour. Ask about what they offer and what they don't offer as well as whether they accept your insurance or negotiate cash deals. "It pays to make friends with the office manager so they know who you are and you can work with them when you need them in an emergency," says Katz.
Another option is retail-based clinics in malls or stores such as CVS Minute Clinics or the Healthcare Clinic at Walgreens or even those found in a Target or a Walmart. They are staffed every day of the week by nurse practitioners and physician assistants for very minor treatment, as they typically do not offer blood work or X-rays.
If you have a free-standing ER in your area, it likely offers X-ray and blood work on-site, because it is equipped to handle more severe emergencies and then transfer patients for hospital admission if necessary. "With each level of care, parents need to know the cost goes up," explains Brown. Katz advises asking for a price list.
Brown cautions that most retail based clinics, urgent care centers and even free-standing ER's do not have pediatric-trained clinicians, which can be a problem when dealing with very young children. Usually, urgent care practitioners are family practitioners or specialize in general emergency medicine which makes them less confident (and often more conservative in doing more tests) when caring for a younger child.
"Currently, there are only a small percentage of pediatric specific urgent care centers," says Brown, "but if there is one in your area, it pays to go check it out."
When to go to the hospital ER
But is urgent care the right choice for your situation? Nearly three-quarters (71%) of emergency physicians responding to an on-line poll conducted by the American College of Emergency Physicians (ACEP) last holiday season said they treat patients every day who ended up in the ER after first seeking help in urgent care centers that were not equipped to care for them.
"Many people may feel they are saving time or money by going first to urgent care, but in instances of serious illness, that loss of time can be dangerous. Urgent care centers are great options for common medical problems, but they are not substitutes for emergency care,"  said said Michael Gerardi, M.D., president of ACEP, in a press release commenting on the poll results.
When making the choice, ask yourself if your child's condition is life-threatening or disabling. The real issue is the timing of the complaint, says Dr. Mark Reiter, president of the American Academy of Emergency Medicine.
"If the symptoms are sudden, new and severe, the ER is the right place to go," he said. "It may be difficult for parents to tell the difference, but if there's any doubt in your mind, err on the side of caution and go to the ER and let us evaluate the symptoms."
Hospital emergency departments are prepared with special equipment and highly-trained physicians to respond to every kind of childhood emergency 24 hours a day, 365 days a year. And, hospital emergency departments also have a federal mandate to care for patients regardless of their ability to pay while urgent care centers do not.
Call 911 or head to the nearest emergency room if your child's symptoms include:
Choking, trouble breathing, stopped breathing or turning blue
Possible poisoning (also call the nearest Poison Control Center)
Head injury with passing out, throwing up or behaving abnormally
Injury to neck or spine
Severe burn
Seizure, passing out or fainting
Bleeding that can't be stopped or deep wound
Severe allergic reaction with trouble breathing, swelling, hives
High fever with headache and stiff neck
High fever that doesn't improve with medication
Newborn baby (under one month) with fever of 100.4 F or higher
Suddenly hard to wake up, too sleepy or confused
Suddenly unable to speak, see, walk or move
Coughing up or throwing up blood
Possible broken bone, loss of movement, especially if the bone has broken the skin
A body part near an injured bone is numb, tingling, weak, cold or pale
Unusual or bad headache or chest pain
Fast heartbeat that doesn't slow down
Throwing up or loose stools that continue
Any signs of dehydration: Mouth is dry, no tears, no wet diapers in 18 hours, sunken soft spot in the skull
When to go to an urgent care clinic
When your child has a health problem that is not life-threatening or disabling, or you already know the diagnosis, but you are concerned and cannot see your child's doctor soon enough, go to an urgent care clinic or after-hours pediatrician.
In a non-emergency situation, it is always best to see your child's regular provider as he knows your child best and has medical records access to provide the best continuity of medical care, says Brown.
"You can also always contact your pediatrician on-call to ask for advice in the heat of the moment," he says. "Sometimes things that seem like an emergency can be managed at home or at an urgent care center and your child can be seen the next day your pediatrician is open."
An urgent care center can handle all of the following minor emergencies:
Animal or bug bites or stings
Minor injuries such as sprains, strains, cuts, bruises and minor eye injuries
Foreign body in nose or ear
Earache
Low-grade fevers and minor rashes
Flu-like symptoms such as nausea, vomiting, diarrhea that do not fit into the emergent category above
Sore throat
Mild wheezing, cough
Always have any other provider forward records of any visit or treatment to your child's pediatrician.
Plan Ahead
Both Katz and Brown advise having a written plan for the unexpected. Ask your child's pediatrician for advice beforehand on where to go in an emergency if the office is closed. Choose an urgent care facility and note its hours, location, specific services and what's covered by your insurance along with the hospital emergency rooms covered by your insurance in one handy place.
"If your child has any emergency condition or symptoms on the hospital ER list above or you are in doubt, then head for the ER immediately," says Brown.
Also, stick the two symptom lists on the fridge for easy access in an emergency.
--Written by Naomi Mannino for MainStreet