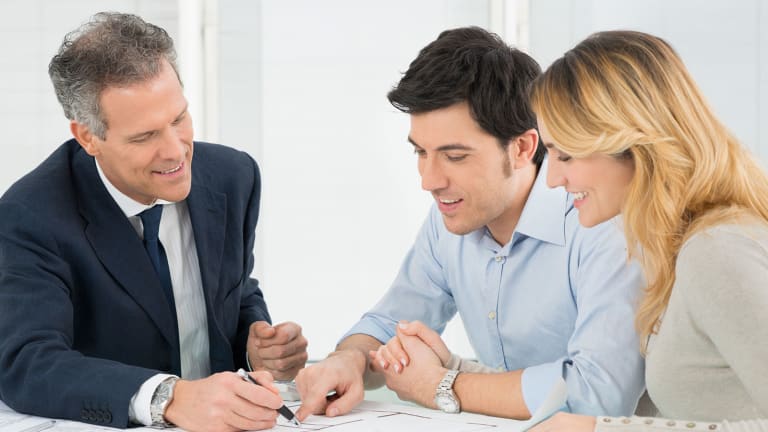 Should You Buddy Up to Your Financial Advisor? Some Say It's Too Big a Risk
Financial industry experts don't want you taking the "friend" route with your broker or advisor - and here's why.
Your Money, Your Retirement, and the 2016 Presidential Election - What changes will you need to make to your portfolio should Hillary R. Clinton become president? What happens to your investments should Donald Trump become president? Join us on September 12 as our panel of the world's top financial experts provide trusted information on the investment risks and opportunities that arise with the upcoming presidential election in November. [Learn more about the event and RSVP.]
Is it O.K. to become "too close" to your financial advisor, the steward and supervisor of all your money matters? Put another way: is it fine to let your personal finance matters get a little personal?
In many cases, no, it's not. Worse, doing so could mean investment losses and higher fees, and double the financial pain of losing financial assets from a trusted friend.
"Building a trusting relationship with a financial professional is important, because you'll be sharing information about your assets and income, and you'll want to feel confident when acting on any advice you receive," says Dennis Notchick, an investment advisor with Safeguard Investment Advisory Group, in Corona, Calif.
But be wary of becoming too close, he says.
"People often become good friends with a broker who's not doing a very good job for them," says Notchick. "Even when they begin to realize they aren't getting their money's worth, they can't bring themselves to break the ties. The personal relationship has come to mean more to them than their bottom line."
Notchick says a couple in their mid-60s met with him recently and said they weren't getting the returns they expected from their current financial planner, who had invested $1 million of their retirement cash in variable annuities.
"Variable annuities can be very expensive," Notchick says. "The fees can be as high as 4% per year. So I pointed out to the couple that they were being charged exorbitant fees and could reduce $30,000 or more in costs."
"The husband was on board and ready to make a change, but the wife was hesitant," he adds. "She didn't want to jeopardize that friendly relationship they had with their broker. They decided to stay where they were, paying over $30,000 in fees each year, just because they want to keep that friendship."
There are definite risks involved in getting too friendly with a financial advisor, or hiring a friend who is a financial advisor.
"It's a good idea for everyone to take a more proactive approach with their own investments," says Vic Patel, a professional trader and founder of Forex Training Group. "But short of that, I would hire a well-qualified independent financial advisor that is not your friend or related to you in any way."
Patel says the dangers involve not always getting the most qualified advice, and not being able to easily hold your friend or financial advisor accountable if the results are less than expected. "It could put a strain on your personal relationship if the time comes to part ways in your professional relationship," he says.
For their part, financial advisors admit they tread cautiously around the idea of having friends as clients.
"I personally don't work with many friends, but I do make myself available to them for advice and try to help whenever they have questions," says Joshua Brein, president of Brein Wealth Management, in Bellevue, Wash. "It's tough to cross the line between business and friendship by working with people close to you from my perspective because people keep money very private from most of their friends."
Then there's the fact that financial professionals hear details about their client's money that no one else hears, on a regular basis. "If you don't feel comfortable discussing these details with a good friend who would be working with your money you could miss out on a very important part of the advisor and customer relationship - honest and open communication," Brein says.
Other money managers say that there are advantages in having friends as clients - for both parties. "I've had a number of friends and family use my services as a trusted financial advisor over the years," notes Timothy Shanahan president of Compass Capital Corporation, in Braintree, Mass. "I don't solicit business from the friends and family category, but I'm happy to help them if they reach out to me knowing what I do for a living."
Shanahan says the biggest benefit in having a friend as a client is the existing level of trust that is already in place before he offers advice or manages their assets. "For family and for some friends, I'll offer a 'friends and family discount' that I don't normally extend to other clients," he says. "The downsides are obvious, though - how will we each feel across the dinner table at Thanksgiving if the markets have corrected and their account values are down?" So far this hasn't been an issue, but it always crosses my mind when undertaking a new friends or family engagement."
Kevin Neal, founder of the client-advocacy firm Moenio, says it's "not in our clients' best interest to have friends as financial advisors."
"We feel it's harder for a client to hold their advisors accountable when things go wrong," Neal notes. "As an example, we have a client who was unhappy with performance, but it took them over two years to end the relationship because of their friendship."
From an advisor's standpoint, Neal doesn't like it because getting too friendly becomes more challenging to tell a client "no." "We've found clients who spend too much relative to their assets and goals, but the advisor is left in a difficult position to say something when they have a friendship," he adds.
If you're an investor or retirement saver working with a friend who acts as your financial advisor, make sure to discuss key issues like fees, financial goals and your expectations about working together first, Brein advises. "I always say that agreements and clarification of expected outcomes are best addressed up front," he explains. "That's the best way to avoid putting unnecessary tension on your relationships, especially if it has to do with money."
Notchick advises clients to make sure their advisor is a fiduciary, meaning that he has the client's best interests in mind. "The fiduciary standard says that the financial professional must always act in a client's best interest," he says. "Many advisors, at least right now, are held to a lesser standard. Their advice only needs to be generally suitable for the client, which allows these professionals to steer clients to investment products that are more profitable for the advisor."
But beginning in January 2018, a new U.S. Department of Labor rule will be in full effect and require that all financial professionals meet the fiduciary standard when providing retirement advice, Notchik notes. "Some brokers call themselves fiduciaries - but how can you tell which hat they are wearing when giving you that advice?" he adds.
With your money at stake, doing some due diligence on your advisor, friend or not, is always a good idea.
"Certainly, it's important to have an advisor you can trust, but you still want to keep the relationship professional," Notchick adds. "When that relationship becomes more like a friendship, high fees almost always mean the investor will pay the price."