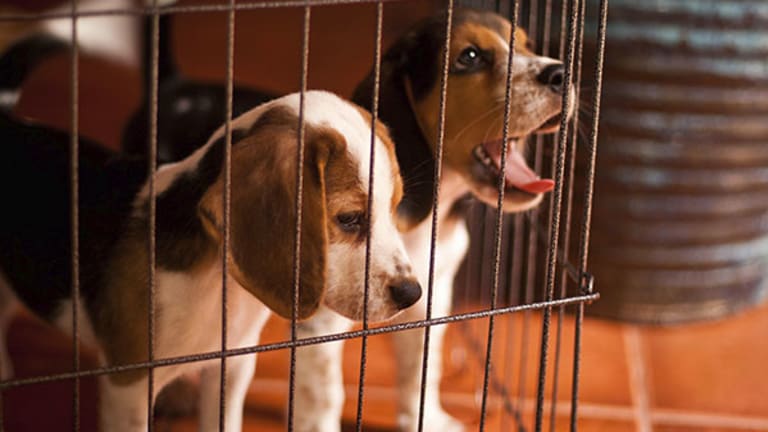 Should You Board Your Pet or Hire a Sitter?
Taking a vacation without your pet? Here's where to leave them without guilt.
NEW YORK (TheStreet) -- With spring and summer vacations on the horizon, where to leave pets while you're away can be an expensive and time-consuming concern. Not everyone has the ability to leave their pet with a trusted neighbor or family member, and with most other options ranging in price from $30 to $125 per night, making the "right" choice can seem difficult. We checked with experts who weigh in on the best options for your cat or dog while you're traveling.
Boarding your pets at a kennel or dog "hotel."
Cost: $50 to $125 per day, per dog
"If you want to travel, there is always a solution, but it's going to have a cost associated with it," says Aimee Gilbreath, executive director of Found Animals, a nonprofit that works to reduce the use of euthanasia on shelter animals.
For many pet parents, boarding is the default option, but also the most expensive.
"Boarding is the most costly, depending on the services you get," Gilbreath says. "Some people like the fact that they can board their pet and their pet can get groomed and enjoy playtime with other dogs while they're there."
Ask yourself: What is your pet comfortable with? Some pets need that 24/7 attention, and there will be someone on site all day and all night at a kennel, she says.
If you're considering boarding your dog, Jason Michal, vice president of pet services and hospitality for Pooch Hotel, says pet owners are often surprised by how much their dogs thrive in a communal environment.
"We find lots of dog owners who say that their dog isn't good around other dogs, but the truth is that their dog just hasn't been given that opportunity to be really social, and many dogs love that interaction."
The price per night at Pooch Hotel ranges from $50 to $125 a night depending on the market and services selected. For example, dogs that stay in a "palace suite" at Pooch Hotel's Hollywood location can enjoy a flat-panel TV, complimentary turn-down service on special bedding and an optional treadmill run or rubdown every day.
Also see: How to Handle Pets at the Office>>
Those perks are nice, but the most important concern for pet owners should be what type of human contact your pet needs, says Aaron Easterly, CEO of Rover, a service that connects dog owners with dog sitters nationwide.
"You really need to decide what kind of human-to-dog ratio your dog needs. A high-volume kennel may only have one human for every 20 or 30 dogs. But dog spas or dog hotels may have one staff member for every three to five dogs," Easterly says.
Have a sitter who comes in to your home.
Cost: $30 to $50 per day, per dog
If your dog needs to be in a familiar environment, this may be the best option, Easterly says.
"Some dogs, when you take them out of their home and their neighborhood, they take on a lot of anxiety and stress," he says. "Similarly, if your dog can't be around other animals or has special medical needs, they shouldn't be in a kennel."
With that said, some dogs don't need to be left alone for long periods, and most sitters who come into your home stop by only two or three times per day for a 30-minute visit and walk.
"Usually cats are fine in that kind of situation because they don't need much attention, but if you have a dog that's used to having people at home all day, then that might feel isolating for them," Gilbreath says.
This option may be best for families with multiple pets, Easterly says. If you have three dogs and a cat, boarding them at a kennel or pet hotel would be prohibitively expensive, and during the day they'll be able to keep each other company.
Also see: 5 Relaxation Options for Airport Travelers>>
"I have a friend who has two large dogs and when they travel, they spend $270 a night to take their dogs to a nice boarding facility, and over the course of a weeklong vacation, that becomes $1,500 or $2,000. For most families, that becomes quickly out of the realm of possibility," he says.
If you do have a sitter come in to your home, it might be a good idea to have your pet "meet" the person first before you leave town. You'll want to make sure that your pet doesn't dash out an open door or gate when they see the sitter -- a stranger -- come in, says Liz Palika, certified dog trainer and animal behavior consultant and author of Idiot's Guides: Dog Training.
"A professional and certified bonded pet sitter who comes to your house is great as long as your dog can get outside to relieve himself, has a very secure yard, won't bark out of loneliness, is OK being alone, won't dash out an open door or gate when the pet sitter comes in and is not destructive in the house," she says.
Have your pet stay at a pet sitter's home.
Cost: $30 to $50 per day, per dog
If your dog is social with other dogs and doesn't mind a change of scenery while you're away, think about hiring a pet sitter who will take your dog into his or her home.
"If you can find a professional, certified and bonded pet sitter, this would actually be my first choice," Palika says.
At Rover, the average nationwide cost for having someone look after your pet in their home is $32 a night.
"In this situation, it goes without saying that your dog will get walked and they'll get daily interaction with people and with other dogs if your sitter has pets, too," Easterly says. "Plus, in this situation, no one is going to charge extra for giving your dog the food you want them to have or for giving them the medicine they need. Part of a sitter's job is to follow the specific care instructions of the owner."
When your dog stays at a sitter's home, you also have the assurance of knowing exactly what the human-to-dog ratio will be on a daily basis. Also, many sitters offer multi-dog discounts.
"It's not uncommon to see sitters charge $30 a night for one dog, but then they'll only charge $45 or $50 a night for two dogs," Easterly says.