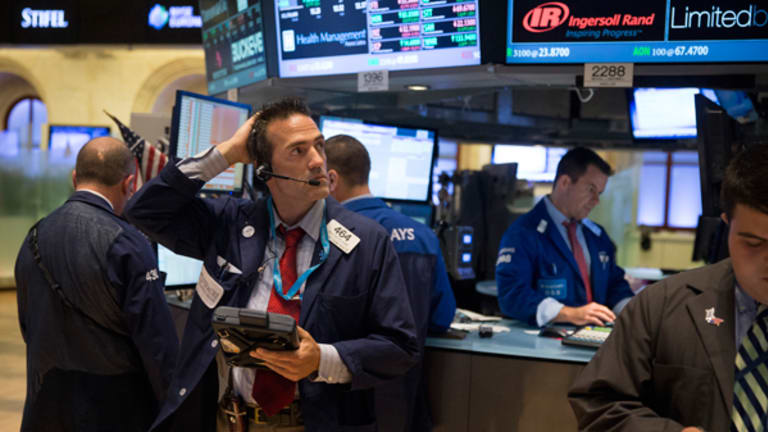 Should You Be Spooked to Buy Stocks in September and October?
The bears often appear in September since it is the worst performing month on average for equities, but investors need to shy away from tweaking their long-term strategy.
The bears often appear in September since it is the worst performing month on average for equities, but investors need to shy away from tweaking their long-term strategy.
NEW YORK (MainStreet) — The bears often appear in September since it is the worst performing month on average for equities, but investors need to shy away from tweaking their long-term strategy.
September and October are known for their huge losses in the market. September is the worst performing month on average and is the only month with a median monthly loss starting back in 1950. September is also the only month in which there were more negative years than positive: 53% of Septembers since 1950 have been negative while only 47% have been positive. The S&P 500 is down 0.33% since the beginning of the month, as of end of day trading on Wednesday. 
Compare Today's Low Mortgage Rates
.The "big ones" are the losses that investors fret over. September had the third worst single month of the entire period with a loss of 11.39% in 2002 and losses of more than 9% in 1974 and 2008.
October is a close second to September when it comes to dramatic declines. The October 1987 crash slashed off 21.76% of the value of the S&P 500 while the Great Crash of 1929 also took place in October.
While statistically significant based on sample size, the averages for September and October are merely just averages, said Charles Sizemore, a portfolio manager on the online investing marketplace Covestor, which has offices in Boston and London.
"Using the past as a guide, we're slightly more likely to see losses in September, but only slightly," he said.
What investors need to realize is that the risk is not big enough to justify making major portfolio moves, especially if you have no plan to retire anytime soon.
"The best option for long-term investors may simply be to sit on their hand and watch the leaves change," Sizemore said.
A bear market is unlikely to occur, but equities should rise a total of 10% to 15% with modest corrections of about 5% in 2014, said John Hillis, president of Hillis Financial Services, a wealth management firm in San Jose.
"While ongoing volatility with pullbacks of 5% may happen, a bear market is very unlikely in 2014," he said.
Individual investors who are in a continuous quest to identify patterns in the stock markets that will lead to better investment performance, instead wind up mistaking correlations associated with other variables with causality, said Robert Johnson, incoming president and CEO of The American College of Financial Services in Omaha.
Since 1950, the average monthly return on the S&P 500 has been -0.24% in September and 1.03% in October.
"While September has historically been a negative month for stocks, the magnitude of the negative return is really negligible," he said. "The returns in September have actually been positive in more years than they have been negative – 33 positive months since 1950 and 31 negative months."
Since 1950, the average monthly return on the S&P 500 in October has been a "robust" 1.03%, which includes the negative 21.54% return in October of 1987 and -16.79% return in October during the height of the financial crisis in 2008, Johnson said.
Contrary to popular belief, October is actually one of the best performing months, he said. October has also been consistently a positive month. Since 1950, the S&P 500 has risen 41 times in October and has only fallen 23 times.
"October is a completely different story and an example of how investment lore and extreme observations change the narrative," he said. "Short-term trading based on calendar anomalies can be hazardous to your wealth."
Even though the data shows that October is actually a very good month for stocks, investors believe it is a bad month because they focus on specific biases.
"Too often what investors do is first reach a conclusion and then gather facts to support the conclusion they have already made," Johnson said. "Individual investors would be well-served to ignore the calendar when making investment decisions. Looking for patterns in the market is interesting, but if they aren't related to underlying economic variables, I believe they are simply curiosities."
Good investment advisors advise their clients to invest their portfolio according to their goals, said Brad Bernstein, senior vice president of wealth management with UBS Wealth Management in New York.
"It is impossible to try and time the market or predict its direction," he said. "We do not make moves with our client's portfolios based on short term guesses."
When examining the actual data of the performance of September and October, Bernstein said it gives him more reasons to not make changes to his client's portfolios. Since 1950, the market has been down on average 0.64% in September while over the past ten years the market has been up eight out of ten years with an average return of 0.72%. Since 1950, the market has averaged a positive 0.66% in October while over the last ten years the market has been 0%.
"In other words, September has been the second best month over the last 10 years for investing and October has been flat," Bernstein said. "There is no reason to get out of stocks."
Investors should determine their risk tolerance and those that can not handle more than a 10% drop in their portfolio need to build their portfolio so it limits that possibility, said Robert Stammers, director of investor education at CFA Institute, a New York-based association of investment professionals.
"If September comes and your portfolio is set so that it's not going to be affected that much by a big swing in equities, then you're really O.K.," he said. "Some credit tax-loss harvesting is the culprit, while others believe that sharp drop-off in the amount of daylight in New York in September might trigger seasonal affective disorder and make some traders more risk-averse."
The greater diversification among securities and asset classes results in less of an impact of anomalies like the September effect, Stammers said.
Save on Auto Insurance! Compare Free Quotes
Investors need to refrain from following the so-called "rules of thumb" that drive investor sentiment from the "sell in May and go away" to the "September swoon," said Jerry Braakman, chief investment officer at First American Trust Co., based in Santa Ana, Calif. The "rules" are often based on historical statistics that corroborate the story.
"If folks had followed the sell in May method this year, they would have missed out on the strong recent rally with the S&P 500 breaking over 2,000," he said. "A more rational approach is to evaluate equity or bond market exposures on both macro-economic results and valuation. With the continued muted recovery of our economy, the economic improvement trend is intact and if we experience a September swoon this year, we would find that an opportunity to invest further."
--Written by Ellen Chang for MainStreet