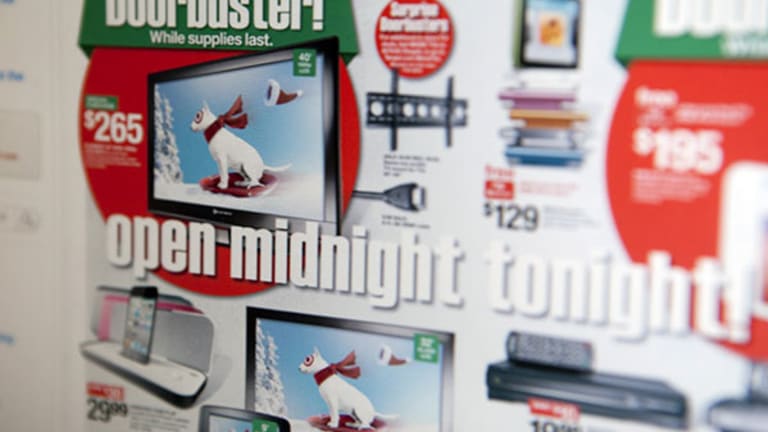 Shopping on Black Friday vs. Cyber Monday: Which Day Has the Hotter Deals?
We'll tell you the best products to buy on Black Friday, and which items you should hold off on until Cyber Monday.
Ready or not, the holiday shopping season is about to kick into high gear. Black Friday and Cyber Monday are just around the corner, offering you the chance to score some of the best deals of the year on everything from toys and clothes to smartphones and laptops. If you're wondering which day offers deeper discounts, the answer depends on what you're shopping for: while some types of products are typically better to buy on Black Friday, other items will come at an even lower price on Cyber Monday.
To help you save big on gifts for your family and friends, we've taken a look at eight different product categories and determined whether Black Friday or Cyber Monday is the "winner" for each category. Read on for the rundown.
Category: Electronics
Winner: Black Friday
If you're looking for great deals on TVs, tablets, laptops, smartphones and other electronics, it's best to shop on Black Friday.
"Electronics are a huge draw for holiday shoppers, so it makes sense deals on these items come first," says Kendal Perez, savings expert for CouponSherpa.com. "While you'll still see sales on these items come Cyber Monday, doorbuster pricing during Black Friday on these popular items is tough to beat."
Best Buy will offer two rounds of Black Friday doorbusters, each allowing you to take advantage of impressive electronics deals. The first round will begin at 5 p.m. on Thanksgiving; highlights will include a Toshiba 49-inch LED 1080p HDTV for $149.99 and discounts of up to $125 off the iPad Air 2. Best Buy's second round of doorbuster deals will begin at 8 a.m. on Black Friday and discounts will include $120 off the 11.6-inch MacBook Air.
Target will also offer attractive deals on electronics on Black Friday, including a Nikon CoolPix L340 digital camera for $99.99 (regularly $229.99), a 55-inch Westinghouse LED TV for $249.99 (regularly $599.99), and a free $100 Target gift card with the purchase of any Apple Watch. Target will begin offering its Black Friday deals online on Thanksgiving morning, or in-store at 6 p.m. on Thanksgiving evening.


Category: Clothing/Shoes
Winner: Cyber Monday
When it comes to saving on shoes and clothes, Cyber Monday is king.
"Since many stores offer free shipping on Cyber Monday, products that don't cost much to deliver represent the best deals, including apparel and shoes," says Perez.
Whether you're looking to buy gifts for your loved ones or spruce up your own winter wardrobe, you'll likely be wowed by the deep discounts on Cyber Monday. "Last year, some sites offered as much as 60% off site-wide," says Jeanette Pavini, savings expert for Coupons.com.
JCPenney's Cyber Monday sale, which is actually a two-day event that will take place in-store and online on November 29 and 30, will include such deals as 25% off Nike shoes and apparel, men's Dockers signature pants for $31.99, and $6.39 boy's and girl's Arizona fleece tops or sleep separates. (JCPenney is also offering an extra 30% off online purchases of $100 or more with the code GR8DEAL and free shipping on orders of $49 or more.)
Meanwhile, Target will be offering online shoppers 30% off apparel, shoes and accessories for women, men and kids throughout "Cyber Week," and guests who shop on Cyber Monday on November 30 can get an additional 15% discount by using the promo code CYBER15.
As a general rule for shopping online on Cyber Monday, it's a good idea to first check websites that offer coupons and cash back before you complete your purchase.
"You might be able to add a percent-off coupon or free shipping on top of a great deal, and still get cash back on your purchase," says Jon Lal, founder and CEO of BeFrugal.com.


Category: Hotels/Travel
Winner: Cyber Monday
"The majority of travel is booked online, so it makes sense that the best deals will be offered on Cyber Monday," says Pavini. "In addition to hotel discounts, look for savings on things like lift tickets and spa packages."
If you don't already have the Expedia app, you might want to consider downloading it soon. On Cyber Monday, Expedia is allowing only its app users to get 90% off select hotels in top destinations, with four new hotels being offered every hour from 9 a.m. to 3 p.m.
The British Virgin Islands Tourist Board is also offering some pretty sweet deals on Cyber Monday, including free upgrades at beautiful Virgin Island resorts and discounted sailing charters. Go to bvitourism.com/cyber-Monday to view the offers.

Category: Toys/Games
Winner: Cyber Monday
If you're looking to buy toys for the kids in your life this holiday season, you'll score better discounts on Cyber Monday.
"You'll find the best deals from major retailers like Sears, Kmart, Kohl's and Target," says Howard Schaffer, vice president of marketing for Offers.com. For instance, Target.com will offer "e-doorbusters" on Cyber Monday, such as the Cra-Z-Art Ultimate 4 in 1 Easel for $45 (regularly $98.99) and the Swagway x1 Hands-Free Smart Hoverboard for $399 (regularly $499).
Pavini says you should also keep your eye out for deals on big-ticket game items like basketball hoops, trampolines, billiard tables and air hockey tables.


Category: Countertop Kitchen Appliances
Winner: Black Friday
It's better to purchase countertop kitchen appliances on Black Friday than Cyber Monday.
"Many retailers use these as loss leaders, offering prices on coffee makers, blenders, toasters and hand mixers for $10 or less to get shoppers through the door," says consumer and money-saving expert Andrea Woroch. "Retailers then entice shoppers to buy the more expensive items they display, so they don't mind losing money on those smaller kitchen appliances."
Head to Kohl's, which opens at 6 p.m. on Thanksgiving, for great Black Friday deals on countertop kitchen appliances. For instance, the Black & Decker 12-cup coffee maker, the Bella rotating waffle maker and the Crock-Pot four-quart slow cooker will each cost $7.99 (after a $12 mail-in rebate).


Category: Tool Sets
Winner: Black Friday
"When we think of Black Friday, we think of sales at electronics and big-box stores, but home improvement stores are actually having some great promotions," says Pavini. "The best deals are going to be on items that make good gifts, like drill sets, tool chests and power tools."
Pavini adds that in addition to low sale prices, look for gifts with purchase on tool sets.


Category: Large Appliances
Winner: Black Friday
"Last year's Black Friday sales saw discounts of up to 40% on large appliances like washing machines and refrigerators," says Pavini, who advises to look for perks like free delivery and haul-away.
This year, consider heading to Sears in-store or online for awesome doorbusters on large appliances available until 1 p.m. on Black Friday, such as the Kenmore 4.2-cubic-foot front-load washer and the Kenmore 7.3-cubic-foot electric dryer with sensor dry for $449.99 each or $799.98 for both (regularly priced at $939.99 each), and the Kenmore 27.6-cubic-foot, stainless-steel French door refrigerator for $949 (regularly priced at $1,999.99).


Category: Photo Gifts
Winner: Cyber Monday
If you need to buy holiday photo cards, photo calendars and picture mugs, it's best to order these items on Cyber Monday.
"Look for savings of around 50% on all your photo needs," says Pavini.