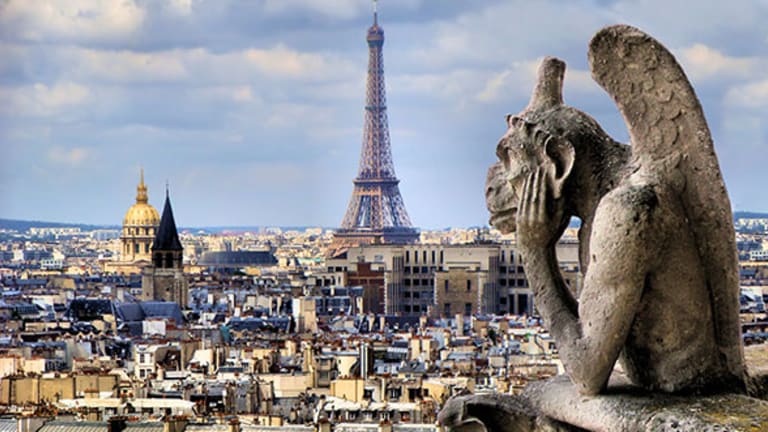 Shopping Around for a Place to Live Overseas Can Be a Serious Headache
More Americans are living abroad than ever. Here's how two found a place to live.
According to the Bureau of Labor Statistics, approximately 5% of the American workforce is currently self-employed. Perhaps this -- and the burdens of being on the hook for American taxes -- is a driver behind the fact that Americans renouncing their citizenship is at an all-time high. After all, if you can live and work from just about anywhere, as many people in the gig economy can, why stay in one of the least tax-advantaged nations in the world? Still, moving abroad is a major undertaking. Even finding an apartment can be difficult.
Difficult, but not impossible. MainStreet spoke to two different real estate experts. More than just knowing their way around markets, they've both moved across an ocean and had to start from scratch. So how do you go about getting one of the most basic human needs -- shelter -- in a country you might not have even set foot in before?
The Earlier You Start, the Better
Violaine Galland, a licensed real estate salesperson at the New York City office of William Raveis, arrived in New York City 25 years ago and currently owns 18 investment properties in Paris's Latin Quarter. She was 20 when she came over and crashed on a friend's sofa -- which taught her a vital lesson. Start the hunt sooner rather than later. "You can do a lot of research online and get a good sense of the market," she says.
Despite the fact that research can be done more easily online these days, there's still no substitute for pounding the pavement in a neighborhood. Once she landed in New York, she says, "I started walking the neighborhoods and got another place through an agency." So once you get a general sense of where you want to live abroad, Galland says that it's crucial to walk the streets. "Get a sense of what it's like to physically be in that neighborhood," she says. Not only will you get that better sense of the area, you'll also find deals that might not be advertised online or even in the local paper.
Galland goes so far as to suggest that you stay in the neighborhood for a week at an Airbnb or similar. "Live there short term, so you can get a sense of the neighborhood," Galland says.
Find a Real Estate Agency
One way to shortcut all the problems associated with moving across an ocean is to hire a real estate agency. "Locate a real estate agency right in that neighborhood," Galland said. "Start calling the ones around there." They can help you to cut through red tape and hoops you might not be able to -- or might not want to -- on your own. What's more, some people will only list their properties through an agency.

Connect With the Expat Community
Just like finding an apartment is easier than ever before, so is connecting with the expatriate community in any given city. They can help you to get a sense of where you want to live, especially if you plan on staying connected to that community. Garland recalls a friend whose husband was working with the United Nations as an architect and needed a place in Geneva. "They're not looking at the heart of the city, but her goal isn't to get herself in with the locals," Galland said. "She wants to be around other expats."
Even if your goal isn't just to hang out with other expats abroad, you can use expat resources to help you find a place. They might know something about local tastes or requirements you can't possibly learn from the Internet. And hey, you'll probably want a little taste of home from time to time. An international move is a big deal, so meet some Americans to help you ease into your new life, whether that's finding an apartment or just the right restaurants in town.
Learn Local Banking Laws and Customs
Fabrice Muratore is also with William Raveis and also executed an international move: he went from Paris to Seattle. He also moved from Seattle to New York, something he thinks was nearly as complicated and difficult as a move across an ocean. "When you grow up in a country you learn things over years," he says. "You're used to a certain world. You apply for Social Security numbers and driver's licenses because that's just what people do. They you move and you have to do all that in a week."
One big problem people moving can run into has to do with banking. "Your bank won't exist wherever you're living," says Muratore. He suggests that you have a representative help you to set all of that up when you move abroad. "If you don't have someone helping you, you're not going to have any clue," he adds. This is another area where the expat community can come in handy. You don't so much need a high-powered financial attorney as you need to know the basics -- things that people in your country take for granted but might be strange or unusual to you.

Bring Documentation With You
Similar to the problem with banking, Muratore points out another similar issue with moving abroad: background checks. Put simply, you don't have an official background -- not one that renters are going to recognize anyway. "It's frustrating because you just moved there and you're normal people," Muratore says. Still, some countries, such as his native French, don't run background checks -- they're against the law. In lieu of that, landloards and management companies want three months of pay stubs and a previous address. "They want to check everything," he says.
Still, there are ways for you to bring documentation of your own. You can get credit reports from all three major credit bureaus. You can bring your own background checks. And a letter from an employer goes a long way. When Muratore and his wife first moved to Seattle, they had a letter from Microsoft about her work and her income. "That was better than cash," he says.