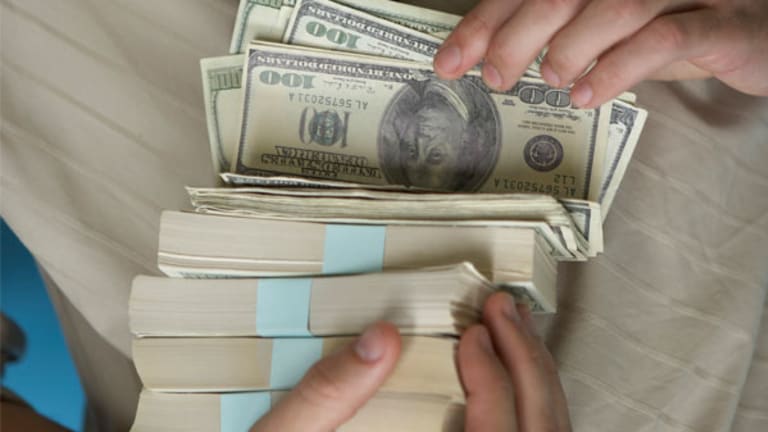 Shoppers Get Gift of CARD Act Provisions
The legislation gets a holiday test, extending effective dates, limiting fees and offering replacements.
By Bill Hardekopf for LowCards.com.
Gift cards will be a hot holiday gift item once again this year. A
survey shows that almost 57% of adults want a gift card, ahead of clothing, books, entertainment and electronics.
The CARD Act gift card provisions that went into effect in August should make gift cards even more appealing this upcoming holiday season.
The rules apply to "closed-loop" gift cards -- cards from specific retail stores, merchants and restaurants -- and "open-loop" versions that include offerings from
MasterCard
(MA) - Get Report
,
American Express
(AXP) - Get Report
or
Visa
(V) - Get Report
.
Here are some of the legislative changes affecting gift cards:
Limits on expiration dates. The money on your gift card will be good for at least five years from the date the card is bought. Money added or loaded on to the card must also be good for at least five years.
Replacement cards. If your gift card expires and there is unspent money, you can request a replacement card at no charge.
Fees. The law bans dormancy, inactivity and service fees on gift cards unless there has not been any activity for 12 months and the issuer clearly discloses all fees on the packaging. In those cases, consumers can only be charged one fee per month. Check the gift cards you got during the holidays last year -- if you got a card last December, you could soon start paying a dormancy fee.
In July, Congress passed legislation to extend the effective date for on-the-card disclosures until Jan. 31 for cards issued before April 1. After that date, all gift cards must be compliant.
Consumer tips for buying gift cards:
Buy a card only from a merchant you trust.
Make sure the store is in a good financial position.
Read the card's fine print to determine all the fees associated with the card.
Consumer tips for using gift cards:
If you get a gift card, use it as soon as possible. Don't put it aside and out of sight. Use it before you lose it or forget about it.
Check the terms and conditions of the card you get to see if there are any fees associated with the card.
Gift cards from major credit card networks can be used at any retailer that accepts their credit and debit cards.
Keep your budget in mind, even when spending the gift card. A Consumer Reports poll shows that two-thirds of consumers spent more than the card's value.
If the gift card is from a credit card network, write down its number. If it is lost or stolen, the card can be canceled and a replacement issued. Replacement fees range from $5.95 to $12. Most store cards can't be replaced if they are lost or stolen. They are treated as cash.
Keep the card, even after the balance is depleted, until you are sure you won't be returning any of the items bought with it. The retailer may require the card with the return.
If there is a problem with the card, contact the store or financial institution that issued the card. If that doesn't resolve the issue, contact the Federal Trade Commission at 877-FTC-HELP.
>To submit a news tip, email:
.
RELATED STORIES:
>>Employer Use of Credit Reports Under Fire
>>Credit Card Suit's Effect Unclear for Consumers
>>Credit Cards Alone in Offering Consumer Help
Follow TheStreet.com on
and become a fan on
Bill Hardekopf is chief executive of
, which compares and rates more than 1,000 credit cards. He is the co-author of "The Credit Card Guidebook."