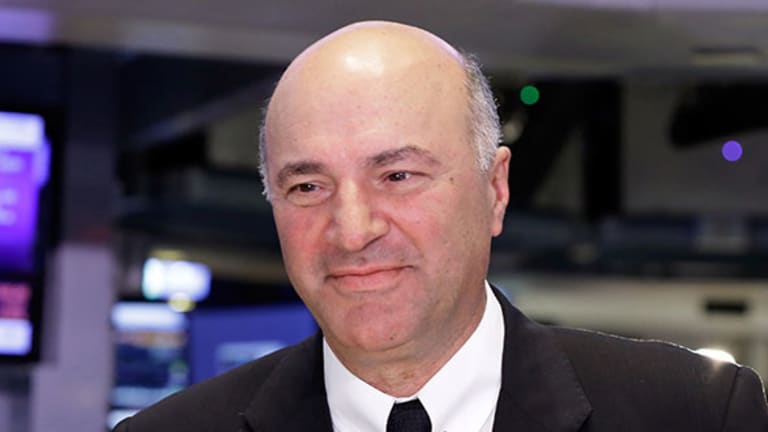 Shark Tank's Kevin O'Leary Launches High-Yield, Low-Volatility ETF Line
O'Leary partnered with Connor O'Brien to form O'Shares, a line of five exchange traded funds, or ETFs,
NEW YORK (MainStreet) — Kevin O'Leary isn't one to keep his fortune shoved under a mattress. When he's not busy investing in entrepreneurs on the set of ABC's "Shark Tank," Mr. Wonderful is looking for ways to put his money to work in the stock market. O'Leary's investment philosophy, passed down from his mother, is simple: "In cash I trust. If [an investment] doesn't generate cash I'm not interested."
In keeping with this risk-averse strategy, O'Leary partnered with Connor O'Brien to form O'Shares, a line of five exchange traded funds, or ETFs, the first of which began trading today on the NYSE Arca as O'Shares FTSE US Quality Dividend ETF (OUSA) - Get OShares U.S. Quality Dividend ETF Report. The investment ensemble aims to give investors cost-efficient access to a diverse portfolio of low-volatility, high-yield stocks. "When I was young [my mother] said to me, 'Never buy a stock that doesn't pay a dividend,'" O'Leary said. "And she killed it. She was right. She wasn't a portfolio manager, she was just really smart." O'Leary and O'Brien also co-founded O'Leary Funds, an investment fund manager focused on income, capital appreciation and wealth preservation that has grown to approximately $900 million in assets under management.
"The first fund, ticker OUSA, is designed to be the core equity portion and income generating equity portion of a portfolio for anyone who is a conservative long-term investor who wants more income and less risk," said O'Brien, CEO of O'Shares. OUSA will track the performance of the FTSE US Qual / Vol / Yield Factor 5% Capped Index (FUSYQVCF). The 140 stocks in the index are selected from the FTSE USA Index and have an average weighted market capitalization of $56 billion and a minimum market capitalization of over $750 Million. The stocks are diversified across ten industry sectors, with the three largest sectors being consumer goods, health care and technology, and the three smallest being materials, financials and utilities.
"Anytime we talk about dividend-oriented equity ETFs, we're talking about this sort of hybrid space that exists between active and passive, what others call smart beta and what we call strategic beta," said Ben Johnson, director of global ETF research at Morningstar.
Johnson divides dividend-oriented ETFs into two camps: yielders and growers. "Growers tend to look for growth and sustainability," he said. "They look for a track record of steady and oftentimes rising dividends, whereas yielders tend to just focus on yield."

Drawing from recent Morningstar research, Johnson stated that as of June 30, the average dividend yield of stocks in the yielders group is 4.13%, and the average yield for growers is 2.83%. Seeking to reduce exposure to high dividend equities through quality and low volatility requirements, OUSA falls into the grower camp. The average dividend for OUSA is 3.2% as of June 30.
Funds that prioritize yield over quality can be risky. "The average investor is tempted by the yield," Johnson added. "What they fail to recognize is that it might be a bumpier ride and those dividends are not sustainable."
"Investing for yield in stocks or bonds without considering total return will hurt your bottom line," said Erika Safran, principal of Safran Wealth Advisors and a Certified Financial Planner. "An unusually high yield can simply mean the price declined." She cites Puerto Rico as an example of this. OUSA reduces exposure to high dividend equities that have experienced large price declines by implementing strict quality and low volatility requirements.
Diversification is key for investors looking to generate investment income through dividend-paying stocks. "Investing in stocks carries its own risks," Safran said. "ETF's are still subject to market risk, but they can reduce investment volatility by offering instant diversification for an asset class."
Warren Cohen, managing partner and founder of Clearfront Advisory, says that most investors are better off choosing an ETF than trying to pick stocks on their own. "That would involve a lot of researching and trying to outsmart the market," Cohen said. "You'd probably have to have a portfolio of a million dollars in order to properly diversify yourself." But even some dividend-oriented ETFs lack proper diversification.
He advises investors to look for a fund that isn't heavily focused on financials or energy and that includes sectors like health care and technology.
O'Brien agrees. "If you're not an expert, it's really risky to try to pick stocks," he said. "The rules that FTSE Russell has established validate that only companies that meet the quality metric, the low volatility metric and the income or dividend metric have a chance of getting in the portfolio."
A strategic beta ETF like OUSA uses a scoring system to determine how much of the total investment money goes into each stock. This differs from a traditional index approach, which allocates weighting based on market capitalization. "So by this system we can have 140 stocks in a portfolio, very well selected and well diversified," O'Brien said.
Investors in OUSA have the choice between getting a monthly payout of their dividend or reinvesting it in the fund. The ETF can be bought through any brokerage firm or online brokerage. It can also be bought through an investment advisor, but that might take a little bit of time.
Cohen uses ETFs in his clients' portfolios, but he takes a wait-and-see approach when it comes to new ETFs. "A lot of advisors wait until an ETF has a certain amount of assets in it," he said. "I think $100 million would be a minimum for what you'd want to see in an ETF." Cohen also says advisors evaluate the trading volume of an ETF before investing. "Just so the bid ask spread isn't so huge you could drive a truck through it," he said.
On its first day of trading OUSA was off to a strong start with trading volume over 325,000. "I started buying this today," O'Leary said. "I am putting my personal dollars in this, because I haven't found anything better. I have a lot of fun in 'Shark Tank' and I invest a lot of money there, but this is where the real money is."