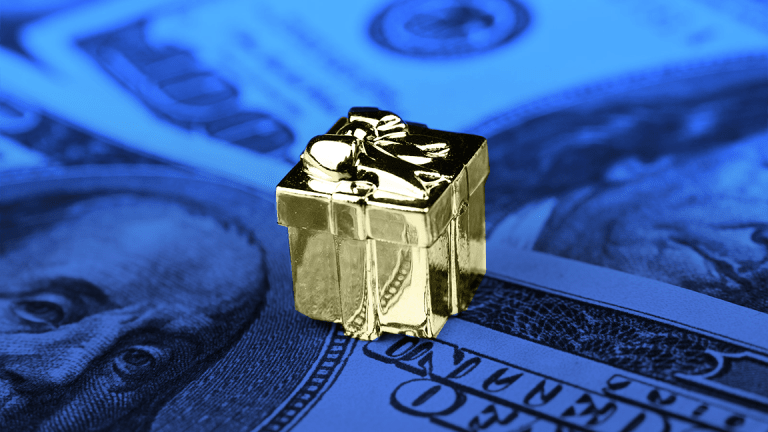 Seven Great Holiday Gift Ideas from a Financial Advisor -- and Mom
Finally, gifts suggestions about money and meaning -- that people actually would want to receive.
By Lauri Salverda
No matter your religious or spiritual traditions, chances are good your family gives gifts during November and December -- or gets barraged by ads talking about them. As a mom to four adult children, I've sometimes experienced a certain panic around finding the right gifts for my family, including my children, nephews, nieces, and other relatives.
In our busy society, it's easy to default to buying gift cards or throwing last-minute toys on the pile. But as I got further into my career as a financial planner, I realized I could give gifts with a long-term impact instead. Rather than simply spending money, I wanted to go deeper and teach my kids the value of it. I realized that like many adults, young people need to be taught how to spend wisely. Delaying gratification, planning ahead, and being intentional are important values I wanted to instill in my family.
If you're feeling overwhelmed by the prospect of buying gifts this holiday season -- or if you want gift ideas for any time of year -- consider this list. It comes from my own playbook as a mom (who also happens to be a financial adviser).
Think about your family as you read. Is there someone you know who might benefit more from a long-term legacy than a short-term thrill? The ideas below will continue to serve the recipient long after the excitement of the holidays passes.
At some point over the years I've given every gift on this list with great success. Now it's your turn.
Write a Blank Check for Charity
Give kids a check with the "pay to the order of" blank so they can choose a charity to support. If it's local, take them there to give the check in person. (You might consider making arrangements first with a contact there, so the connection can happen at a good time.) The trip will show your youngster what a great feeling it is to give to others. Experiences like this can create lifelong memories. Make it a tradition.
Invest in a Roth IRA
If a young person has worked and has earned income that will receive a W-2, no matter the age or amount, put some money in a Roth IRA in their name (see minimum and maximum contribution limits). For those under 21, you can set up what's called a custodial Roth IRA. This means you'll manage it until the individual turns 21. Whether or not they see the value today, as the years pass they'll thank you a million times over.
Set up a Brokerage Account
To teach children about investing, set up a brokerage account and purchase one share of stock. Remember this isn't about you: the company has to be one the youngster wants to watch over time. When I did this with my kids, they chose companies that matched their interests: Disney, Sony, John Deere, and Electronic Arts. Follow these steps:
Start with a product, restaurant, service - something tangible that's caught your loved one's attention. (Bonus: This is a great opportunity to get to know your family in a new way. The bond that can form from this shared experience may surprise you both.)
Do some research. You might have to dig to find out the parent company. Embrace the learning opportunity and do it together.
Talk about the company. Figure out why it intrigues your child, and ask: Do they think it will continue to do well? Does it need to develop new ideas, change with trends, or does it serve an ongoing need? If the company has other products, how are they doing? Give your child some homework/research they can do on the company over the internet. Maybe they can even earn another share by making a persuasive argument.
Purchase a Stock in a Dividend Reinvestment Plan
Another option is to set up a Dividend Reinvestment Plan (DRIP) directly with your selected company. These plans can provide advantages not available when opening a brokerage account, such as buying shares without paying a commission and automatically having the dividends reinvested in additional shares of the company.
While every company's policy is different, there are many companies that offer free plans. Others charge fees or have minimum investments. Possibilities children may recognize include General Mills Inc. (GIS) - Get General Mills, Inc. (GIS) Report , Kellogg Co. (K) - Get Kellogg Company (K) Report , 3M Co. (MMM) - Get 3M Company Report , Polaris Industries Inc. (PII) - Get Polaris Inc. Report , Toro Co. (TTC) - Get Toro Company Report , Johnson & Johnson (JNJ) - Get Johnson & Johnson (JNJ) Report , Foot Locker Inc. (FL) - Get Foot Locker, Inc. Report , and Dr. Pepper Snapple Group Inc. (DPS) .
Play the Stock Market Game
Sometimes experiences make the best gifts. Bring fun and learning to your family by playing the virtual stock market through an experience from Best Prep , an organization founded to teach Minnesota students business skills.
For less than $15 per team, play for your choice of three, six, or 12 months. You pick the teams: cousins, parents versus kids, random pairings, family friends, or neighbors are all fun options. It's up to you. (Note: This gift involves more advance planning, but the effort is worth it.)
If playing for bragging rights doesn't appeal to your family, sweeten the pot by offering a prize to the winning team. Game winners receive imaginary money, but your prize can be anything you decide. Consider a monetary gift, or -- my personal favorite -- a gift to a charity of their choice.
Participate in a Microlending Campaign
It can be great fun for older kids to decide as to whom they would like to lend money and for which projects. An excellent site is the nonprofit Kiva. For as little as $25, anyone can make a loan to a help people around the world create opportunities for themselves, their families, and their community.
Piggy Bank Sets: Share Save Spend
This concept was started by a Minnesotan, Nathan Dungan. Start younger children out with an allowance and three piggy banks. Label the banks Share, Save, and Spend. Shopping for the banks themselves can be fun (and if your kids like crafts, this piggy bank you paint yourself could be a great activity to do together). You can adapt this gift for older recipients by increasing monetary amounts and replacing the piggy bank with a checking account.
For inspiration and family-friendly tips about these concepts, check out Share Save Spend: Money + Meaning. I highly recommend the site for young people and adults who are learning to understand the importance of money and the role it plays in our lives.
Now that you're equipped with some new concepts to inspire your holiday giving, give one a try. Whether you use these out of the box or as starting point for your own ideas, you're on track to give your loved ones the gift of deeper financial capability. I'm a firm believer that it's never a bad idea to combine education with generosity.
As you decide what gifts you give this winter, I wish you and yours all the happiness that the holiday season has to offer. Happy gifting.
About the author:Lauri Salverda is the principal of her firm, Castle Rock Financial Planning, in Mendota Heights, Minn. and a member of the Financial Planning Association of Minnesota. She is a Certified Financial Planner, Chartered Financial Analyst and Accredited Investment Fiduciary.
More of What's Trending on TheStreet: