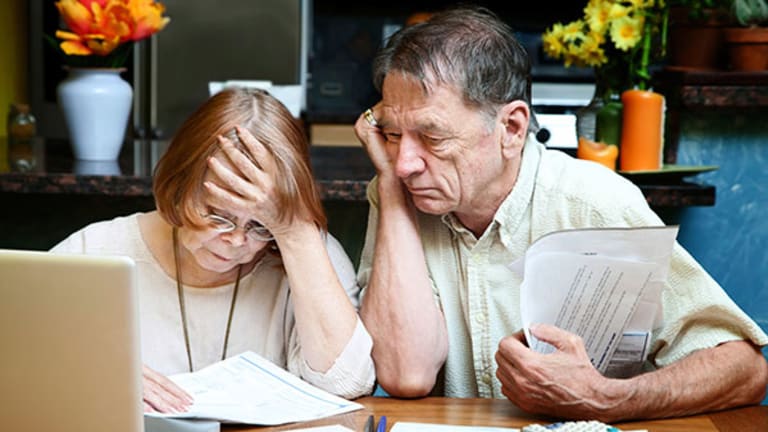 Senior Citizens Now Have $18.2 Billion in Student Loan Debt -- And Growing
When the topic of student loan debt is brought up, most people think of stressed out Millennials or Generation X-ers. However, the problem is also increasingly impacting older Americans.
NEW YORK (MainStreet) — Often when the topic of student loan debt is brought up, most people automatically think of stressed out Millennials or Generation X-ers. However, the problem is also increasingly impacting an older part of the population.
A new report released for the Government Accountability Office finds that the elderly now account for $18.2 billion in student loan debt.
View Today's Highest Savings Account Rates
And while the student loan debt load that can be attributed to people over 65 makes up only a small percentage of the problem, it is growing exponentially. Namely, the GAO estimates that 706,000 U.S. households are headed by someone over 65 with student loans--or about 43% of seniors in 2010--as compared to less than a third in 1998. Meanwhile, 24% of households are headed by individuals under 65 who owe some form of student loan debt — or 22 million households.
Not only do more seniors owe student loan debt, but the average amount owed has also skyrocketed. The median amount of student loan debt owed by seniors jumped from $13,600 to $21,200 over the past decade, while the proportion of their debts to their assets doubled from 6.4% to 13%.
Currently, more than a quarter (27%) of loans held by borrowers aged 65 to 74 are in default, while more than half of the loans held by people over 75 are in default--a six-fold increase since 2002. And surprisingly, most senior student loan debt (more than 82%) was borrowed for furthering their own education and not that of their children or grandchildren.
The Department of Education generally defines a default as being at least 360 days past due on a loan payment. When federal student loans wind up in default, the federal government has the authority to withhold portions from Social Security checks to pay it back.
According to the GAO, some 36,000 senior citizens in the United States had their Social Security payments garnished in 2013 to pay back student loan debt.
Social Security was designed help keep senior citizens and the disabled out of poverty. As such, Congress has caps on how much the Treasury Department can withhold from people's Social Security benefits when collecting on student loans. However, the cap has not been adjusted for inflation since 1990s. What this signifies, according to the GAO, is that "the current limits may result in monthly benefits below the poverty threshold for certain defaulted borrowers."
"Many elderly people make ends meet with Social Security," says Laura Hanna, an organizer with Occupy's StrikeDebt initiative. "It's repulsive to see creditors reach further into our public goods, stripping them. Moves like these demonstrate zero care or respect for vulnerable senior citizens or their struggle to survive."
Considering that senior citizens are especially vulnerable to destitution--with poverty rate among this age demographic reaching between one in seven and one in ten in the nation, and that extreme poverty among senior women leaping 18% in just the past year--the GAO report offers more grim news.
And unfortunately, the burden of payment garnishments is not restricted to senior citizens. Another 122,000 poverty-level Americans on Social Security also had their checks garnished in the past few years.
One of those people was 60-year-old Wesley Sandel of Santa Fe, New Mexico, who had struggled to make his student loan payments.
Sandel, who is disabled, had part of his Social Security disability payments for a year before he was granted a forgiveness discharge. Prior to the discharge, he struggled to remain out of destitution.
"My SSDI payment is fairly low, about $950 a month," says Sandel. "I live in public housing and they won't count the deduction of the loan payment when calculating your rent subsidy or food stamps. So, you get hit with a double whammy - your rent goes up from 30% of your income to about 50% and you can't get any food stamps."
During a hearing held by the Senate Special Committee on Aging, Senator Richard Blumenthal (D-Conn.) commented that the student loan debt crisis for seniors is "…more pernicious and insidious than it is for younger people."
"This age group is not only affected in more serious ways, but it is also going to grow," said Blumenthal.
Unlike most other types of debt including credit card and gambling debt, struggling student borrowers generally do not have the option of discharging federal student loans by declaring bankruptcy. This means that student loan debt can (and will) follow borrowers well into retirement age.
"Student loan debt is…becoming a matter of serious concern for some older Americans who are still paying off their kids' debt or helping their grandkids well into their ¿retirement," says Debra Whitman, executive vice president of AARP. "It's an issue we're pleased that the Senate Aging Committee discussed because families need to understand the long-term burden of having to repay student loan debt."
--Written by Laura Kiesel for MainStreet
Save Cash on Payments! Compare Low-Interest Credit Cards Now