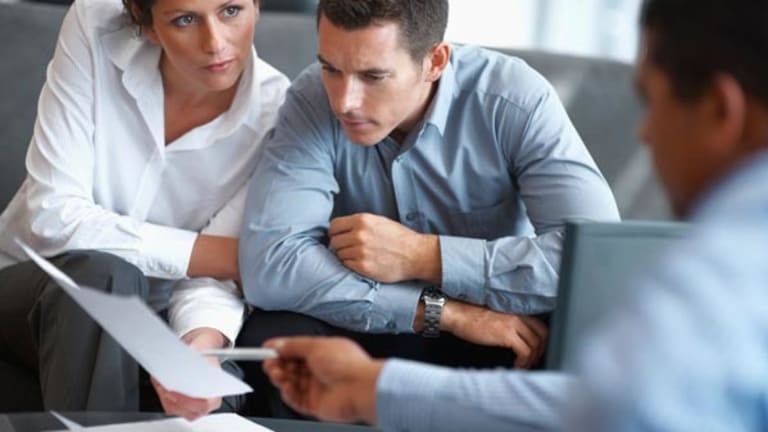 Selling Creativity Helps the Craft Industry Grow
As Easter approaches, it's a perfect time of year to look at the craft industry and its success.
CHICAGO (TheStreet) - Kids aren't the only ones who like to play around with arts and crafts. These days, every major holiday--Easter, for example--provides an excuse for creative-minded folks to pull out the glue guns and fabric markers and get to work creating homemade, one-of-a-kind decorations. And all those family projects add up to big business.
The Craft & Hobby Association, a trade group with 3,500 members (many of them small businesses), has found that half of U.S. households create at least one craft project each year. Which means that the seemingly humble craft and hobby industry pulls in about $30 billion annually.
ILoveToCreate.com showcases crafts that the family can do together, like this cake pop stand.
What's especially impressive is that overall spending in the sector has remained fairly steady over the past five years, despite the nationwide slump in consumer spending. Even in a tough retail climate,
Michael's
, the largest arts-and-crafts chain, expanded from 963 stores in 2007 to 1,064 in 2011.
"Some sectors, like scrapbooking, were negatively impacted when consumer spending dried up," says Victor Domine of the Craft & Hobby Association. "But other sectors, like sewing machine sales, have seen increases, which means there will be a dovetail effect of increased craft sewing, fashion sewing, and home décor sewing projects over the next five years."
There's no question that the Internet has fueled the vogue for handcrafted design. Sites such as Etsy and Pinterest allow creative types to post pictures of pieces they've made or been inspired by, while popular Mommy bloggers share family-friendly craft activities. Such sites are the modern-day equivalent of the quilting bee, a place to socialize and get advice from experts.
The craft industry has also benefitted from the overall trend toward more frugal living. Spending $20 on a fabric-painting kit or jewelry-making supplies is a relatively affordable way to keep the kids busy, just as sewing new curtains or decorative pillows is less expensive than paying for a complete home makeover.
Once those new curtains are hung and the hand-colored Easter eggs are displayed, the resulting rush of pride is what keeps so many crafters coming back for more. "There is something to be said for creating something," Domine says . "A major benefit and motivator of crafting is the intrinsic value of accomplishment, the self-worth and pride that come from creating a handcrafted item."
Companies that cater to that desire for self-fulfillment--at an affordable price--can thrive no matter what the economic climate. The key is to stay fresh and relevant: after all, you must show that you can think as creatively as your customers.
One such success story is
, a
Duncan Enterprises Company
based in Fresno, Calif. Founded in 1946 and still owned and operated by the same family, the company continues to expand its product selection thanks to targeted research into customer needs and expectations.
"We have experienced substantial sales growth for the past four years," says Valerie Marderosian, iLoveToCreate's chief creative office and senior vice president of sales and marketing. "Prior to the economic downturn, our specific product categories were growing steadily, but growth the last four years has been significant across each of our brands."
One way the company has stayed ahead is by keeping up with trends in DIY fashion. Their fabric paints and markers--sold under brand names including Tulip, Puffy and Scribbles--appeal to kids and teens who want to put their own twist on T-shirts, hats and jeans.
"We track trends very closely, especially those in fashion and home décor," says Marderosian. "Tie-dye has been very prominent on fashion runways around the world for several years, and our Tulip One-Step Tie-Dye program has experienced substantial growth year after year. Neon colors in fashion are an unquestionable trend right now and those colors are selling ridiculously fast."
The company's own self-image has been a key aspect in its continuing success: iLoveToCreate positions itself as selling creativity, not crafts. "We've heard from so many consumers that creativity has helped them heal emotionally and physically," says Marderosian. "It's not always about what you end up with, but rather the experience of using paint and glitter and glue to express your emotion. Creativity really is a powerful force."
Numerous other craft-oriented companies have made the same connection between their products and their customers. They're not just selling paints and beads, they're selling self-fulfillment--and Americans are buying.
This commentary comes from an independent investor or market observer as part of TheStreet guest contributor program. The views expressed are those of the author and do not necessarily represent the views of TheStreet or its management.