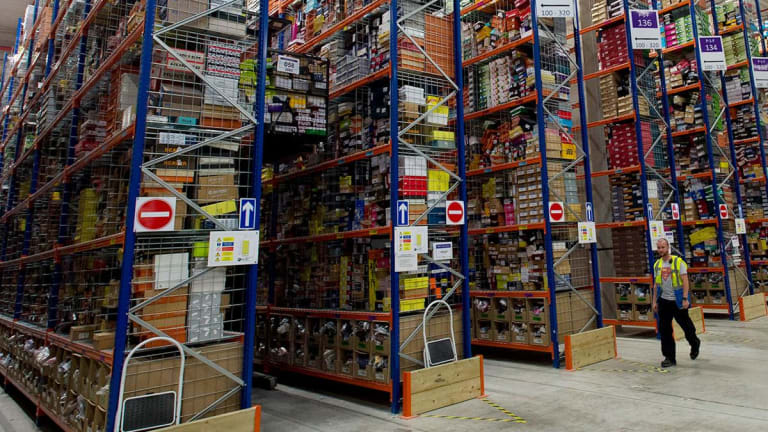 13 Best-Selling Apps to Help Get Rid of Stuff for 2019
Looking to sell items via an online app? Try some of these digital sales sites.
Selling personal items online has gone from cottage industry to a full-bore business revolution.
Make no mistake - business is booming.
Consumers spent $453 billion shopping online in 2017, a 16% rise from the year before. The bulk of those sales were on consumer sales-friendly sites like Amazon (AMZN) and eBay (EBAY) .
With the rise of mobile apps, the expectations for online consumer sales are off the charts, as more shoppers have decided that getting good products online at a discount is the way to go.
If you want to jump on the digital sales bandwagon and start selling your personal wares online, you have no shortage of sale options to choose from.
That's especially true in the mobile consumer selling sector, where selling "stuff" online is the first order of business.
Which mobile selling apps should rise to the top of your list? The following 13 digital apps certainly qualify:
1. eBay
The online sales giant has a handy mobile app that enables sellers to conduct sales locally - a big advantage, especially if you're selling bulk items.
Pros of eBay
The company's huge online customer base. You'll have plenty of customers to reach out to, so have a good sales pitch ready.
Cons of eBay
Marketplace fees can be high on eBay. That's why it's important to know your products' value, know your profit margin, and know when to pull a product if you don't get the price you want. Total fees on any digital sales site may include a listing fee, a closing fee, a PayPal (PYPL) fee, and a final value fee.
2. Etsy
If you're into arts and crafts and turning that passion into cash, the Etsy (ETSY) mobile app is for you. Like eBay, Etsy is strong on accommodating local sellers, with a local seller search feature that can quickly connect you with community buyers.
Pros of Etsy
The listing price is low, at 20 cents, and the platform pays sellers by direct deposit.
Cons of Etsy
Etsy's 3.5% a transaction fee is on the high end. Additionally, if one of your products sells out, Etsy will recommend another item from its own inventory, thus taking the sale away from you.
3. Facebook Marketplace
The Facebook (FB) Marketplace has really taken off, thanks to the social media platform's massive user base (2.27 billion active monthly users, as of the third quarter of 2018.) Once again, the local selling feature makes it easy to pop a photo and a description of that roll top desk and find an eager audience of community buyers. With the Facebook Marketplace app, you can list your products and engage directly with a customer right on your smartphone.
Pros of Facebook Marketplace
The service is totally free of charge (Facebook makes most of its revenues from advertising.)
Cons of Facebook Marketplace
Setting up your own Facebook shop can be a costly proposition, and the Facebook app can be slow to load. That's a problem, as shoppers can make a snap decision to abandon the sale with a slow transaction loading issue.
4. LetGo
LetGo is simple and basic - a good concept for someone who wants their mobile sales app to work quickly and efficiently. App users can easily post items for sale, talk with customers, and close a transaction and get paid fast and easy. Use the app to set your sales location feature to make it much easier for them to buy your products.
Pros of LetGo
The LetGo app is free of charge and - get this - it doesn't charge a sales fee.
Cons of LetGo
Having to meet customers/buyers in person to close a sale is a pretty big "con," as payment can't be made via the app.
5. Vinted
This mobile sales platform is dedicated strictly to selling and trading old clothing and accessories. Just post a photo of that argyle sweater and chat directly with customers.
Pros of Vinted
Signing onto the Vinted app is free and you can easily register via the mobile app and the security is solid on Vinted. For example, new signees have to enter a two-way authentication passcode before they're allowed on the platform. You'll also be required to enter your phone number, which Vinted uses as an SMS confirmation feature, which further solidifies user security.
Cons of Vinted
You'll have to have a PayPal account to sell on the Vinted app, and you can only sell second-hand clothing and accessories on the site.
6. CPlus for Craigslist
Craigslist, the 400-pound gorilla of online haggling and trading, and its CPlus app spices up the Craigslist buying and selling experience. It's easy to take a photo and load it up on the app, and list products for sales in seconds.
Pros of CPlus for Craigslist
Sellers can use the app to take advantage of Craigslist's huge member platform and listings are free in just about every category.
Cons of CPlus for Craiglist
It's not easy to vet buyers and the buzz over scams and security flaws has increased over the years on Craigslist. Also, it's tough to get a Craigslist customer service staffer on the phone.
7. Carousell
This mobile sales app is unique, in that it's mobile-only. It, too, emphasizes person-to-person meet-ups, which can be problematic, but the site is growing by leaps and bounds, giving Carousell sellers a big audience for their products.
Pros of Carousell
Setting up your own e-commerce store via the Carousell app is super-easy. Also, it's just as seamless to chat with potential buyers via the app, making it easier to close a sale.
Cons of Carousell
It's difficult to include a caption or include any metadata to product ads. And, like any mobile sales app that requires face-to-face transaction closes, it's all too common for potential buyers to blow off transaction closings - and waste your time in the process.
8. Amazon Marketplace
High user traffic is the siren song for Amazon sellers, with over 180 million monthly users on the site. The mobile app is a great way to access all those buyers, and boost your product sales. Amazon says that sellers who move over to the Amazon Marketplace see a 50% hike in sales.
Pros of Amazon Marketplace
Individual sellers have to shell out 99 cents for every sale, so if you sell a lot of stuff, you might want to consider Amazon Professional platform, which caps fees at $39.99 per month.
Cons of Amazon Marketplace
Competition is the biggest "con" - there are literally millions of Amazon sellers all across the world looking to sell their products - products that could be in direct competition with what you're selling.
9. Decluttr
The Decluttr app is great for selling things that might have been in your garage and attic for years, like DVDs, video games, toys, and all sorts of technology gadgets. Just post your product for sale on the Decluttr app and your item is instantly evaluated for a sale. If you go along with the price, Decluttr sends you a free shipping label which you can use to ship the product via UPS (UPS) .
Pros of Decluttr
Just the freedom of clearing out your house of unwanted items and getting paid for them is a liberating experience. Plus, getting an immediate price value on your old PlayStation is impressive.
Cons of Decluttr
Decluttr will delay paying you until one of their warehouse staffers examines the products once it's shipped and received. Yes, Decluttr has a point - it doesn't want to pay for damaged merchandise. Still, waiting to get paid for that box of Legos is a drag.
10. thredUP
This mobile selling app also sells strictly used and secondhand clothes, and also specializes in using the site (and the app) to reach out to sellers and let them know exactly what they're looking for on a real-time basis. Selling is easy - you fill out a quick application and receive a free "closet cleanout kit." Fill it up and send it all back and get paid when your order is received and processed.
Pros of thredUP
ThredUP's payout estimator gives you a good idea what your secondhand clothes are worth.
Cons of thredUP
Being paid with a thredUP shopping credit may not be your cup of tea. Thankfully, you can opt to get paid via PayPal or credit card.
11. OfferUp
The OfferUp mobile app is ultra-easy to use - it only takes 30 seconds to put your item up for sale and the platform is good about rewarding sellers who have plenty of repeat customers (that means fewer buyers to vet for security reasons.)
Pros of OfferUp
Having the ability to connect directly with buyers via the OfferUp app is a big selling point. It beats the slowness of email and it improves the buyer's consumer experience - which ups the odds of repeat business.
Cons of OfferUp
You'll need to submit an online form to talk to a customer service representative.
12. Instagram
Instagram isn't the first platform that might cross your mind when you're looking to sell items via mobile app. But now that Instagram shopping feature is up and running, all it takes is for a seller to snap a photo and load it up on the app, and you're good to go.
Pros of Instgram
With 800 million users, Instagram offers plenty of customers for people looking to make money selling items of the giant, Facebook-owned social media platform.
Cons of Instagram
Many Instagram users still see the social media platform as a fun way to connect with family and friends - shopping via the Instagram app is usually not the priority.
13. Depop
This online sales service is only accessible via Depop's mobile app. The site is popular with sellers of vintage clothes - they just upload a picture and posit the item for sale. There's no box for sellers to plug in brands and sizes, the onus is on them to be highly descriptive when they post their item for sale.
Pros of Depop
Depop is very easy to upload and use. For newbie sellers, it's not a bad place to start.
Cons of Depop
Sellers are limited to just four photos per sale item, and sellers can only sell the item on the mobile app.