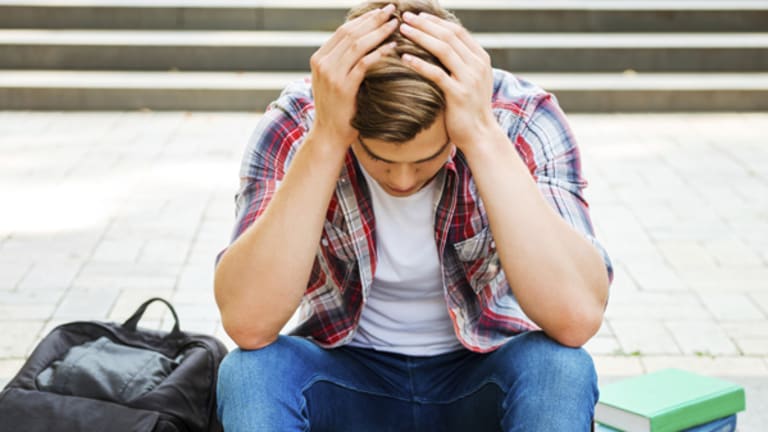 Sell Career Education Stock Ahead of Earnings on Low Student Enrollment
With both this industry and the company is such disarray, investors shouldn't think twice about touching this stock.
NEW YORK (TheStreet) -- Slumping student enrollment continues to hurt for-profit education companies, whose operating budgets are being squeezed due to loads of bad publicity about the management practices of company's that sell diplomas in order to make a profit.
Career Education (CECO)  remains risky at a time when the entire for-profit education industry faces a formidable competitor -- the U.S. government. Shares of Schaumburg, Ill.-based Career Education were slipping Monday to extend its 2015 decline to 24%, grossly underperforming the Dow Jones Industrial Average and the S&P 500.
Career Education is one of several for-profit education companies that are now struggling with supply and demand of students. Through a variety of career-oriented disciplines, Career Education offers education services to students across the world via online, in-person and -- what it calls -- "hybrid learning program offerings."
The company's struggles didn't just start in 2015, however. Investors still holding these shares ahead of Tuesday's fourth-quarter earnings results are hanging on to a losing hand. They've seen nothing but losses for five years. And now things are likely to get worse. Take a look at the chart.
CECO 1 Year Total Returns (Daily)
data by
Over the past three years and five years, investors have seen their holding plummet 52% and 80%, respectively. Even investors from 10 years ago are still underwater by 85%. In other words, this stock has been a dog for a long time. And investors would be better served to sell these shares and move on to companies with better growth prospect that are operating in thriving industries.
Low student population was already an issue -- not just for Career Education, but also for its competitors like Education Management Corporationundefined and Apollo Education Group (APOL) , which runs University of Phoenix.
The entire industry have been under strict government scrutiny for -- among other things -- predatory enrollment/lending practices that have left students with mounds of debt and -- in some cases -- nothing to show for it. And now students will have even less interest in enrolling in these schools if President Obama's proposal to make community college free for the first two years passes.
"We have to make sure that everybody has the opportunity to constantly train themselves for better jobs, better wages, better benefits," said the president.
Under the proposal, the federal government will cover 75% of student costs, while participating states will cover the rest, placing an already-gloomy industry more in doubt. The White House expects an estimated 9 million students to participate in the program and each save $3,800 a year on tuition.
Complicating matters for Career Education, last month CEO Scott Steffy abruptly announced his resignation. And that's unlikely to have happened if the company, which is expected to report a loss of 30 cents per share on 12% year-over-year decline in revenue, was to report good results Tuesday.
All told, with both this industry and the company is such disarray, investors shouldn't think twice about touching this stock.
This article is commentary by an independent contributor. At the time of publication, the author held no position in the stocks mentioned.