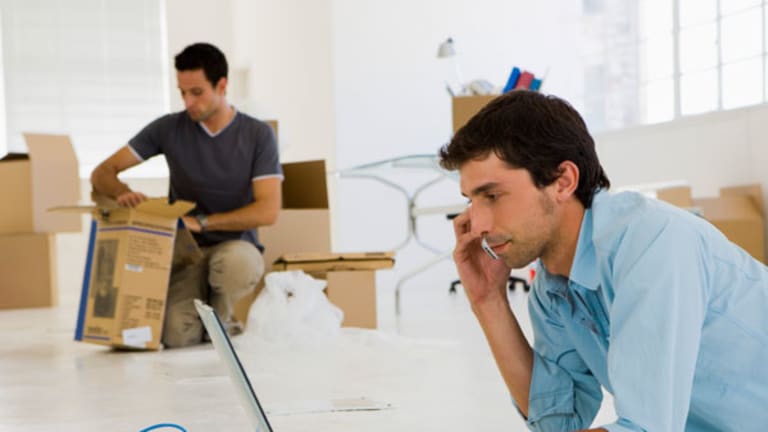 SCORE Small Business Awards: Outstanding Non-Profit Organization
Florida was one of the worst-hit areas during the housing crisis, but the Greater Boca Raton Chamber of Commerce has led a metro area back from the brink.
BOCA RATON, Fla. (
) - Even with Florida being one of the worst hit areas during the housing crisis and resulting recession, the
Greater Boca Raton Chamber of Commerce
represents a metro area that is recovering in stride.
Nicknamed "Silicon Beach," earlier this month,
named Boca Raton as the second-best city for tech-centric entrepreneurs to start a company, just behind Boulder, Colo.
And its local chamber of commerce is doing all it can to support that claim.
"The Greater Boca Raton Chamber of Commerce is a prime example of organizations that are doing great work supporting entrepreneurship in their community," says SCORE CEO Ken Yancey.
Winning SCORE's Outstanding Non-Profit Organization award for 2012 (SCORE is the Small Business Administration's partner organization designed to mentor entrepreneurs), the chamber is the third of seven winners to be profiled by
TheStreet
. SCORE celebrated the winners at its fourth annual awards gala in New Orleans on August 16.
>>Teenager a Gem in Minority-Owned Small Business Sector
>>>>>Outstanding Veteran-Owned Small Business: SCORE Awards
A conversation with the Greater Boca Raton Chamber of Commerce's executive vice president Beth Johnston follows.
How is the chamber helping entrepreneurism?
Johnston:
This chamber is a chamber of about 1,200 members now. All the programs we have at the chamber allow the entrepreneurs to network with each other, such as our membership breakfasts, our PULSE group, which is under-40 professionals, many of which have their own businesses.
We also have groups such as the Young Entrepreneurs Academy, which was really how we won the SCORE award. Our Young Entrepreneurs Academy is an academy of 24 7-12th grade students. It teaches them from start to finish how to be an entrepreneur. ... When they're done they will have a business. What happens is each of the businesses gets a business plan mentor. We used six SCORE mentors last year and are doing it again this year to be mentors for these students to help them write their business plans and know what it is like to be an entrepreneur.
Why is entrepreneurism so important for the Greater Boca Raton area?
Johnston:
First of all, Boca Raton was the birthplace for IBM's PC. We are a natural location.
Boca was just voted the second-best city in the country to start a business citing the city's access to resources, higher education and capital.
>>3 Surprising Cities for Small Business Success
It is natural for us in Boca Raton to build on the entrepreneurial wagon. We're going to do all we can, starting with the student level that's not even in college yet.
What industries are particular to the Boca Raton area?
Johnston:
Medical, technology and education are three of the big industries here where we are seeing a lot of entrepreneurs pop up.
How did the recession affect small companies in the area? What measures did the chamber take to assist them?
Johnston:
Of course when the bubble burst we were not immune. But the Boca chamber -- that's when we kick into gear and that's when we find out what our members and what the business community needs from us the most.
For example, when business is the worst that's when your marketing should be the strongest. We provided resources to help them market their business through our website and other membership resources. We did whatever we could do within reasonable costs to have these entrepreneurs keep their doors open.
When the bubble burst we did all we could to guide our members and this community... to get them back on their feet or at least stay solvent for when we came back out of the bubble -- which we're seeing here by the way.
How has social media played a part in the chamber's initiatives?
Johnston:
Of course we Facebook, we tweet, we have a text system here. We're just learning Pinterest. Social media for us has definitely allowed us greater communication to our members and about the success of our members and to get those successes out into the community. It's played a very big role in what we do here.
We started a tech initiative this year. We feel that the more technology that we can share and educate on, the more efficient it will make our members. Also the more they are comfortable in social media, the better their businesses are going to do and hence the more economic development there will be.
What similarities are there between running a non-profit organization and for-profit company?
Johnston:
It's the same. We do business plans. We do the budget. A not-for-profit is just a name. We have to live by certain rules as a not-for-profit, but when you sit down and run a not-for-profit you run it very much like a for-profit. It's the same mindset. We need to stay solvent. We need to stay relevant.
What is a major lesson entrepreneurs can learn from not-for-profit businesses?
Johnston:
Treat your employees right and they'll give great service to your customers and the revenue and the profits will come. It works for the not-for-profit or for-profit
world and I learned that in the for-profit world.
-- Written by Laurie Kulikowski in New York.
To contact Laurie Kulikowski, send an email to:
Laurie.Kulikowski@thestreet.com
.
>To submit a news tip, email:
.
RELATED STORIES:
>> Teenager a Gem in Minority-Owned Small Business Sector
>>Outstanding Veteran-Owned Small Business Owner: SCORE Awards
>>Small Business Owners, The Time is Now for Mobile Payments
Follow
TheStreet
on
and become a fan on
Disclosure: TheStreet's editorial policy prohibits staff editors, reporters and analysts from holding positions in any individual stocks.