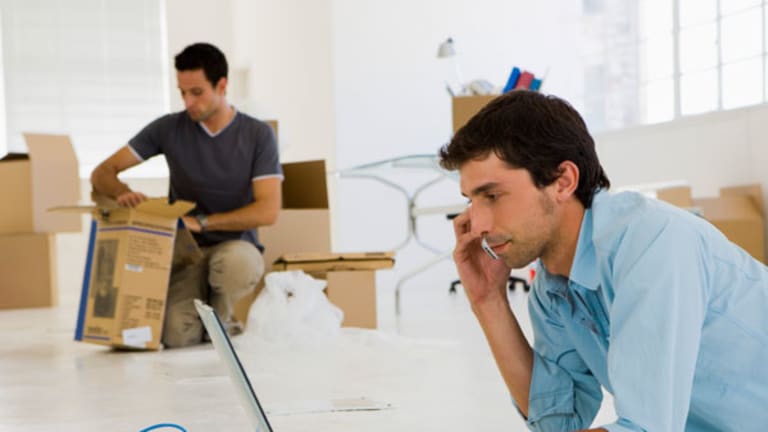 SCORE Awards: Outstanding Woman-Owned Small Business
Documentary filmmaker and entrepreneur Tasha Oldham says there is a wealth of resources available to help women business owners.
VENICE, Calif. (
) -- Award winning documentary filmmaker and entrepreneur Tasha Oldham has a story to tell. Many stories, actually, about many small business successes. Oldham launched
, a commercial production company that creates so-called advertorials, to help small businesses market their stories through film.
Oldham, who calls herself the young, yet growing company's Chief Story Extractor, says while she loves being a filmmaker, she didn't love the life of a filmmaker and the constant worries regarding consistent work. She said she was always "tap dancing for others to hire me, writing phone book-long grant applications" in addition to working 20-hour days writing for Disney, ABC or Travel Channel.
"I wanted to marry my artistic talent and make a comfortable living doing what I love. So My Story was born," she says.
The videos can be seen from broadcast to the Web to social media. Clients use the spots to generate licensing deals, and at events including trade shows and speaking gigs.
Profit from the business, which she launched in October 2010, funnels into her other business endeavors -- SmallTown Productions, as well as her nonprofit work. SmallTown Productions is Oldham's feature film and TV production company that focuses mainly on nonfiction films and nonprofit endeavors. Last year, My Story brought in $300,000 in sales. It primarily tells the tales of small business owners, but increasingly is catering to mid- and large-size companies.
Winning SCORE's Outstanding Woman-Owned Small Business award (SCORE is the Small Business Administration's partner organization designed to mentor entrepreneurs), My Story is the final 2012 SCORE winner to be profiled by TheStreet. SCORE celebrated the winners at its fourth annual awards gala in New Orleans on August 16.
>>>Outstanding Veteran-Owned Small Business: SCORE Awards
>>>Teenager a Gem in Minority-Owned Small Business Sector
>>>SCORE Small Business Awards: Outstanding Non-Profit Organization
>>>SCORE Awards: Outstanding Franchise as a Small Business
>>>SCORE Awards: Outstanding Small Business Launched by an Individual Over 50
>>>SCORE Awards: Outstanding Green Business
This is not Oldham's first time winning a SCORE award. In 2010, she won the Success Story award from her local Los Angeles SCORE chapter.
She also produced the 2010 national SCORE awards videos and SCORE's 2011 National Public Service Announcements (PSAs).
"SCORE has reaped the benefits of Tasha Oldham's talents and innovative documentation with our stylish Public Service Announcements," CEO Ken Yancey says. "We're honored to celebrate My Story, Inc. as our outstanding woman-owned small business winner for being an inspiration to current and future female entrepreneurs."
Oldham shared her secrets of success with
TheStreet
in a recent interview.
Tell us about your business and the industry you serve:
Oldham:
My Story connects brands with consumers through evocative documentary style storytelling -- we create powerful marketing films. We build a story around your brand that engages consumers on an intimate level creating raving fans for life.
And we love what we do -- we get to talk to passionate business owners all day long. We started serving small businesses and startups, and in the last year or so we've organically grown to midsize companies, national non-profits and Fortune 500 corporations. What we do for small business is the same as what we do for large corporations, just on a different scale.
Has the company been hurt by the recession? What measures did you take to ensure its resiliency?
Oldham:
The company was launched during the height of the recession. I believe it was the recession that allowed me to start the business and tap into talent who wouldn't have been normally available. We've had our greatest growth in 2012. We have branded ourselves as doing very personal work and the market appreciates that special touch that has kept us growing and thriving. With the downturn in the economy, marketing dollars are tight and companies are looking for unique, innovative and effective ways to market and gain awareness, so going to the Web and sharing their story allows for more than just a sale, it is about building a community.
We ensure resilience by consistently under promising and over delivering; and...always delivering top quality no matter if it costs us money in the short term. Word of mouth is our entire business so I can't have any unhappy clients -- they are our life blood and our biggest fans.
Why is being a woman business owner significant in today's economy?
Oldham:
I really see the economy as an opportunity. I don't believe it is unique to women, but women do business differently than men and I've witnessed women business owners tap into new markets, not take no for an answer and launch no matter who tells them it can't be done.
I've built my business with the help of
, a super dynamic group of female entrepreneurs. They have supported me in taking this from just an idea in my head to a growing profitable business. These women have served as my board of directors, my brand ambassadors and my biggest cheerleaders when I was certain I didn't have what it took to run a business. They stepped in with intervention and got me on track when I wasn't charging enough. These women are all about giving and sharing resources, accountants, assistants and everything else necessary to starting and running a business. They introduced me to Deluxe Corp.'s
, which then lead me to SCORE, which then led me to
Goldman Sachs'
(GS)
10,000 Small Business
program.
I am well aware I cannot do this by myself, nor do I have the desire and we shouldn't have to. There are so many resources out there to help, support, guide, coach and teach you how to run a profitable, enjoyable, successful business. So many business owners love what they do but they don't have the skills or tools to run it so they can truly enjoy all the fruits of their labor.
How have you been able to finance your business and tell us why you chose that route?
Oldham:
I am self-funded, but the real key was being able to leverage my network. I've been a filmmaker for many years. When I started the business I tapped into my community and pool of talent who wanted to be involved and had a vested interest in my success. They helped create my initial portfolio of work. I also leveraged my community of other entrepreneurs to barter for services I needed to start the company. Key services like legal structuring, business coaching, a superfly, fabulous venue for my launch party as well as catering, the list goes on.
The exposure and new clients from the launch party has funded our growth and expansion.
What are your growth plans?
Oldham:
Creating systems so the business can run without me. I love what I do but I'm ready to hire and let go of doing it all. We're working on hiring a full-time creative team, sales team and operations manager. This permanent team will be the foundation of the next growth phase. They will be the pillars of our future.
In terms of revenue, it's perfecting our systems, building our numbers in working with small businesses, while continuing to serve middle market to large size companies that have the marketing budget to create high-quality spots with wide exposure.
What has been the biggest lesson you've learned so far as a small business owner?
Oldham:
I'm an artist and a filmmaker first and foremost -- so I've had to learn daily how to be and think like an entrepreneur and run a profitable business. As a filmmaker all I care about is the art. As an entrepreneur I'm focused on the bottom line. Merging those two has been the real daily challenge, along with charging my worth, and saying "No, we don't do that" -- learning what projects not to take.
I learn with every single client, and every single project. I feel like I fail daily, but I fail forward. If you're not falling down, you're not trying hard enough. I don't have the fear of failure in running my business that I once did as an artist. You learn what not to do and learn other ways to do better next go around.
-- Written by Laurie Kulikowski in New York.
To contact Laurie Kulikowski, send an email to:
Laurie.Kulikowski@thestreet.com
.
>To submit a news tip, email:
.
RELATED STORIES:
>>SCORE Awards: Outstanding Green Small Business
>>SCORE Awards: Outstanding Small Business Launched by an Individual Over 50
>> Think Goldman Sachs Doesn't Support Small Business Lending?
Follow
TheStreet
on
and become a fan on
Disclosure: TheStreet's editorial policy prohibits staff editors, reporters and analysts from holding positions in any individual stocks.