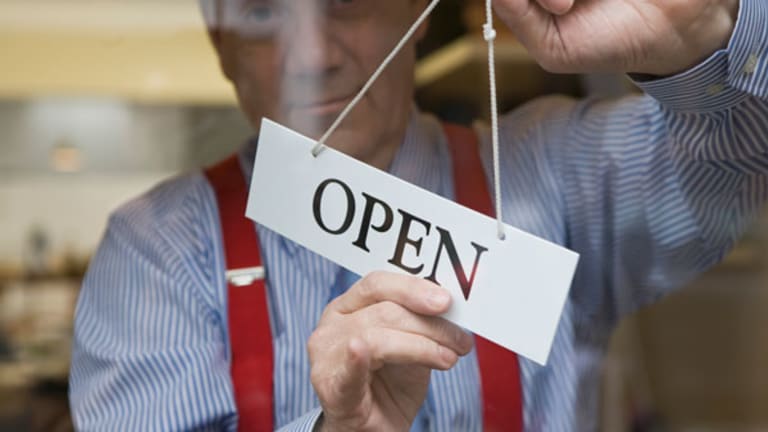 SCORE Awards: Outstanding Franchise as a Small Business
Massage Envy's Terri Paradise and Marcia Connelley won SCORE's first-ever franchise award. Learn their secrets to running a successful business.
LOUISVILLE, Ky. (
) -- Terri Paradise and Marcia Connelley opened their first
Massage Envy
location in Middletown, Kentucky in June 2007.
Their franchise journey started off rocky. Paradise admits that while the partners had experience managing people and processes, they were less familiar with all the moving parts of running a business. One example was marketing.
With a little guidance from SCORE, the partners were able to grow the business and increase staff to 65 employees between two locations.
"We did not do our marketing well and
agreed to anything that walked into our door," Paradise says. "We spent a lot of money on TV ads, we did radio ads, we did any kind of Yellow Pages and White Pages and magazines in Louisville. When SCORE came in, they asked what works. We weren't really sure."
Last year the franchise raked in $1.76 million in revenue. Paradise is expecting to hit the $2 million revenue mark by the end of 2012. And that's just for its main location. The duo opened a second location in February of this year (and yes it is hiring). Paradise expects that location to hit roughly $350,000 in revenue this year.
Paradise and Connelley aren't done with their expansion plans. Next month, the two will take on a relatively new franchise concept and open a
right next door to the Massage Envy main location.
"We believe it's very complementary," Paradise says.
Winning SCORE's first-ever Outstanding Franchise as a Small Business award (SCORE is the Small Business Administration's partner organization designed to mentor entrepreneurs), Massage Envy - Middletown is the fourth of seven 2012 winners to be profiled by
TheStreet
. SCORE celebrated the winners at its fourth annual awards gala in New Orleans on August 16.
>>Teenager a Gem in Minority-Owned Small Business Sector
>>>>>Outstanding Veteran-Owned Small Business: SCORE Awards
>>SCORE Small Business Awards: Outstanding Non-Profit Organization
>>>>>Outstanding Veteran-Owned Small Business: SCORE Awards
A conversation
TheStreet
had with Massage Envy owner Terri Paradise follows.
What is Massage Envy?
Paradise:
Massage Envy and Massage Envy Spa was created in Arizona by a gentleman who actually didn't plan on franchising. He wanted to cater to the average person where they could get massage or stress relief at a reasonable price and at reasonable times throughout the day, at night and on weekends. It was kind of a brand new concept. He realized that you needed massages monthly really to do its work.
We have serviced CEOs in Louisville. We have serviced pro athletes. We have serviced Walmart greeters. We do seniors. We started with child athletes. About 55% of our business is female -- that makes 45% male, which is nice. We try to work with different agencies. We give
teachers discounts to come in.
How does the membership work and why is it the preferred payment method?
Paradise:
It is $59 a month and that includes a massage. If you do not use it, it rolls over. We will break them up into half hour increments, but if you don't use it you don't lose it. Your first massage is $49. What we're doing is introducing ourselves to say this is what we offer.
Memberships make the customer accountable for their own health, but it obviously helps with
cash flow. Some of them aren't real excited about it. But it helps them reduce the price. If they're not a member they do pay a higher price
Why is being a franchise significant in today's economy?
Paradise:
I think it's significant especially in today's economy because there is some place to go. Besides SCORE, you have someone to call and ask questions. If I was just starting a business I wouldn't have anybody to lean on or ask questions. This way ... they've already figured out the market for us. They figured out who your ideal customers are, what you're looking for in a location, they've already done all that research for you. You can rest assured it's a lot less work on the front end than you would have to if you were just starting your own business.
How has the recession affected your business?
Paradise:
The recession has helped and hurt us. It helped us because the economy made everyone so stressed and the fact that we do offer massages at a reduced price we did get a lot of people coming in -- if they were going to go anywhere they were coming to us. What happened though is people who started with us from the very beginning, something might have changed in their employment so we would lose that customer.
We have a constant flow of new people coming in. We have a retained a lot but there are some that left us. But I have to tell you, Louisville was one of the least hit in the recession.
How did you finance the business?
Paradise:
When we first started we were turned down by 10 banks.
PNC
(PNC)
gave us a loan, but at 9%. We made it and finally refinanced with a local bank around here. Then we wanted to expand our business. We actually opened a second Massage Envy in February. Earlier than that we wanted to open a second one, but we couldn't get financing. So we expanded our current
location and we used the SBA-sponsored
microloan program from
Wal-Mart Stores'
(WMT)
Sam's Club and the city's economic development program, Louisville Metco -- we got a loan because we were female-owned -- and Marcia's father. We piecemealed the money to expand and actually the new bank we had kind of took over the loans. That's how we originally paid to expand -- a little here, a little there and credit cards.
The first one has been doing so well it has been paying for the second location. Our second location owes the first location $220,000.
What has been a memorable lesson you have learned as a business owner?
Paradise:
We knew how to manage people. We knew how to manage processes. We didn't know how to technically own the business. We had to learn areas that were uncomfortable for us or something we never worked on.
There's many facets in owning a business. It's not just people. So it's really learning to be well balanced. We had to hire good management staff and let go and sometimes we still have trouble letting go and allowing them to do their jobs.
-- Written by Laurie Kulikowski in New York.
To contact Laurie Kulikowski, send an email to:
Laurie.Kulikowski@thestreet.com
.
>To submit a news tip, email:
.
RELATED STORIES:
>>SCORE Small Business Awards: Outstanding Non-Profit Organization
>> Teenager a Gem in Minority-Owned Small Business Sector
>>Outstanding Veteran-Owned Small Business Owner: SCORE Awards
Follow
TheStreet
on
and become a fan on
Disclosure: TheStreet's editorial policy prohibits staff editors, reporters and analysts from holding positions in any individual stocks.