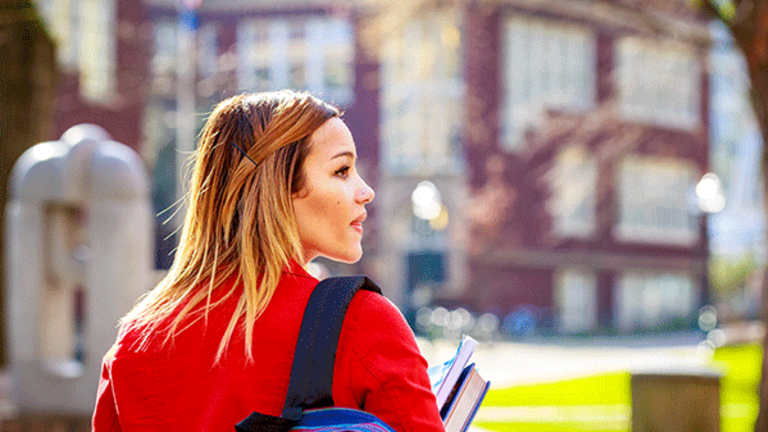 School Is In Session: 5 Ways Families With College Students Can Save Money
Use these money-saving tips to cut the cost of college while still getting a great education.
The cost of attending college continues to skyrocket. According to the College Board, a "moderate" college budget for the 2015-2016 academic school year is $24,061 at an in-state public college and $47,831 at a private college.
The bulk of college costs are tuition and room-and-board. For the 2015-2016 school year, the average costs of tuition and fees are $32,405 at private colleges, $9,410 at public schools, and $23,893 for out-of-state residents attending public universities. Also, the average cost of room and board ranged from $10,138 at four-year public schools to $11,516 at private schools, the College Board states.
Those are huge amounts, even for the most well-prepared college-bound family--and they don't even include the cost of books, transportation, clothing, and an occasional night out for music, dining and entertainment.
So, how can a college student (with help from family) curb the high costs of college life? What budgeting and savings tactics can families use to keep all these costs in check?
Here are five of my favorite ways college students can save money:
Way #1:Stay local
I hate to burst the bubble of a high school senior living in, say, Seattle, who wants to go to Boston University or Dartmouth. It's great to get accepted into a top school, but going to an out-of-state college can really stress a family's finances, with or without financial aid.
According to U.S. News & World Report, the average tuition and fees for in-state students was $7,635 in 2011-2012, compared to $17,785 for out-of-state students. That's a big difference that could make studying closer to home much more affordable.
Way #2:Take college level courses in high school
I have a friend whose child was able to graduate early from the University of Pittsburgh by taking college-level credit courses during her senior year in high school. You can take a college-level examination program (CLEP) test to earn college credits without taking and paying for college courses.
CLEP tests assess your college-level knowledge in many subject areas and are administered at more than 1,700 sites like colleges, universities, and military installations across the country. There are thousands of colleges that grant CLEP credit.
Way #3:Get off campus as quickly as you can
At first, this tip may seem counter-intuitive. After all, living on campus in a dorm offers a dependable roof over your head and three meals a day, guaranteed. Who turns his back on that?
Actually, you should consider it. The cost to rent will vary depending on where you live, but you can cut expenses by getting roommates, grocery shopping on a shoestring budget and buying furniture at thrift stores. 
But one expense that you shouldn't scrimp on when you make a move off campus is renters insurance. A renters policy protects you if your personal belongings are damaged or stolen, if you get involved in a lawsuit, or if you have to move out temporarily while your landlord makes repairs to the property. 
Way #4: Pay monthly
Many college parents aren't aware that they can pay tuition and room-and-board in monthly installments, instead of a pre-semester lump sum. If making smaller payments helps you avoid taking out a loan, you'll avoid paying interest and loan fees.
Way #5:Get textbooks for less
College books and supplies can easily cost $1,000 or more each year. Avoid the insanity by contacting class professors before school starts and ask if older, cheaper textbook editions are okay to use.
Also, ask around for older students who have taken the same class, and may sell you their textbook book on the cheap. Checkout online textbook sites like Chegg.com and Amazon Textbooks, which, in many cases, can save up to 80%. 
By using a little creativity, discipline, and planning, every family with a student can save money during his or her college years.
This article is commentary by an independent contributor.