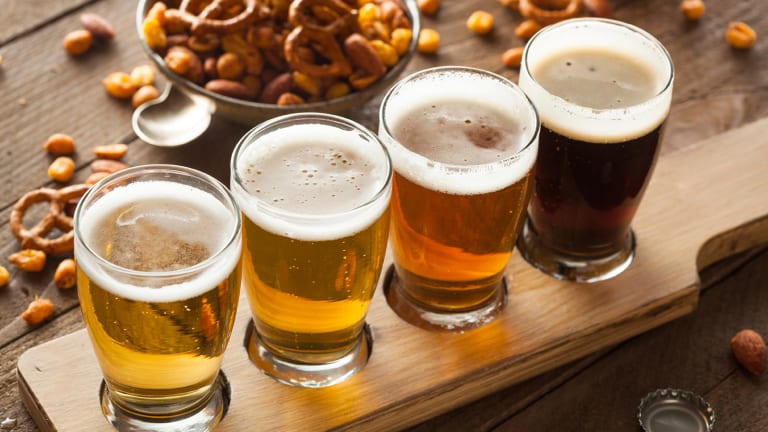 Say Goodbye To Craft Beer As You Know It
As breweries consolidate and aging owners consider their next step, the face of craft beer is changing more rapidly than its adherents expected.
PORTLAND, Ore. (MainStreet) – Back in April, we told you that craft beer would be unrecognizable by 2020. That process has begun, whether the industry is ready for it or not.
Within the last month alone, the SABMiller and MolsonCoors joint venture MillerCoors bought two-year-old San Diego brewery Saint Archer. Prior to that, it hadn't made an acquisition since buying Crispin Cider in 2012 and hadn't bought a craft brewer since picking up Jacob Leinenkugel Brewing Company in 1988 -- before MillerCoors and before SABMiller, when Miller Brewing Company stood alone in Milwaukee.
In a far larger deal, Heineken NV took a 50% stake in Petaluma, Calif., brewer Lagunitas. The 22-year-old brewer produced 600,000 barrels last year, making it the eleventh-largest brewery in the country and the sixth largest craft brewer, according to the Brewers Association craft beer industry group. Lagunitas had opened a new brewery in Chicago and planned a second brewery in California, but the influx of Heineken cash was only surprising because of founder Tony Magee's previous criticism of other acquired brewers.
Anheuser-Busch InBev -- which drew Magee's ire over purchases of Patchogue, N.Y.-based Blue Point, Bend, Ore.-based 10 Barrel and Seattle's Elysian last year -- was relatively quiet in purchasing Fennville, Mich.-based Virtue Cider. It came of little surprise, as Virtue needed cash and its founder -- Greg Hall -- was previously an owner and brewmaster at Chicago's Goose Island, which A-B bought in 2011.
With A-B getting much noisier after announcing its intention to buy SABMiller -- which would give A-B a 30% stake of the global beer industry while potentially flipping SABMiller's U.S. holdings to MillerCoors partner MolsonCoors -- it's clear that the big brewers are incredibly concerned with acquisitions. Though SABMiller's snubbed takeover offer for Heineken last September should have been a warning -- if A-B's $20.1 billion purchase of Grupo Modelo and its Corona and Pacifico brands in 2013 wasn't -- it's incredibly clear to brewers, drinkers and investors alike that the future both global and U.S. beer is cloudier than ever.

Even the most solid U.S. craft brewers haven't been immune to the changing beer environment. Boston Beer Company founder Jim Koch found himself in front of a Senate subcommittee in July saying he "can honestly predict that I will likely be the last American owner of Boston Beer Company" because of the U.S. corporate tax structure. However, what he didn't mention was a bill introduced in June by Sen. Ron Wyden, a Democrat from Oregon, that would not only cut excise taxes imposed on brewers, but would also finally settle who's a craft brewer and who isn't. Though the biggest tax breaks would go to brewers who produce 60,000 barrels or fewer, the cut-off for any tax break is 6 million barrels -- making those who cross that threshold big brewers. Boston Beer produced 4.1 million barrels last year, but an average of 20% annual growth since 2009 indicates that they'll be over 6 million in less than three years.
For many of the earliest craft brewers -- Koch's been at it since 1984 -- the combined issues of growth (often beyond their initial comprehension), legacy and succession are starting to take a toll. Adam Firestone and David Walker saw their 19-year-old Paso Robles, Calif.-based Firestone Walker brewery growing beyond their grasp and, in July, combined with Duvel Moortgat to help expand their facilities and meet continually increasing demand. Duvel, meanwhile acquired Kansas City-based Boulevard Brewing last year and also helped found Cooperstown, N.Y.-based Brewery Ommegang in 1997.
Even without selling their breweries, some of craft beer's stalwarts are starting to consider dialing it back a bit. Greg Koch (no relation to Jim) founded San Diego's Stone Brewing Co. in the same year as Firestone Walker and, earlier this month, stepped down from his day-to-day responsibilities as the brewery's chief executive to take a less-intensive position as the brewery's executive chairman. Stone is scheduled to open a brewery in Berlin next year and a second U.S. facility in Richmond, Va., in the coming years.

With the founders of Bell's and Sierra Nevada preparing to hand control of their breweries to their children, brewers including Colorado's Left Hand and New Belgium handing ownership to their employees and other brewers including Full Sail in Hood River, Ore., and Oskar Blues in Longmont, Colo., giving controlling stakes to private equity firms -- and the latter using that cash to purchase Perrin Brewing in Comstock Park, Mich. -- craft beer's next stage is beginning. With more than 3,400 breweries throughout the U.S. and another 1,500 on the way, expect the waters to look a lot foamier before they fizzle.
This article is commentary by an independent contributor. At the time of publication, the author held TK positions in the stocks mentioned.