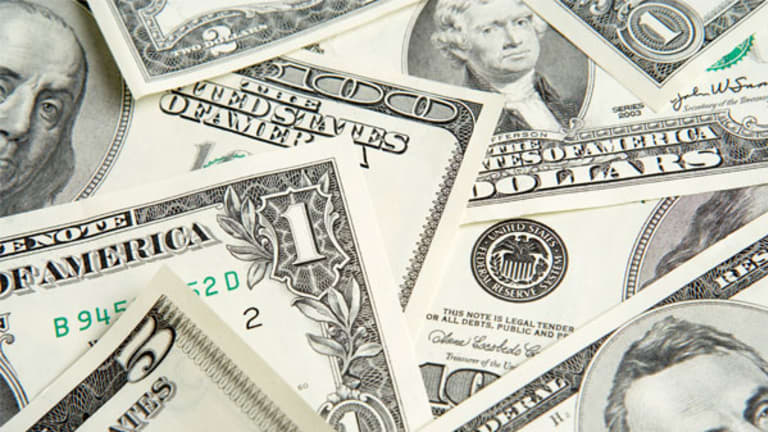 Savings Rate, Credit Card Delinquencies Offer Different Outlooks
Studies show many of us with less emergency savings than credit card debt, and paying off that debt handily.
NEW YORK (TheStreet) -- Call it a tale of two debt scenarios.
One study out this week shows that only half of Americans have more emergency savings than they do credit card debt.
But another shows that Americans' credit card delinquency rates are at five-year lows.
First up is Bankrate's data on emergency savings among consumers, which stands at the lowest level since 2011.
According to Bankrate, only 51% of U.S. adults have more emergency savings than credit card debt. Another 28% have more credit card debt than emergency savings, while 17% have neither emergency savings nor credit card debt.
Also see: 5 Ways to Use a Credit Card to Rebuild Your Bad Credit>>
Americans in their major earnings years, between the ages of 30 and 64, are most likely to have more credit card debt than emergency savings. "That's a reflection of the stagnant incomes, long-term unemployment and high household expenses that are hampering the financial progress of many Americans," says Greg McBride, CFA, and Bankrate.com's chief financial analyst.
All in all, that led to a "dip" in Americans' financial security in the first month of 2014 -- not exactly a sign of momentum for the perpetually sluggish U.S. economy. "The stock market's rocky start to the year and a run of less-than-stellar economic readings have put a dent in consumers' feelings of financial security," McBride says.
A separate study from Chicago-based TransUnion shows the national credit card delinquency rate (which TransUnion defines as being 90 days or more late on credit card payments) has dropped to just 1.48% in the fourth quarter of 2013.
The rate of consumer card debt is in decline too.
TransUnion reports that the average credit card debt on an individual basis fell to $5,325 from $5,376 in the past quarter.
Also see: How to Invest for the Milestones in Your Life>>
"Credit card delinquencies continue to remain much lower than historical norms," says Ezra Becker, a vice president of research and consulting at TransUnion. "We also believe that there is a continuing reduced demand for new credit in the prime credit ranges, [as] consumers are managing the cards they have in their wallets effectively and do not seem to be seeking additional card credit at this point."
Compared with the credit card delinquency rate quarterly average from 2007-13 and the fourth quarter of 2013, delinquency rates fell to 1.48% from 2.25%. Over the same period, credit card fell to $5,325 from $5,721.
Furthermore, every U.S. state reported a decline in credit card delinquency rates, with sharp drops in Massachusetts, Rhode Island, Wisconsin and Oregon.
What's the takeaway? It seems that even though Americans are having a tough time building an emergency savings fund, they are taking their credit card debt seriously.
Maybe once consumers pay down their card debt, those savings rates will start to climb, and give Americans some additional financial security in the process.