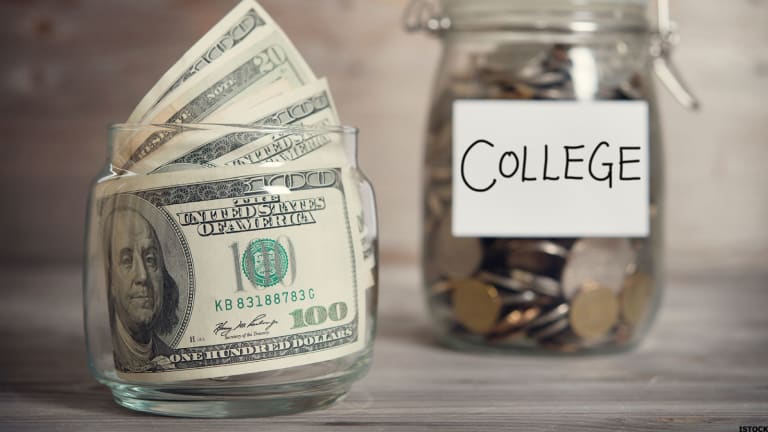 Saving For Specific Goals May Keep You More Disciplined
While some financial planners favor looking at overall returns, others see value in dividing up pools of money depending on the goals involved.
It's a big question in financial plannning right now, but it could just as easily apply to human nature.
What model works best for the average investor? A portfolio designed with cold, hard logic and efficiency, or another that, while less efficient, connects more directly with an investor's emotions by focusing on concrete, tangible goals, like saving for a wedding or college?
More than a few financial advisors now embrace "goals based" financial planning, which can involve setting up separate accounts and portfolios to invest and save towards various goals.
It is a trend that has been debated, discussed and studied for years, with research by Morningstar having found real gains for investors, even as others find the approach less efficient overall.
Greg Kurinec, a certified financial planner at Bentron Financial Group in San Diego, said he is a "big believer" in goals-based planning.
"There have been studies that show that this method of separate accounts or "buckets" may not be the most efficient, but there is something to be said about the psychological and behavioral impact it has on someone to see how close they are to achieving their goals," Kurinec said.
Getting clients motivated
Saving for college for the kids, a down payment on a house, a wedding or even a dream vacation are among the goals that clients, with help for their planners, are setting up investment accounts for.
In theory, goals-based planning flies in the face of modern portfolio theory, a more-than-a-sum-of-its-parts approach that calls for a well-balanced portfolio, one in which each asset is not judged solely on its individual merits, but rather how it fits into and complements the whole.
However, while less efficient, directly tying investment accounts to specific goals has the potential to change clients financial behavior for the better, some planners believe.
A study published in the Journal of Financial planning by David Blanchett, Morningstar's head of research found "an increase in utility-adjusted wealth of 15.09%," or an additional annual boost of 1.65%.
"Comprehensive financial planning involves more than just rate of return. It involves managing emotions that may negatively impact one's overall plan," Bentron Financial's Kurinec said.
Melissa Sotudeh, a CFP and director of advisory services at Halpern Financial, which has offices in the Washington, D.C.-area, disputes the idea that setting up a single portfolio is the most efficient way to invest.
A client's needs when it comes to saving for retirement could easily clash with other, shorter-term goals that require a more conservative investment approach given the money will be needed in a few years, not decades, she noted.
Sotudeh is particularly a fan of college savings plans, with most states now offering 529 plans with low cost investments.
"Pooling the money for all your short- and long-term goals is too simple because it either sacrifices growth for long-term goals or exposes short-term goals to undue risk," Sotudeh said.
Different approaches
Of course, there is no single way to implement a goals-based portfolio, with planners taking varying approaches.
Robert Hernandez, a CFP at Main Street Associates in Queens, said he will recommend separate portfolios for different goals, but with the caveat that it is a "big goal with a timeline greater than three years."
That allows for enough time for the client's big goal portfolio to benefit from "market growth and portfolio compounding." For shorter-term goals, he suggests a savings plan.
Hernandez also tries to limit clients to setting up a separate account for one, or at the most, two big goals at a time.
"This allows the client to focus on the goal and increase probability of success," he said.
For added motivation, Luis Rosa, a CFP at Build a Better Financial Future in Las Vegas, not only recommends different funds or portfolios, but that clients get a "vision board" to go along with each goal in order to help provide additional motivation.
Rosa tells clients they should post photos and other material that will remind them the they are saving for a child's college education or that dream getaway vacation.
"We all have our bad days, but when you have a visual and say "why am I working so hard?" and you see the photo of your child graduating college, or your 10-year wedding anniversary destination, or your retirement home, it might just give you the boost you need to continue saving toward those goals, as hard as it may be in the now," Rosa said.
Tracey Ann Gordineer, a senior tax advisor and CFP at Paramount Tax and Accounting in Georgia, suggest clients use software programs to track their progress in meeting various goals as opposed to setting up separate portfolios.
She recommends "Mint and YNAB (You Need A Budget) as well as Right Capital, eMoney, and Advizr.
Gordineer contends this will also help prevent clients from constantly checking their portfolio, which can lead to "harmful behaviors."
"The biggest challenge to achieving their goals is behaviors and usually these harmful behaviors are triggered by the emotions of monitoring the ups and downs of the market on a daily/weekly/monthly basis," she said.