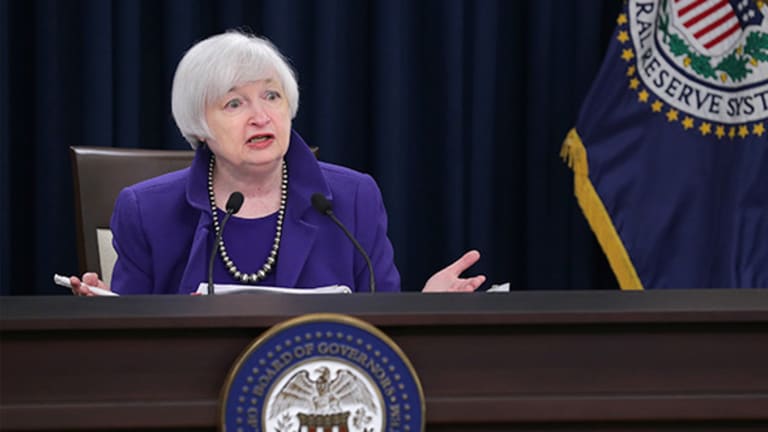 Savers Will Not See Significant Interest Rate Boosts in 2016
Individuals who hold cash for an emergency will not see much of a reprieve in yields even if the Federal Reserve raises interest rates several times in 2016.
Diligent savers or those individuals who hold cash for an emergency will not see much of a reprieve in yields even if the Federal Reserve raises interest rates several times in 2016.
The Fed will only make "modest" increases this year due to sluggish economic growth, low inflation and various geopolitical issues which will keep a "lid" on it, said Greg McBride, chief financial analyst for Bankrate, the North Palm Beach, Fla.-based financial content company. This dismal outlook, exacerbated by this frenzied market sell-off, does not bode well for consumers who are saving money in cash accounts for emergencies, down payments or large purchases, since any improvements to interest rates will be "hard to come by," he said.
But though penny-pinchers who love to line their savings accounts may not benefit from this scenario, the prolonged low interest rate environment provides a distinct advantage for first-time home buyers since they remain at a historic low and consumers should also take advantage of lower and 0% rate offers from credit card issuers before the availability decreases.
Fed Watch
Any moves the Fed makes in 2016 will be conducted "slowly," and the central bank is not likely to raise rates more than three to four times or by 1% because the general market conditions do not support raising them rapidly, said James Kahn, a former vice president of the Federal Reserve Bank of New York and an economics professor at Yeshiva University in New York.
The potential for the Fed not to raise rates at its next meeting this month is high since the strategy is quite different from ten years ago when the Fed raised rates by 0.25% each time it met, he said.
"It would not surprise me if they did not raise rates this next time," Kahn said. "Although I doubt they will cut rates in 2016, because that would require a substantial crisis to occur."
While yields still remain historically low for savers, consumers can boost the amount of interest they receive by depositing their money in online banks, which tend to increase rates "faster" compared to their brick and mortar counterparts since they are "delivering roughly ten times more yield," said Gary Zimmerman, CEO of MaxMyInterest, a New York-based company that maximizes cash balances for savers. Even among the online banks on the market, some of them will increase rates faster than others.
"These online savings accounts, which offer daily liquidity and the same FDIC insurance coverage as their brick and mortar peers, are providing roughly twice the yield of even a five-year CD at some of the largest banks," he said.
The Fed's previous actions means that consumers and the economy have grown accustomed to being "hooked on low rates," said Andrew Carrillo, president of Barnett Capital Advisors, a Miami-based asset management firm.
"It can make sense to have a portfolio of short-term bonds to help you keep pace with inflation, but otherwise just keep your cash in low-yielding money markets," he said.

Credit Card Offers to Shrink
The number of lower interest rate and 0% offers will shrink throughout the year as some credit card issuers have already boosted their rates, which is the prime rate that is tied to the Fed's rates, said McBride. Nearly all credit cards on the market now have variable rates, so consumers could see their current rates rise by 0.5% to 0.75% by the end of the year.
"As the year progresses we will see fewer and less generous offers," he said.
Paying down your high interest credit card balances now will behoove many consumers who are paying a large percentage of their monthly payment toward the interest amount alone. Interest payments will also increase, so paying off the balance from your savings now will pay down the balance faster, said Jamie Hopkins, a retirement professor at the American College of Financial Services in Bryn Mawr, Pa.
"It can be beneficial to halt savings in a 401(k) or other retirement plan to free up some income if you are not keeping up with your credit card bills," he said. "The rising interest rates can help bring focus back to general household financial planning."
Mortgages and Payments
Adjustable rate mortgage holders will only see modest increases as the Fed is expected to increase rates slowly, but depending on when your ARM is resetting, which is typically in the fifth or seventh year, now is a good time to refinance into a fixed rate, McBride said. The current 30-year mortgage rates are in the low 4% range and will finish in 2016 at 4.5%, he said.
"It is not too late to refinance to insulate yourself from rising rates and homeowners who are facing an adjustment this year or next year will see their monthly payment ratchet higher," McBride said. "Some people could be looking at an increase of 0.5%, 1% or even 1.25% depending on their timing. This is something that could spell trouble for people who are on tight budgets."
Since the interest rates of home equality lines of credit, or HELOCS, also closely follow the moves by the Fed with short-term rates, these can increase by 0.5% to 5.3% by the end of 2016, he said.
"This can slow down progress on paying down the balance and HELOCs can be refinanced at a low fixed rate," McBride said.
Potential first-time homebuyers should not feel there is a sense of urgency to buy a home because they fear interest rates will rise since current ones remain historically low. Instead, they should spend time getting pre-qualified for a mortgage, said Ray Rodriguez, a regional mortgage sales manager of TD Bank, the Portland, Maine-based financial institution. A $200,000 fixed rate 30-year mortgage at 4% carries a monthly principle and interest payment of $954.83 per month. If rates rise by 0.25%, the difference in the monthly principle and interest payment is only $29 per month or "the money spent for nine cups of gourmet coffee," he said.
"Rising rates may cause buyers to rush into purchasing a home so that they can lock in at a low interest rate," Rodriquez said. "Buyers should understand that rates will increase gradually."

Auto Loans
With plenty of credit available, this year should produce another year of "strong" car sales, said McBride. The best auto loan rates will remain below the 4% mark and consumers have a real incentive to shop around for the best rates since the average rate for new cars will be 5% at the end of the year while used rates will be 6%, he said.
While interest rates remain low, variable rate loans can be "very attractive" to borrowers, but more consumers will choose fixed rates since they are expected to rise, said Brendan Coughlin, president of consumer lending at Citizens Bank, a Providence, R.I.-based financial institution. Fixed rates can give consumers the "security of knowing what their monthly payments will be," he said.