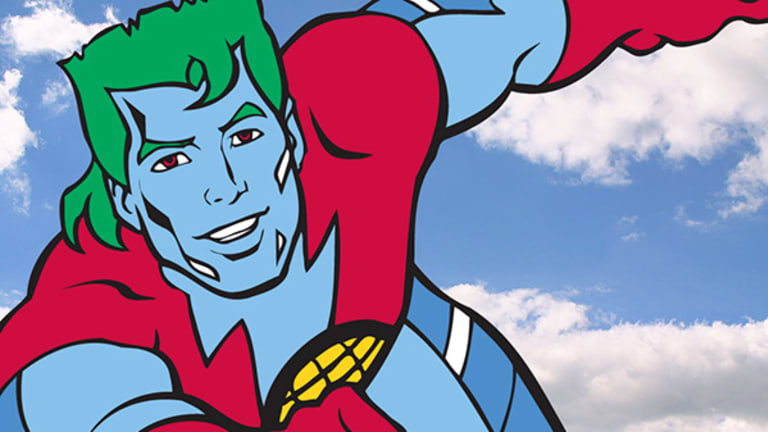 Save the Planet and Make Money By Channelling Captain Planet
Green living is not just for environmentalists. It's also beneficial for frugalistas. Get riches await those who turn trash into cash.
NEW YORK (MainStreet) — For a child of the 90s every-TV-episode-has-a-cause era, the answer to world's waste and pollution problem was simple:
"This calls for a team beam. Let our powers combine!
Earth
Fire
Wind
Water
Heart
…With your powers combined, I am Captain Planet!"
No matter what problem was brought on by villains like Looten Plunder, Sly Sludge or Dr. Blight, Captain Planet and his scrappy band of Planeteers could save the world from all but imploding in about 24 minutes. And if you dug through your parent's trash can, shaming them for forgetting to recycle their cans, you could join in and save the planet too.
But that was the '90s. This is now. We should spend more time making money to pay our bills and less time following a cartoon character in a leotard, right?
Actually, Planeteers, you may be able to do both. Several startups are working to recycle the trash we leave behind (251 million tons in 2012, according to The U.S. Environmental Protection Agency) into something we can use again – and many will pay you for stuff you were already planning on tossing anyway.
Gizmogul
Gizmogul buys unwanted smartphones, Macbooks, tablets and iPods. "[Devices] are either refurbished and reintroduced into the secondary market or they will be broken down for parts and refined for their precious metal content here in the United States," says co-founder Stephen Schneider.
Buying prices vary depending on the item and its condition.
Currently an Apple iPhone 4 in good condition could get you $57 to $67, while a fully-stocked Apple 13-inch MacBook Air in good condition is going for $273 to $287.
Beyond recycling, the company also partnered with buildOn, an organization that builds schools in impoverished countries and provides after school programs in the U.S. Schneider says,
"Gizmogul normally makes a contribution of $1 for every premium phone recycled and 75% of the total value of all donated phones."
Yemm & Hart
Wine corks do more than protect precious wine – they can also be recycled into unique floor tiles.
Co-founders Stephen Yemm and Deborah Yemm Hart got the idea when working on a construction project where cork floors were suggested. "Because we are recyclers, we naturally wanted recycled cork flooring but it did not exist, at that time," Yemm Hart said. "So, we began to create it for ourselves, very grassroots, from nothing."
Today, the company manufactures and sells tiles from recycled cork that is processed into a veneer and layered. "The wine cork veneer is made of 50% whole wine corks and 50% cork granules from wine cork production," Yemm Hart said.
And if you have a lot of wine corks lying around, you can make a little extra money by selling them. Yemm & Hart currently pays half a cent per cork with a 15-pound minimum.
Knetgolf
Golfing is an expensive hobby. While green fees can be ridiculously high, some of the equipment also has a habit of getting lost. "The average person loses something like 3.5 balls every time they go out and play. They're like food – you have to keep coming back for more," says Gary Shienfield, CEO of Knetgolf.
On top of being a big expense, lost golf balls present a problem. "Golf balls are made out of such a plastic they'll never break down," Shienfield says.
To combat the problem, Knetgolf collects and reconditions golf balls. All reconditioned balls are tested and sold to pro shops around the country as well as direct-to-consumer through Knetgolf.com.
And if you're a golfer, it can save you money. For example, a set of 12- Titleist Pro V1x golf balls retails for $47.99 new at Sports Authority, while the used version is going for $19.99 at Knetgolf.com.
TonerBuyer.com
Every year, 1.3 billion ink cartridges are used and only about 30% of those are recycled. In the U.S. alone, about eight cartridges are thrown away every second, according to Evolve Recycling.
That's the bad news. The good news: you can sell your old (and new) ink cartridges to TonerBuyer.com. "If the cartridges are new, we resell them on our eBay store or to our retail base," says founder Bob Steffens. "If they're empty, we resell them to our recycling partners."
Selling prices depend on brand and condition. Currently, used cartridges run from $0.50 for a Hewlett Packard X540 Series printer to $22 for a Xerox 13R563 model.
The company also has its roots embedded in the local economy.
While a family business, the company has generated several jobs complete with benefits. On the retail side, "Everything we buy and everything we sell is in the United States," Steffens says.
Tradesy
Of course, recycling doesn't always have to mean breaking down a product to make something new. Reselling something you don't want will give the product a second life (and keep it out of the landfill).
With Tradesy, you can resell high fashion clothing for a bit of extra cash, keep your clothes far away from the landfill and clear out your closet. This modern take on a consignment shop is pretty simple to use. You make a listing, set a price and Tradsey handles everything else for a 9% cut. And best of all, the company pays through PayPal so you won't have to wait to collect a paper check (or worse, a store credit).
Currently the website accepts women's clothing (petite, maternity and plus sizes too), handbags, accessories and even wedding dresses.
--Written by Angela Colley for MainStreet