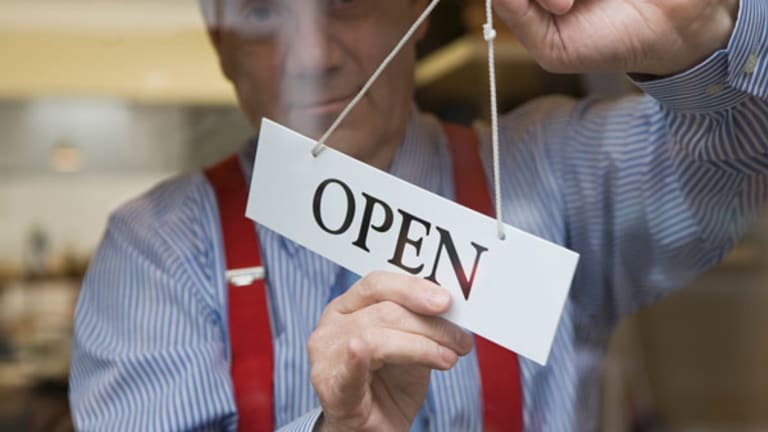 Samsung Tab Challenges the Apple iPad
It is remarkable how fast the great unwashed tablet market has caught up with the category-leading iPad.
Editor's note: Don't miss part five of TheStreet's Small Business Success Webinar Series, featuring tips and insights from successful entrepreneurs, today at 2 p.m. ET. Click here to register.
Forget the Microsoft (MSFT) - Get Microsoft Corporation Report vs. Apple (AAPL) - Get Apple Inc. Report thing. Cupertino's real headache -- at least for the business tablet computer market -- might just be Samsung.
Last week, the South Korean conglom rolled out its new 8-plus-inch diagonal touchscreen tablet computer (with a 7-inch screen) called the
to several major carriers:
Verizon
(VZ) - Get Verizon Communications Inc. Report
, T-Mobile,
Sprint
(S) - Get SentinelOne Inc. Class A Report
,
AT&T
and US Cellular. Be warned that prices vary widely, as does availability: $600 from Verizon, $400 with a two-year contract from T-Mobile and Sprint. And as of now many of these outlets are out of stock.
The Samsung Tab is nowhere near a legit work computer. But if you can eat the cost of owning one, it offers great flexibility and can help a small business make money.
Initially, I and many of my geekish cousins dismissed the smaller, lower-functioning
Google
(GOOG) - Get Alphabet Inc. Report
Android-powered tablet as a knockoff of the all powerful Apple iPad. But in a few weeks of tinkering with a demo device provided by Sprint, I have to say that the Tab -- while certainly no iPad killer -- does show promise as a legitimate alternative to Apple's uber-hip tablet in a small-business work context.
WHAT YOU GET
The Galaxy Tab is as close as you can get to palm-sized business Web portal.
Samsung has been crafty to make the Tab everything the iPad isn't. Yes, the roughly 8-inch diagonal Tab is disappointingly small compared with the roughly 12-inch diagonal iPad. But you can hold it -- no problem -- with one hand, which frees your other mitt to email, enter data and otherwise work, and that immediately slays the iPad's major issue of needing to rustle up a lap, table or car top to use it on. Second, the Tab's screen is remarkably bright but not as reflective as the iPad's, so it really does work outside. And rather than relying on other devices for Wi-Fi access as the iPad does, assuming you buy a data plan, the Tab has its own built-in Wi-Fi hotspot that connects all the rest of your business devices to the Web. Nice.
Most importantly, the Tab fully supports
Adobe
(ADBE) - Get Adobe Inc. Report
Flash ... which removes the goofy iPad barriers for Web-based business apps. Many cutting-edge Web tools, such as LiquidPlanner, which require dedicated apps to run on the Apple OS devices, run fabulously on the Tab.
Anybody trying to do their job with cloud-based apps knows how big a deal all these small tweaks are.
WHAT YOU DON'T GET
The Tab is nowhere near a legit work computer, nor much of a telephone. It has no 4G connectivity. And, like all tablets, it is not cheap for businesses.
As attractive as the Tab is, there are real issues that will slow deployment for the average enterprise. First of all, the Tab will
not
replace your laptop. The lack of keyboard really will kill you on doing real work. And although VoIP telephony tools can be installed -- Skype Mobile worked just fine -- this device is not a traditional cell phone; voice calling will be an extra. And pricing is a real issue: Using my Sprint demo as an example, the unit runs a hefty $400 with a two-year plan, though Sprint has an attractive $30 a month for 2GB of access and $60 for a 5GB plan. Samsung is reportedly close to offering a $500 Wi-Fi-only Tab with no cellular connectivity at
Best Buy
(BBY) - Get Best Buy Co. Inc. Report
. For sure, none of this is pricey by wireless standards, but all of these costs are on top of your existing mobile infrastructure. And that adds up fast for a business.
Finally, the Tab does not support Sprint's excellent 4G network -- which really is kind of dumb considering how simple it is to enable 4G connectivity in gadgets these days.
BOTTOM LINE
Pay attention, Apple boosters. The Tab without question has chiseled out a rich sleeper niche for itself for business users. Assuming you can eat the cost of a tablet in your operation, the Tab is reasonably priced, offers great business flexibility and can help you make money.
And on a larger level, Apple and the rest of the techno market should take notice: It is remarkable how fast the great unwashed tablet market has caught up with the category-leading iPad.
Clearly, keeping a hot mobile device actually hot gets tougher every day.
>To submit a news tip, email:
.
RELATED STORIES:
>>Apple MacBook Air Will Suffocate iPad
>>Apple iPad, Sprint Pairing Rocks Airwaves
>>The iPhone Kills the Business Card
Follow TheStreet.com on
and become a fan on
Jonathan Blum is an independent technology writer and analyst living in Westchester, N.Y. He has written for The Associated Press and Popular Science and appeared on Fox News and The WB.