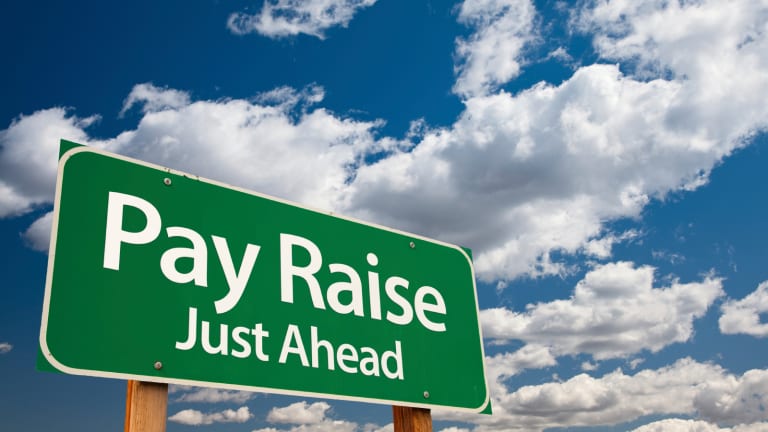 Salary Negotiation Tip: You'll Get a 10% Bump if You Do This
Employers are bringing more cash to the salary negotiation table. Here's how to get your fair share.
Editor's pick: Originally published Jan. 11.
With the news that the U.S. economy generated 292,000 new jobs in December 2015 -- bringing the nation's unemployment rate down to 5%, once you discount the number of Americans who have stopped looking for work -- the economy is on an upward path heading into 2016.
That's good news for job-seekers, as a healthier economy translates into a stronger job market for the unemployed and for career professionals looking to switch companies.
But there's another upside to a stronger employment market -- with more companies looking to fill vacant positions, hiring managers will have to loosen the purse strings and bring more cash to the table to get the talent they want.
Or, as a new report from Robert Half phrases it, "companies are sweetening the deal for job candidates" early in 2016. So much so that U.S. companies are offering increased starting salaries, at an average of 10% higher than a person made at his previous job.
"Professional job seekers with in-demand skills are receiving multiple job offers," said Paul McDonald, senior executive director for Robert Half. "Employers need to put their best bid on the table -- and do so quickly -- or they risk losing good talent."
"Companies are competing not just with other businesses that are hiring but also with the applicant's current employer, who may make a counteroffer to retain the services of a valued employee," he adds.
If you're about to negotiate the financial terms on a new job, know going in you should have a salary request 10% higher than you originally thought. As Half notes, that 10% pay hike is already baked in the cake, so be aggressive about asking for it.
Start your research by using salary comparison Web sites. That will give you a good idea where you need to be, compensation-wise, based on comparable industry salary figures. "Sites like PayScale give you a solid starting point to negotiate by showing the market rate to your employer," explains Pauline Paquin, founder of the personal financial website MakeMoneyYourWay.com.
Also, as the Half report notes, recognize that as important as salary is, a paycheck is only part of the compensation package. "Increasingly, professionals value perks that support work-life balance, such as additional vacation time and flexible schedules," Half says. Those perks should also be on the docket for any salary and employment benefits package, Half states.
To make employers become more amenable in employee salary negotiations (a tip -- use the phrase "is there any way you can be more flexible?" when talking money with hiring managers), know ahead of time what your final salary figure is.

Don't be reluctant to talk to a recruiter or career counselor to see if you're in the ballpark -- even if you have to pay a fee for professional advice. It's worth it to get an extra $5,000 or $10,000 in your salary package after you negotiate.
Also, make sure you give yourself the time you need to negotiate a good salary package, experts say.
"Because the hiring process can be unpredictable, it's possible that an offer can come sooner than expected," notes Kelly Mattice, vice president at recruitment firm The Execu|Search Group in New York City. "Don't let it catch you off guard. Give yourself time to think about the offer on your own. If the employer truly wants you to accept the offer, they will typically allow a day, sometimes more, for you to mull it over. Take this time to think about whether or not the offer package addresses all of the areas that are most important to you."
Mattice also advises not showing your hand too soon. "There's an old saying in the realm of negotiating that says, 'The first person that says the number loses,'" she says. "Unless you're prepared to lose a negotiation, wait until the employer presents you with a number first. If you open the negotiation with a suggestion of $50k, but your employer was willing to pay you $60k, you may have to settle for less than you could have made." 
One last piece of advice -- be upfront and bring up your potential value to the firm, right at the negotiating table. "You'll want to discuss how you compare to your competition and what you are bringing to the employer," says Lynda McKay, vice president of Human Resource Consulting at Bagnall, an employee benefits and HR consulting firm in Phoenix.
But bide your time for a good opening to make your case. "Always wait for the employer to bring up the topic of compensation, then respond," adds McKay. "And never make it personal; always maintain professionalism throughout the process."
All in all, it's not a bad deal for you 2016 job salary negotiators. You've got an early 10% bonus before talking salary, based on the Robert Half data. And you've got some additional great advice from the experts above, to pad your pockets even more before you sign on to a new job.