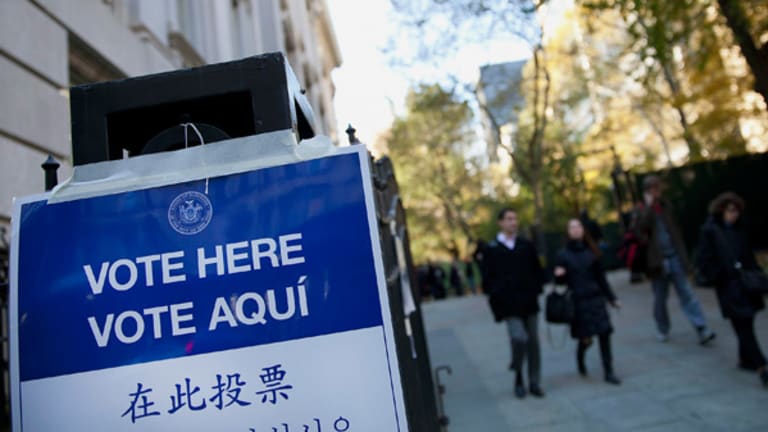 Romney Voted in by Small-Business Owners
The Republican would do more to support them than President Obama has.
NEW YORK (
) -- Whether he's elected or not, Mitt Romney has the support of small businesses across the U.S.
TheStreet
spoke to business owners in a variety of industries and locations. The unofficial survey results show American business owners trust Romney to lower their costs, especially health care, and to get banks lending again. President Barack Obama, they say, has done little to help them over the past four years.
Devastation in New York and New Jersey, as a result of Hurricane Sandy, has reinforced Dr. Leon Popovitz's decision to vote for Romney.
"These are conditions reminiscent of the 1970s Jimmy Carter-era with the gas lines and rationing," says Popovitz, the owner of orthopedic-surgery center
in Manhattan. "If the Obama administration continues its metamorphosis of the United States then it may, eventually, turn it into George Orwell's
1984
(but only a few decades later)."
With 25 employees, "I expect that Mr. Romney would affect my business in a positive way that promotes me to try and grow my business. I expect there will be incentives, again, to succeed instead of rewards for complacency," he says. "Today, nearly all small businesses are holding their breath hoping the present conditions do not continue."
Cindy Hester, a franchisee owner in Sandy Spring, Ga., of Mr. Transmission (one of the companies under Moran Family of Brands), says she's also frustrated with the economy and wants a change.
"Romney's business experience and just his vast
knowledge of running businesses and saving businesses will come into play as far as helping this economy. We haven't been able to hire someone else because of the cost to support an employee," Hester says of her five-person franchise. "Sometimes we feel like we're working and paying taxes. We don't feel that we can bear any more of the government getting into our pockets and that's the way it seems it's going with the current administration."
Romney "has a plan. His five-point plan, I believe, will work. Obama has nothing to stand on, and he has no plan," she says.
Romney supporter Dan Biederman, president of
Biederman Redevelopment Ventures
and
, says it's all about jobs and the economy. He plans to keep hiring if Romney is elected.
"The health-care insurance burden is an overwhelming problem," Biederman says. "We expect that the election of Mitt Romney would eventually lead to the reintroduction of the pricing mechanism into health care, as in many other areas. With health-care costs under some control, we could then afford to hire more people, because the fully loaded cost of each employee would decline. Also, baseless litigation might decline under Romney, because I'd expect there to be serious tort reform within his four-year term. So, more money for our programs to improve cities, and more money for hiring workers."
Bruce Schoenberg, owner and president of Oasis Day Spa in Manhattan, says the ramifications of Obama's Affordable Care Act are a big setback for businesses.
"It will force us to lay off full-time staff and move more towards a part-time-employee model so that we can ensure we are not classified as having so many employees as to be subjected to onerous penalties," he says of his business. "From a business point of view, Romney is a better choice."
However, there are plenty of Obama supporters among small-business owners.
Matthew Bellows, founder and CEO of
, voted for President Barack Obama this morning.
"My taxes will go up, but I can't plan @yesware's growth with @mittromney's vagueness," Bellows said in a tweet to
TheStreet
today.
Derrick Parks, CEO of
Metropolitan Protective Services
in Lanham, Md., said last month he was leaning toward voting for President Obama.
"Even though I don't think his record has totally reflected the change he originally wanted to transform the country in 2008, by the time he sat in that seat as president ... it was like stopping a locomotive as far as the economic crisis and debt," he says.
Parks worries that if Romney is voted in, new policies will disrupt progress made under Obama. Metropolitan Protective Services, a private security business, has about 160 employees.
"At this point,
Obama has been able to apply the brake, but the train is still moving. It's slowing down and coming to a stop and now we're slowly starting to reverse some of the trends. In a few more years we will actually start to feel the effects," he adds.
Greg Jones, CEO of
and owner of three Five Guys Burgers & Fries franchises in Florida, says no matter who wins, the uncertainty that has surrounded the markets and economy this year will subside, helping business owners prepare better for the years ahead.
Jones is a supporter of Romney.
"If Romney gets the win, banks are going to put money on the street. Tax cuts to small business will be a priority. Now, if Obama wins, I think there is going to be a negative reaction from the small-business community. There will be more tightening, less expansion and less opportunity for that business owner's business to continue to grow," Jones says.
Jones says more small businesses would fail as a result of the re-election of Obama.
"It's a less-friendly environment," he says.
-- Written by Laurie Kulikowski in New York.
To contact Laurie Kulikowski, send an email to:
Laurie.Kulikowski@thestreet.com
.
>To submit a news tip, email:
.
RELATED STORIES:
>>Small Businesses, Social Media Saved My Town During Hurricane Sandy
>>Metar Weather Offers Weather Risk Insurance to Small Business
>>Halloween Entrepreneurs Capitalize on Fear
Follow
TheStreet
on
and become a fan on
Disclosure: TheStreet's editorial policy prohibits staff editors, reporters and analysts from holding positions in any individual stocks.