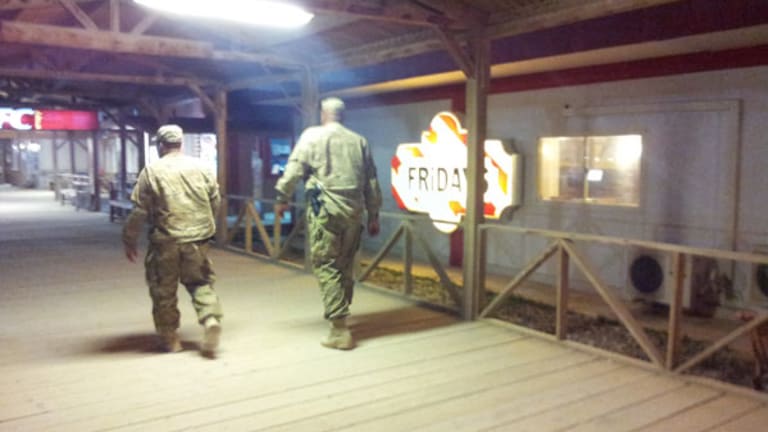 Publish date:
Rogers: Inside the Busiest Restaurant in Afghanistan
Wander into the T.G.I. Friday's in the middle of Kandahar Airfield and you would find it hard to believe you're in a war zone.
Wander into the T.G.I. Friday's in the middle of Kandahar Airfield and you would find it hard to believe you're in a war zone.
KANDAHAR, Afghanistan (
) -- Wander into the
T.G.I. Friday's
in the middle of Kandahar's vast military base and it's hard to believe you're in a war-torn corner of central Asia.
Nonetheless, this is no ordinary restaurant, as evidenced by the cluster of marines chilling in one of the booths, and, more ominously, the bomb shelter just a short dash away.
T.G.I. Friday's is one of around 50 businesses that make up Kandahar Boardwalk, undoubtedly one of the world's strangest retail centers. Forming a broad circle around an 8-a-side soccer field, basketball courts and a street hockey rink, the dusty, wooden Boardwalk is a thriving social and shopping hub for off-duty personnel.
In addition to the sellers of local wares such as rugs and jewelry, there's
Yum Brands'
(YUM) - Get Report
KFC
and
Pizza Hut
restaurants and even a
Nathan's Famous
(NATH) - Get Report
, giving the Boardwalk, like most of the base, a distinctly stateside feel.
T.G.I.'s, in particular, is wildly popular with the hordes of American service personnel desperate for a taste of home.
"This is the busiest restaurant in Afghanistan -- there's no other business like this
in the country" explained Ali Abbas, a station manager of
MCR International
, which manages the franchises for T.G.I. Friday's, KFC, Pizza Hut and
Burger King
(BKW)
at Kandahar. "In a normal day, we're feeding 350 people."
There are, however, some big differences between the T.G.I. Friday's in Kandahar and its cousins in Kansas, most notably the lack of alcohol in all its beverages, including the Mojitos. "It's the base law," explained the manager.
The strict military discipline that permeates the base also makes Abbas' life easier. "Sometimes, in the restaurant business, we have customers that are troublemakers, but that's not
a problem here," he said. "Because they are military, they are more respectful -- the laws of the base are very strong."
Inevitably, though, there are challenges involved in running a business in one of the world's trouble spots. With everything from diesel to water shipped from the U.S., Abbas has to wrestle with high overheads and admits that recruitment could be easier.
"It's not easy to get people to come to the jobs here," he acknowledged. He added, however, that the risks are exaggerated, saying "They have rocket attacks, but they have rules for everything."
These rules tell the 30,000 base dwellers what to do in the event of an attack, and are a key aspect of life in the sprawling military facility. New arrivals at the airport, for example, have the correct procedure
at them, and posters featuring a soldier face-down on the ground, hands covering his ears, are everywhere.
Another big thing in Kandahar, of course, is the American "drawdown" from the country -- President Obama's plan to withdraw U.S. troops by the end of 2014.
The first signs of this transition are already starting to show, according to Abbas, who said that sales in his restaurant have declined over the last three to four months.
-- Written by James Rogers in Kandahar, Afghanistan.
>To submit a news tip, send an email to:
.