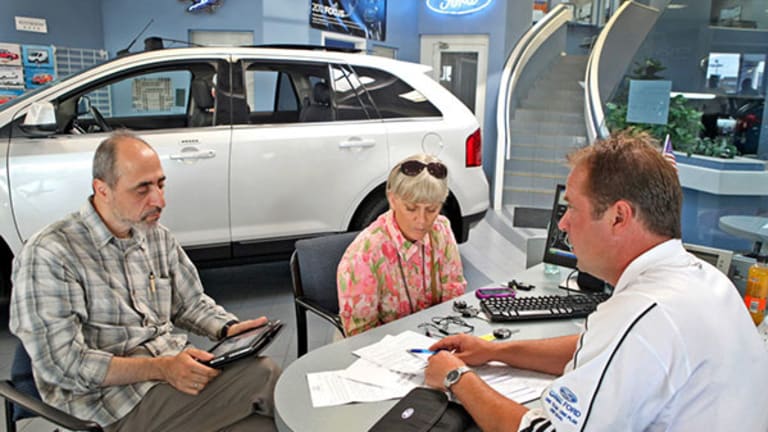 Road Wage: Take These Key Financial Steps To Buying A New Car This Fall
The new '16 car, truck and SUV auto models are out - are you ready to roll?
NEW YORK (MainStreet) -- Auto dealership and online vehicle sites are humming with activity as the new 2016 car, truck and SUV models roll out onto showroom floors.
Americans love their wheels, and with the economy on the uptick, they wouldn't mind taking a test drive or two and cut a check for a new '16 vehicle. That doesn't mean they love the car buying process, however.
In an email this week to MainStreet, Capital One reports that 98% of U.S. adults "find some aspect of the car buying process difficult." And 41% say the most difficult aspect is "feeling confident they got the best deal."
If you're buying a new vehicle this year, but fall into that "98% category of confused, unsatisfied auto buyers," actually having a good game plan ahead of any purchase is really where the rubber meets the road.
"I've bought several new cars, and my husband actually used to be a new car salesman, so I know a lot about buying a new car," says Michelle Schroeder-Gardner, founder of the personal finance blog MakingSenseofCents.com. "My top tip when buying a new car is to have a set budget before you head into a dealership and before you start shopping online.

"A person can significantly increase their budget if they fall in love with a car, so it is always best to set a budget beforehand and stick to it," she adds. "This way you don't have buyer's regret afterwards and you know that you can afford the car you just bought."
Another tip from Schroeder-Gardner - car buyers should not just think about the monthly car payment. "Monthly car payments can be formatted in different ways so that it seems very affordable, but you may be paying for that same car eight years down the line," she says.
For financing, it's always best to cover all your bases before signing on the dotted line - and yes, that does mean going online for lending deals.
"You've got to line up financing first," advises Andrea Woroch, a consumer-finance expert and financial blogger based in Santa Barbara, Calif. "When you're looking for an auto loan, it pays to shop around and sites like LendingTree.com allow you to compare loan rates and terms from multiple lenders instantly. This gives helps you establish a budget beforehand so you can make a better purchase decision that fits with your financial goals." 

Woroch also says to clean up any credit score issues well in advance of a new vehicle purchase. "Keep in mind, your credit score plays a huge role in the type of financing you quality for," she says. "The better your credit score, the better your loan interest rate. If you don't have a bad score -- 639 or lower -- raising your score by even 20 points can help reduce interest rates."
When you're ready to roll, don't be timid. "Learn to negotiate," Woroch says. "Don't seem overly excited about a new vehicle and let the dealer make the first offer, then take a few silent moment to contemplate the price. Once you've given him a few minutes to squirm, shoot a lower offer back. If he or she doesn't accept, get ready to walk away. Chances are they'll follow you or call shortly after to make a sweeter deal."
Looking backwards can also net you some good value with an auto purchase, especially with the new '16 models hitting dealer lots right now. "Fall is the best time to buy a new car, and it's exactly because next year models are coming out," says Leo Biyevetskiy, a Boston car enthusiast and auto blogger. "If you buy last year's model -- 2015 -- you can save an average of 20% off the manufacturer's suggested retail price without much negotiation."
Dealers and manufacturers are looking to clear the lot for next year models and are giving steep discounts these days, Biyevetskiy says. "Last year I bought a car which was listed at $26,000 MSRP, and I got it for $21,000," he says. "Unless there is a major redesign, you are getting essentially the same car as next year model and a great deal - you really can't beat it."
Good deals are out there but it's up to you, the auto consumer, to hunt them down. The optimal strategy is to plan ahead, expand your options, and be patient. Do all that, and chances are good you'll be driving off the lot with a car - and a deal - that you love.