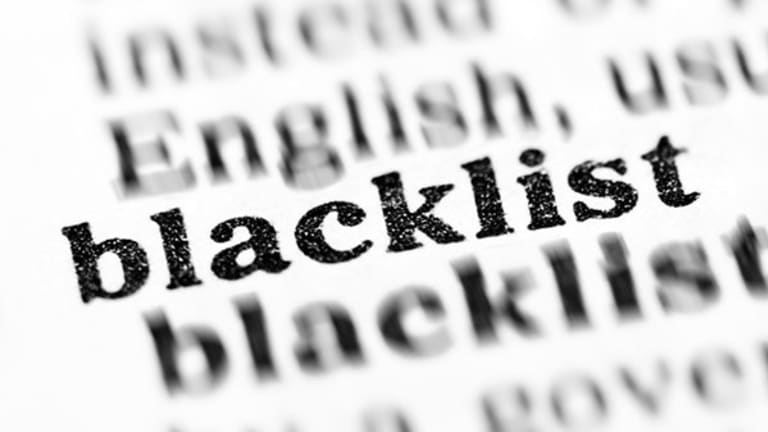 NEW YORK (MainStreet) — Have you ever gone on a shopping spree at the mall or your favorite big-box store, only to suffer from a bad case of buyer's remorse when you got home? If you had a change of heart about that new jacket or flat-screen TV, you were probably put at ease knowing that most major retailers will take back items you decide you don't actually want or need. What you might not know, though, is that some of these stores are actually tracking your returns using sophisticated technology. If the number of returns you make in a given period is deemed excessive, there's a chance you could get "blacklisted" from making returns at the store. Here's what you need to know about what's happening behind the scenes at the return counter so that you can keep your name clear and avoid losing your return privileges.
Why Retailers Are Tracking Returns
Retailers aren't trying to put a damper on your shopping experience by tracking returns—they're simply protecting their bottom line. Serial returners are sometimes guilty of "return fraud," which occurs when customers try to defraud a store during the return process. Examples of return fraud include taking back worn or used merchandise or attempting to return stolen items in exchange for money, sometimes with counterfeit receipts. Return fraud is hard for retailers to ignore, considering that it cost the industry an estimated $10.9 billion in 2014, according to a survey by the National Retail Federation.
"We've seen a change in the culture in the last 15 years where people are more willing to sort of cheat," says Dale Rogers, a professor of logistics and supply chain management at the W. P. Carey School of Business at Arizona State University. "There's the joke about the 'Home Depot rental,' where somebody will buy a leaf blower and pass it along the cul-de-sac and take it back when they're done. So it used to be that that was not socially acceptable, but it seems like it is now."
Dan Nainan, a comedian from New York City, isn't shy about making returns—even when it comes to products he's already opened and used. Nainan says he typically brings back multiple items each month to stores such as Best Buy, Target and Bed Bath & Beyond, including phones, tablets, laptops, blenders and toasters.
"Sometimes I'll buy something on impulse and decide I don't need it and want to return it," he says. "Other times, I actually need something but only for a few days or weeks, so I can use it and return it, saving a ton of money."
Nainan has never been confronted about his returnaholic tendencies, but he says he's aware that some retailers track returns and that he could get flagged at any time. "It's bound to happen one day," he says.
While Nainan's behavior can be classified as a type of "friendly fraud," because he does pay for his products first, some returns are more malicious. Rogers says that return fraud is often committed by criminals, including drug addicts, who engage in a cycle of stealing-then-returning as a fast way to get cash.
"There is a fair amount of return fraud, and so since retailers can track folks' return patterns electronically, it just makes sense to do so," Rogers says.
How Returns Are Tracked
Many retailers track returns with the help of The Retail Equation, an Irvine, Calif.-based company that offers technology designed to prevent return fraud. Although The Retail Equation would not disclose its client list to MainStreet, it says that 11 of the top 50 retailers in America and six retailers in the Fortune 500 use its technology. The most popular choice among retailers is the Verify Return Authorization system, which uses statistical modeling and analytics to detect fraudulent and abusive behavior when returns are processed at store return counters.
According to information provided by The Retail Equation, here's how the Verify Return Authorization system works: when a consumer wants to make a return, a retailer will scan the original sales receipt and/or swipe the customer's driver's license or government-issued ID card to make an identification of the person and his or her unique return behavior. As customers return merchandise, the system compares variables such as return frequency, dollar amounts and/or time against a set of prescribed rules that form that particular retailer's return policy.
Could You Get Blacklisted?
The Retail Equation says that among retailers who use the Verify Return Authorization system, the vast majority of returns—about 99%—are accepted, while only about 1% of consumers are denied returns. Some individuals who are denied returns haven't actually committed any kind of crime, but their return behaviors mimic fraud or abuse or violate the retailer's return policy, such as making returns after the allowed return period or making a greater number of returns than is allowed by the retailer in a given period.
If you're wondering how many returns are considered too many, the answer depends upon each store's individual return policy. In any event, you probably shouldn't worry too much. Rogers says that he doesn't think the average returner is in any danger of getting blacklisted. "I think you would have to make returns multiple times a week for them to say you can't do it anymore," he says. "If it's after Christmas and you're back there three times in a month, that's a lot different from it being February 25th and you've returned on the 23rd, the 24th and the 25th."
What Happens When You're Denied Returns
Rest assured, customers who are denied returns at a particular store can still purchase products there, and their return privileges are typically only suspended on a temporary basis.
"[The] Verify [system] does not 'blacklist' consumers in the sense that they are prohibited from ever making returns at all retailers," says a spokesperson for The Retail Equation who asked not to be named. "The system may prevent a consumer from returning for a period of time at a particular retailer, but if that consumer reduces his or her return activity, the system then allows the consumer to make returns at that retailer."
Who Is Tracking Returns?
MainStreet reached out to several major retailers to find out whether they track returns, but most opted not to disclose their policies. However, Target did tell us that the store tracks returns that are made without receipts.
"When a guest does not have a receipt and would like to return an item, we ask for a form of government-issued ID to track the return or exchange," says Kristen Emmons, a public relations representative from Target. "We track no-receipt returns using ID numbers, but we do not collect or retain any additional information."
When it comes to online shopping, Rogers says that customers should expect more lenient return policies from retailers. "I don't think the same rules are applied—I think with online returns, retailers expect return rates to be higher, and some retailers actually build in returns as part of their model," says Rogers. "A retailer like Zappos encourages you to buy five pairs of shoes and return four."
If you're curious about what your own return record looks like, you can contact The Retail Equation to ask for a copy of your Return Activity Report, which is a history of your return transactions posted in stores that use the Verify Return Authorization system. The report lists return activity information such as the stores you've returned items to and, for each return, the date and time, whether it was receipted or non-receipted and the dollar amount. To request your report, you can either send an email to ReturnActivityReport@TheRetailEquation.com or mail a letter to The Retail Equation, P.O. Box 51373, Irvine, CA 92619-1373. In your request, be sure to include your name and phone number. Reports are typically delivered in 24 to 48 hours by email and five to seven business days by regular mail.
The Future of Returns
While it makes sense that retailers would want to penalize returnaholics in an effort to protect themselves against return fraud, having too strict a return policy can be a turnoff to shoppers. If financial losses from return fraud continue to increase, it's possible that some retailers may tighten up their return policies even more, but it's doubtful that they'll crack the whip too hard.
"Retailers know that having open return policies results in more business for them in the long run, and for competitive reasons you have to be willing to take returns," says Rogers. "For the most part, retailers want to accept returns; they're not happy about having to stop folks from returning, so they only do it where it feels like there's return fraud and abuse."
—Written by Kristin Colella for MainStreet