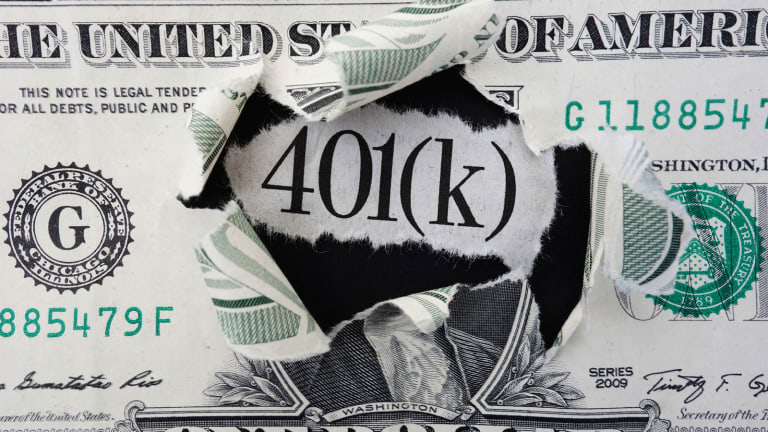 Retirement Savers Miss Out on Thousands of Dollars in Easy Money
A small improvement now can lead to much bigger retirement savings later.
NEW YORK (TheStreet) -- So you're not a coupon cutter. You like discounts -- love free stuff -- but you're not going to go out of your way to score chump change here and there, right? It's got to be a convenient – and substantial -- payoff to get you motivated. 
Now, $1,300 would probably get your attention. And 42 grand, you're definitely in. That's the "easy money" that Financial Engines estimates Americans are squandering by not picking the low-hanging fruit in their 401(k).
You've heard it before: defer enough savings to earn the company match. But one in four 401(k) investors miss the maximum match by not saving enough. That's a yearly average of $1,336 in lost earnings per employee or an extra 2.4% of annual income. Bet your raise was less than that this year.
Financial Engines did the math and found that, in a typical scenario, that annual bump in savings would add up to $42,855 in free money over 20 years. And for younger workers, it's an even bigger number. Compounding the $1,336 at a conservative 4.5%, the additional match would grow to $142,270 over 40 years. In fact, younger workers – who have the most to gain over the long haul – are the least likely to defer enough salary to gain the full company match in their 401(k) plan, according to the study.
All in all, it's $24 billion in missed retirement riches for savers nationwide – every year. Why are employees, already hard-pressed to save enough for retirement, missing the 401(k) bonus boat?
"There could be a number of issues at work here," says Greg Stein, director of financial technology for Financial Engines. "Some employees might not fully understand how the employer match works and the positive impact it can have on their retirement. Others may find it difficult to make ends meet and are hard-pressed to save more."
The old saying, "The rich get richer" applies here. Higher-paid employees leave less money on the table. The study found 42% of employees earning less than $40,000 per year do not take full advantage of the employer match compared to only about 10% of employees making over $100,000 annually.
Having an at-work retirement plan with a matching company contribution is a common benefit. The study notes Aon Hewitt statistics that 92% of employers offering 401(k) plans match worker deferrals. The most common formula: a 50 cents-on-the-dollar match of employee contributions up to 6% of annual pay, according to 2012 research conducted by ICI and BrightScope.
As companies compete for talent in a recovering economy, employee benefits are becoming increasingly important. In fact, a 2014 survey by Fidelity found that 43% of workers surveyed would prefer to be paid less -- in return for a higher employer match to their 401(k).
What can employers do to encourage workers to earn the full match?
"Education can help, but the single most effective step employers can take is to automatically enroll employees in the plan at a savings rate high enough so that they get the full match," Stein tells MainStreet. "Another option is to enroll employees in automatic savings escalation, which automatically increases the amount employees save in the plan until they receive the full match."
For retirement savers, Financial Engines says the best course of action includes the following strategy:
Find out how much of a match your employer kicks in to your retirement plan
Adjust your deferral rate to gain the maximum free money
If you can't set aside enough to hit the match target immediately, commit to applying future pay raises to your deferral rate until you earn the full match
And ask if the plan offers annual automatic escalation of deferrals until you reach the total contribution limit
Above all, remember: stop leaving money on the table. 
Hal M. Bundrick is a Certified Financial Planner and contributor to MainStreet.