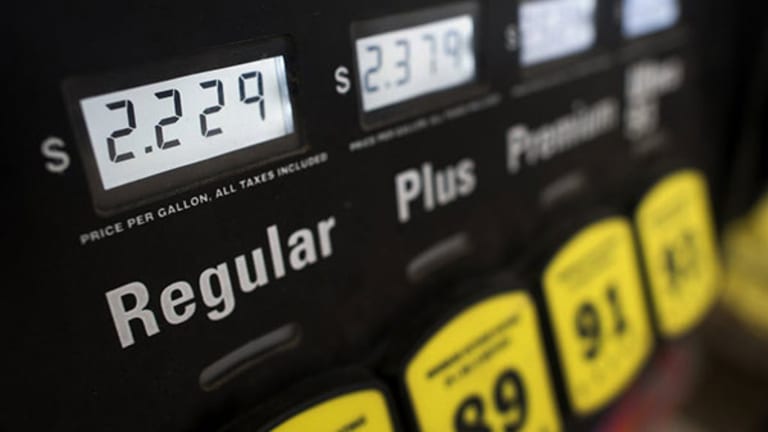 Retail Gas Prices Reach Lows as Drivers Hit the Roads
A glut in supply pushed U.S. crude oil prices lower in July in stark contrast to vacationing drivers who embarked on more summer road trips.
A glut in supply pushed U.S. crude oil prices lower in July in stark contrast to vacationing drivers who embarked on more summer road trips.
Despite crude oil's rebound back to a peak in June, reaching above $50 a barrel, the decline in July marked more swings in 2016. In February, prices dipped to a startling 13-year low, but reversed course and rose by 60%.
The production in OPEC countries in Iraq, Iran and Saudi Arabia has not slowed down, putting downward pressure on prices. The supply disruptions in Canada, Libya and Nigeria were short-lived.
Refineries continue to purchase inexpensive crude oil and have been producing "record amounts" of gasoline, diesel and other fuels," said Bernard Weinstein, associate director of the Maguire Energy Institute at Southern Methodist University's Cox School of Business in Dallas.
Retail prices are now at their lowest since 2004 and gasoline inventories in the U.S. are 11% higher compared to last year. With crude oil prices falling again, the average prices for consumers "should remain below $2 per gallon at least through the end of 2016," he said.
The strong demand for oil has not been high enough to combat the levels being produced by refineries, said Tony Starkey, an oil analysis manager for Platts Analytics, a forecasting and analytics unit of London-based S&P Global Platts.
"Gasoline prices have been falling because refineries have been making so much of it," he said.
The decline in prices has helped buoy the budgets of consumers, as they have dipped another 4% since the July 4 holiday weekend, according to the Energy Information Administration, the independent statistical arm of the Department of Energy based in Washington, D.C. Gasoline prices are also 6% lower compared to this time last year, said Rob Thummel, a portfolio manager with Tortoise Capital in Leawood, Kan. which has $13.5 billion under management invested in energy stocks.
"Oil prices declined by 15% during the month of July and are 9% lower than one year ago," he said. "I would expect the trend of lower gasoline prices in the second half of the year to continue, which means consumers will have more money in their pockets to spend during the holiday shopping season."
Gas prices have plummeted to a 12-year low and demonstrate signs of falling even more as higher than normal gasoline inventories are being reported, said Chris Faulkner, CEO of Breitling Energy, a Dallas oil and gas exploration and production company.
"What is terrible for oil producers is always the opposite for consumers and this summer it's definitely gasoline that is the golden ticket," he said. "Last week we saw prices at roughly $2.20 a gallon compared to $2.75 this time in 2015."
As refiners are planning to switch over to the winter blend gasoline, they are "aggressively trying to dump inventory," said Faulkner.
Most of the U.S. switches to the winter blend by September 16 while southern California has until October 1, according to EIA mandates. As demand cools off, additional backwardation in prices will occur, said said Patrick DeHaan, a senior petroleum analyst for GasBuddy.com, a Boston-based provider of retail fuel pricing information and data.
"The refiners are shooting themselves in the foot by producing too much gasoline," he said.
This predicament which arose during the summer driving season is unusual since inventories tend to decline during these months.
"Usually the inventories swell in the off season," DeHaan said. "This was not a phenomenon we expected to see in the midst of summer."
Unless a major storm or hurricane disrupts production by the refiners or the supply of gasoline, the high levels of oil will continue to persist throughout the rest of summer, he said.
The S&P GSCI Unleaded Gasoline Index reached its lowest July levels since 2004 and is also experiencing its second worst third quarter start since 1988 with a loss of 5.9%, said Jodie Gunzberg, global head of commodities and real assets at S&P Dow Jones Indices, a New York-based company which provides indices for financial markets. The current loss was beat by 2009's rapid decline when it fell by 13.5% during the first nine trading days.
"July has been pretty unusual," she said. "Brexit caused a fear in the market and was one of the catalysts which took down oil prices and other commodities temporarily."
Unlike Saudi Arabia, which can act like a swing producer by flooding the market with an increase in supply and bring down prices, oil suppliers in the U.S. can't cut back supply like government or state run countries, Gunzberg said.
"Saudi can't reverse the trend," Gunzberg added. "The problem is the inventory in the U.S. is too high and not declining as quickly because of the competition between American companies."
The record low prices earlier in 2016 resulted in higher margins for refiners as measured by the crack spread, especially for gasoline, said Dan Berkovitz, former general counsel at the U.S. Commodity Futures Trading Commission and a partner in the securities department of WilmerHale, a Washington, D.C.-based law firm. The strong U.S. dollar increases downward pressure on oil prices because the prices are measured in dollars.
"Crack spreads have been decreasing as gasoline supplies have been increasing," he said. "Although the extent to which refiners will respond to the lower crack spreads by reducing production remains to be seen, the market is anticipating that these reduced crack spreads will lead to reductions in refinery production, which will lower demand for crude oil. Prices could fall further if refineries reduce their production."