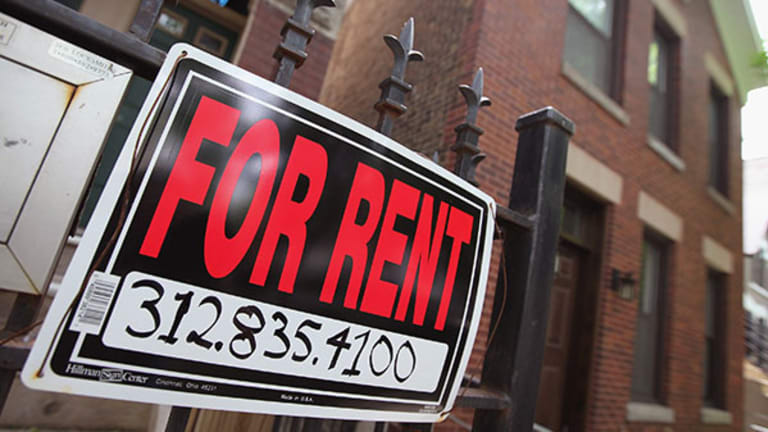 Rent Is a Third -- or Half -- of Many People's Income
More and more people are becoming 'rent burdened,' paying a disproportionate amount of their monthly income toward rent.
BOSTON (TheStreet) -- When I moved into my modest one-bedroom apartment in a town six miles northwest of Boston in June 2012, I was euphoric. The price, though a bit high for me, would be manageable with careful budgeting, and the location was perfect.
With the upcoming renewal of my lease this past June, though, I was told my rent would increase $100 a month. At an 8.3% increase, not only was the raise much higher than any rent increase I had had in my 15 years as a renter, but it was also considerably higher than what the landlord had previously raised other tenants' rents in the past.
I realized the increase would be a big blow to my budget, but grudgingly decided to renew, as moving would have been the more expensive and tedious option. But before the ink was even dry on the new lease -- and actually, several weeks before my new lease term had even begun -- I was told via my landlord's broker that the rent for my unit would be increased by at least another $150 per month for the 2014 lease renewal. This would mean a 20% increase in my rent in only two years time.
It would seem I am not alone. In August, I reported on the exponential rise in rents in metropolitan areas across the country -- an annual average increase of 3.9% in 25 of the largest rental markets in the country -- with Boston experiencing a 5.5% increase.
A report released in December by the Joint Center for Housing Studies of Harvard University reveals that more and more people are becoming "rent burdened" -- that is, paying a disproportionate amount of their monthly income toward rent. The report estimates that one in two households are now paying more than 30% of their incomes toward rent, and one in four are spending more than half.
Nearly half of the nation's renters (46%) have an annual income below $30,000, with 22% of them making less than $15,000 a year. More "moderate" income earners -- those making between $30,000 and $74,999 -- make up 37% of the rental market.
Also see: It's True: You're Paying Much More for Rent Next Year>>
"Affordability problems for American renters have skyrocketed over the past decade both in number and the share of renters facing them," the center's blog says.  "The inability of so many to find housing they can afford dramatically impacts the health and well-being of renters."
Though the report mentions that young adults account for the largest share of renters entering the market, it also says that many in this age group are opting to stay in or return to their parents' homes to make ends meet.
"My rent was increased $480 dollars [a month]," says Carla, a 32-year-old speech therapist who lives in Queens, N.Y. "Between student loans and rent, I may go live back home."
Carla is part of a rising demographic: those who make too much money to qualify for assistance but who are still struggling to pay their bills, including rent. This is especially the case in larger metro areas.
"To fail in an expensive city is not to fall, but to plummet," wrote Sarah Kendzior for Al-Jazeera America. "In expensive cities, the career ladder comes with a drop-off to hell, where the fiscal punishment for risk gone wrong is more than the average person can endure."
Even those who qualify for housing assistance are often left out in the cold.
After the economic collapse, the number of renters who qualified for assistance soared to more than 3 million, while those actually able to access housing aid expanded by only 225,000. At the same time, low-income renters paying half or more of their income to rent jumped by 2.6 million, to 8.5 million.
Also see: Fast-Food Workers Are Right: Raise the Minimum Wage>>
For a person making less than $15,000 to meet the affordability standard for renting (no more than 30% of one's income), he or she would have to find housing that costs no more than $375 a month. Yet the median monthly cost for housing built between 2007 and 2011 was more than $1,000, with less than 34% of the units renting for less than $800 and only 5% for less than $400.
Of those renters who make less than $15,000 a year, 83% were found to be cost-burdened in 2011, with 71% suffering from severe burdens.
Those with severe rent burdens often have to cut costs on basic necessities to cover their housing costs. In fact, rent-burdened households spend about $130 less a month in food -- a 40% reduction compared with those who aren't burdened.
Rent has basically become a formidable obstacle for many trying to achieve income security, especially when combined with stagnant or falling wages.
After remaining virtually static for the 1990s, rent prices jumped 6% between 2000 and 2012. Meanwhile, median renter incomes fell over much of this period, found to be 13% lower in 2012 than in 2000. As a result, the number of people paying over 30% of their income on rent increased by 12% over the past decade -- the biggest jump since at least 1960.
According to the National Low Income Housing Coalition, the average hourly wage for a full-time worker would have to be more than $20 to afford a modest two-bedroom dwelling in states with the highest costs of living, and at least $12 an hour for states with the lowest costs of living.
"For many low-income families, the rental housing affordability crisis is like a game of musical chairs in which there is never a chair left for them," said Chris Herbert, research director at the Harvard Joint Center for Housing Studies, in a press release. "The situation just keeps getting worse. Assistance efforts have failed to keep pace with escalating need, undermining the nation's longstanding goal of ensuring decent and affordable housing for all."