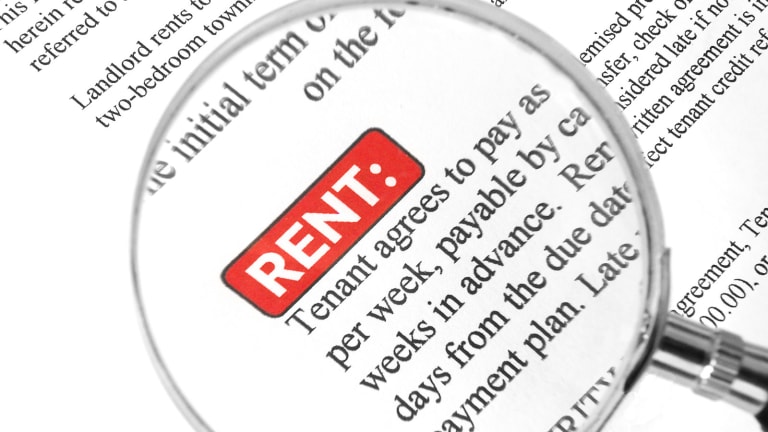 Rent-to-Own Homes Can Be a Risky Option for Buyers
Instead of shelling out thousands of dollars to only rent a home each month, some landlords give their tenants the option to buy the home while they are leasing it.
Instead of shelling out thousands of dollars to only rent a home each month, some landlords give their tenants the option to buy the home while they are leasing it.
NEW YORK (MainStreet) — Instead of shelling out thousands of dollars to rent a home each month, some landlords give their tenants the option to buy the home while they are leasing it -- using the rent they've paid as a credit toward their mortgage downpayment.
But while rent-to-own options appear like a winning proposition for potential homeowners who have not been able to save up enough money for a down payment or lack a good credit score, these deals can be fraught with many setbacks.
Each state is governed by different laws, and some of them protect homeowners in case they fall behind on payments, said David Reiss, a law professor at Brooklyn Law School. This is a crucial point that needs to be addressed with a lawyer before the contract is signed, because a consumer could end up "losing everything" that he had paid toward the house if he loses his job, Reiss added.
"Rent-to-own transactions can be very complicated and there are fewer consumer protections available, so interested buyers should beware," he said. "There are a lot of shady operators out there."
The concept is attractive to many people since it "implies an easier path to owning a home," especially for individuals where traditional paths to homeownership have been blocked and allows them to lock in the current price, said Larry Link, president of Level Group, a New York City brokerage firm.
In most cases, the amount you are paying monthly for rent is applied toward the purchase of the home. Many rent-to-own arrangements are complex in their structure, so reading the fine-print and asking questions before the ink is dry is essential. 
"The devil is in the details," Link said.
Bearing in mind the necessary scrutiny throughout this process, here are some of the risks that a potential buyer needs to be aware of before embarking on the rent-to-own option.
Losing Your Entire Investment
The risk of "losing all the money" you have allocated toward buying the house is high, because the payments you have made in the past could be reclassified as rental payments instead, Link said. This occurs when you miss a payment or two. Unlike a traditional mortgage where missing a payment drops your credit score quickly, but doesn't affect the amount of equity you have earned, rent-to-own situations are vastly different.
"Not following the agreed payment schedule can result in a forfeiture of all payments made to date," he said.
Another potential downfall could occur if the housing prices in your neighborhood or the market start to decline. While rent-to-own programs become "more prevalent in periods or areas of declining markets," since you have locked in the price previously, buyers are "stuck" with that price or risk losing the entire investment, Link said.
"Whenever rent-to-own is offered as an option, it is definitely caveat emptor," he said.
Rent-to-own housing is not for everyone because of other factors such as whether the full rent payment or just a percentage will be credited toward the purchase of the home and deciding who is responsible for repairs and property taxes during the lease period, said Rich Verrillo, a senior housing partnerships manager for Navicore Solutions, a Manalapan, N.J.-based member agency of the National Foundation for Credit Counseling.
"There is a select group of people that this type of program could work for, but it still comes down to the wording of the contract and the contract will determine who is carrying the higher risk," he said.
Signing up for one of these agreements does not mean you can forego obtaining a mortgage. Borrowers still need to ensure they will qualify for one.
Tenants who can't qualify for a mortgage could lose the potential upfront option-to-buy fee or premium, since it's not likely it is refundable, said Verrillo.
Another risk is if the seller fails to pay the existing mortgage on the home. In a worst case scenario, the home could be lost to a foreclosure and sold to another individual, Verrillo said. This means you might need to find another home in just 30 days.

Advantages of Rent-To-Own
When the contracts are structured well, the risk for both parties will be split evenly, so that the tenant does not shoulder a larger financial burden.
Some consumers prefer having the option to try out a home before they sink all their hard-earned dollars into it. It also gives them a chance to improve their credit score and save for a down payment through the monthly rental payment, Verrillo said.
Since you agree on the purchase price upfront, if the market improves and the value of the house also rises, then the buyer "gets a deal," he said.
There are fewer homes available currently, so rent-to-own is a "no-brainer" given that mortgage interest rates will rise, said Monica Webster, a managing director for William Raveis, a Shelton, Conn.-based real estate firm.
"You'll lock in a price, get to give the place a test run and get your financials in order," she said.
Usually this option benefits both the buyer and seller, because the purchaser has more time to improve their credit to get approved for a mortgage, said Richard Gutner, an associate broker at Better Homes & Garden Rand Realty in Westchester, N.Y. The seller has his expenses covered during this process.
"There really aren't too many drawbacks to this model," he said. "You are not putting any additional money down ahead of time, so there is not a lot to lose."
Good lease terms for rent-to-own models will stipulate that the renter has the first right of refusal if the home is put up for sale, Gutner said.
"To protect your rights, ensure that your lease sets out strict guidelines for these types of scenarios," he said. "For the tenant to ensure his rights, it all has to be in writing in the contract. If it's not in writing, it's up in the air."
Location, Location, Location
While rent-to-own homes are located in various states and neighborhoods, they are generally likely to be available in "lower price point homes within a given market," said Link. The buyers of more expensive homes tend to have more cash for a down payment and higher credit scores and incomes.
"It's difficult to pin down an exact price point where rent-to-own might occur since it tends to be more a function of a property that is otherwise difficult to sell outright, which can obviously happen at any price point," he said.
The rent-to-own model tends to be more prevalent in the south or the Midwest and less popular on the east coast, said Gutner.