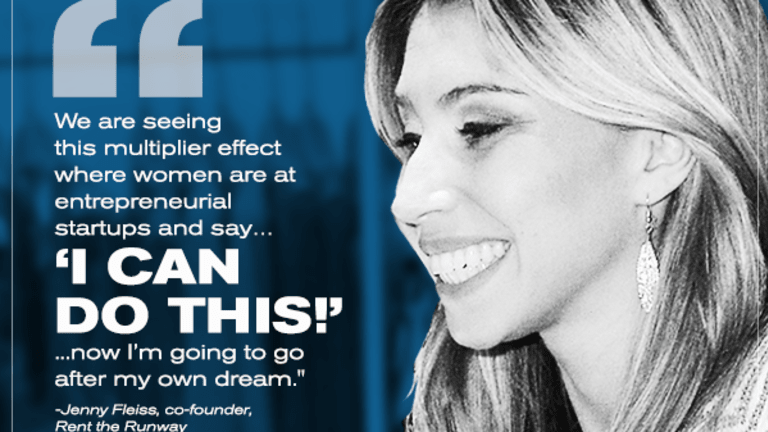 Rent the Runway Co-Founder Fleiss: It's So Exciting to Build a Startup Again
Rent the Runway co-founder Jenny Fleiss wants you to chase your dreams. She certainly is.
Rent the Runway co-founder Jenny Fleiss wants you to chase your dreams. She certainly is.
"I think we are in a moment where women are banding together...female entrepreneurship...[is] an area where we are making progress and there is a lot of support," says Jenny Fleiss, co-founder of Rent the Runway.
She would know. She has been heavily mentored and supported through her entire entrepreneurial journey and is working hard to pass that encouragement on to younger women.
And that is exactly what Alpha Rising is all about - solving problems and helping others "rise up" too.
Rent the Runway was conceived to solve a problem back when Fleiss and her now partner, Jennifer Hyman, were in grad school. Hyman's sister had just bought a designer dress for over $1,000 that she said - because of many selfies and social media - she planned on only wearing once.
Fleisss and Hyman were appalled at the wastfulness and launched their company in 2009 to fix that.
Thanks to Rent the Runway, women now can rent designer dresses at 10% the retail price. They wear them, look fabulous and send them on back.
The company, which also happens to be one of the country's largest dry cleaners, even will clean the dress for you.
Now granted, renting things isn't new. As a matter of fact, someone once told me that if you can drive it, fly it or ...uh...sail it...you should rent it.
And you can. But there are tons of other things you can rent these days as well. Home Depot (HD) - Get Report  and Lowes  (LOW) - Get Report  will let you rent tools. Netflix (NFLX) - Get Report  and Redbox help you rent your entertainment. Book Renter and Chegg  (CHGG) - Get Report  even let you rent textbooks.
So it makes perfect sense that you would rent a designer dress rather than $1,000 for it, like Hyman's sister once did.
And once the company helped customers get over the psychological notion that they were wearing someone's dress, business took off. They recently received $60 million equity investment led by Fidelity, but Fleiss said the timing is not right for an IPO.
It was right for a brick and mortar store though.  Much like Birchbox, the company realized customers sometimes just want to touch and feel a product. So it opened its NYC flagship store at the end of 2016.  And while the company has other stores in Las Vegas, Chicago, Washington, D.C. and a pop-up in a San Francisco Neiman Marcus, it still is focused on digital services.
The company now is 1,000 employees strong now and its mostly female employees consistently feel empowered. "We are seeing this multiplier effect where women are at entrepreneurial startups and say ...'I can do this!'...now I'm going to go after my own dream," Fleiss says of the many employees who have left the company to start their own businesses.
And coincidentally, that's exactly what Fleiss is doing too.
She prefers the early stages of entrepreneurship, and since her company is no longer in its infancy, she is moving on.
She has stepped down from Rent the Runway and joined a new start up called Code Eight, which is a division of Wal-Mart's (WMT) - Get Report  new technology incubator, after long-time mentor Marc Lore reached out.
Wal-Mart bought Lore's company Jet.com, for $3.3 billion last summer and has since made him president and CEO of Walmart eCommerce U.S.
And part of his responsibilities is Code Eight, which is a division of Store No. 8, named after an early Wal-Mart location where founder Sam Walton would test out new ideas. Store No. 8 was created to investigate the trends that are reshaping the shopping experience - from virtual reality to robotics to personalized shopping.
So Lore has asked Fleiss to spearhead Code Eight and focus on creating highly personalized, one-to-one online shopping experiences.
She basically is launching a company within the world's largest retailer, but her focus on concierge shopping, eventually could be leveraged across all Wal-Mart customers.
And while she remains a board member at Rent the Runway, "It's so exciting to build a startup again," she says.
Fleiss embodies #AlphaRising, because she not only knows how to go after her own dreams, but she also wants to help others dream too.