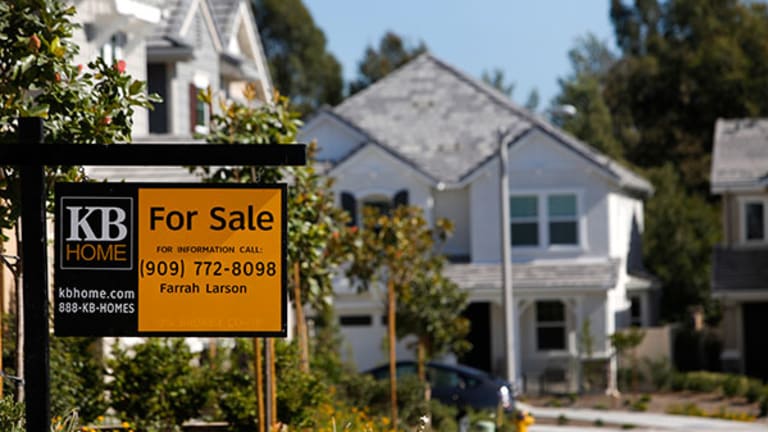 Regional Real Estate Stands Out in Spring Selling Season
The spring selling season seems to be off to a strong start, but not a blockbuster one.
NEW YORK (TheStreet) -- The spring selling season seems to be off to a strong start, but not a blockbuster one.
Redfin, a Seattle online real estate brokerage services firm, says in a report released Wednesday that March residential real estate services rose by 9.9%, which looks OK at first glance.
But January and February's home sales numbers were up 14.1% and 12.9%, respectively. In fact, Redfin reports that residential homes sales rates have slid five months in a row and are down 11.6% since the same period in 2013.
Economists, the media and politicians have been touting a robust economic recovery, one that would manifest itself with a strong start to the 2014 home selling season. Certainly homeowners, real estate agents and any members of Congress up for re-election this November hoped that would be the case.
Also see: Mortgage Rates Remain a Gift to Homebuyers>>
There may yet be cause for all that hope, as Redfin says a "new wave" of home sales listings are set to hit the real estate market this month.
That wave may crest higher in certain parts of the country than others, though. Along the West Coast, cities such as Ventura and Riverside, Calif. are poised for a big uptick in homes for sale Redfin reports. But in cities where inventory is low, such as Philadelphia, Chicago and Portland, homes are clearing the market more quickly -- good news for sellers, but not a good omen for buyers.
"In a changing market like this one, pricing a home correctly is extremely important in order to attract the best offers and sell quickly," says Paul Reid, a Redfin real estate agent in Riverside, Calif. "As inventory and price levels shift, even a home that sold last month could be an out-of-date comparable. Instead, we're closely monitoring the homes that went under contract last week and pricing our listings accordingly."
Also see: Even Two-Income Families Find It Harder to Buy a Home>>
Redfin does note that new home listings are ahead of last year's pace by 6.3% and up 27% from February to March (although that is likely due to the relatively calmer weather in March, traditionally the springboard month to the all-important spring selling season).
But the early returns from March's real estate figures shows it's really a matter of where you live and where you want to buy that really dictates overall housing market performance. If, for example, you live in Las Vegas, where home prices have risen on average by 20.8% over the past year, it could be a good time to sell.
But don't expect a huge run-up in sales prices in Philly, were the average home price has actually declined by 1.9% on a year-to-year basis.
A month from now, when April's market numbers roll in, homebuyers and home sellers will have a stronger indication of how the spring is going.
For now, it's not easy to predict anything other than more uncertainty in the housing market.