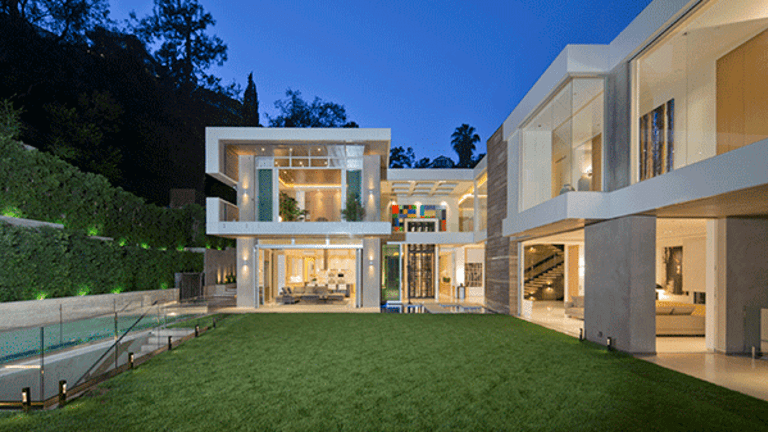 This Smart Home Will Blow Your Mind
Pushing the boundaries of smart home possibilities, this $25 million home includes a wine rack the moves up and down floors, remote controlled walls, and much more.
At least four A-list celebrities have already been on walk-throughs, a fact that seems entirely appropriate for a glamorous, 17,000-square-foot home designed with movie stars in mind.
But being merely lavish in Beverly Hills, (a place where lavish is as standard as indoor plumbing and electricity), is not what makes the recently completed Sierra Alta mansion such a noteworthy addition to the 90210 neighborhood.
The $25 million property represents the latest in smart home technology, a stellar example of what the future may hold for the masses in some watered down form, and what is already the norm for the privileged few in our rapidly evolving Internet of Things world.
Built with a smart home automation system, Sierra Alta's walls include more than five miles of wiring that control everything from the alarm system, to the phones, pool, audio system, a wine rack the moves up and down floors, and lighting.
The technology is present from the moment you arrive at the front door, where images of guests at the entry are transmitted throughout the house on screens complete with intercom communication. And it carries through all the way to the state-of-the-art, four-car garage, where several motorized walls can be opened and closed at the owner's whim, to hide or showcase each of the various cars parked there.
"This is a true home-run house," says Joe Mancuso, of Chameleon Technologies, who led the Control4 system integration for the property, creating a smart home whose many fascinating features are able to be controlled both while on the premises or from a web portal wherever the owner happens to be.
"Everything is fully integrated and works perfectly," Mancuso continues. "You can reach into the home remotely and turn on the home theater, turn off the theater, turn on the sauna, have music playing in there, control the waterfalls."
Mancuso's dizzying list of automated items continues, down to the minutest and most mind boggling detail.
This is a pivotal time when it comes to smart homes, according to a handful of recent studies on the topic.
In just the past few years, technological advancements, customer interest and education have all combined to help transform the smart home from what was once merely a futuristic vision to reality.
As a result, the home automation system market has grown significantly.
New smart home customers are emerging left and right - with nearly 50% of the North American population likely to purchase at least one connected device for their homes in the next year, according to a 2015 Icontrol Networks survey of 1,600 consumers in Canada and the United States.
With the level of excitement about smart home technology most prevalent among millennials and their parents, the report estimates there's about 114 million people who plan to buy smart home products this year.
And by 2022, the average family home could contain more than 500 smart devices, such things as self-adjusting thermostats, automatic adjusting outdoor lighting, doors that can be locked from a remote location, and a master remote control for all household preferences.
All of which, still pales in comparison to the level of smart home features at Sierra Alta.
"I designed the house to have a certain mystery, with surprises," says Sierra Alta's mastermind Cyrus Harouni.
Among his personal touches was a custom, moving 20-foot tall wine rack, that holds hundreds of bottles of wine and can rotate, and move up and down floors, including floating right into the master bedroom. In other words, the home owner doesn't have to stray far from bed in order to get a glass of perfectly chilled wine. Nice, right? Or too tempting, depending on how you look at it.
There are also subtler details throughout the property, such as wireless keypad dimmers and wireless configurable keypads replacing traditional light switches. The configurable keypads allow the homeowner to completely customize the lighting inside of Sierra Alta. For example, a "goodnight" button on the keypad can be configured to make all of the lights in the home shut off except for a bedside reading lamp.
Are you a music lover? Because this house has music, in every room. But one would never see a radio, stereo or any such tacky device used by commoners here. As you move from room to room through the massive home, you'll discover there's automated zones of audio created by invisible speakers that are completely camouflaged in the ceilings.
And the audio experience doesn't end inside. Stepping outside, you're greeted with sound from the outdoor Sonance SLS system thanks to speakers discretely tucked into the bushes and an underground subwoofer. In other words, the home is perfect for the Mariah Careys or Beyonces of the world, musical divas for whom music is more then an afterthought.
Sierra Alta's basement meanwhile is home to a recreation area outfitted with even more state-of-the-art technology, including a jaw-dropping screening room (another necessity as basic as bathrooms in So Cal homes). Pressing the "movie" button in the screening room fades the home's music and pulls back the movie screen's Lutron shades, while a SIM2 projector begins to play. Ah, Hollywood.
And remember, all of this can be controlled while you are physically in the house, or on a far flung movie set, job site, or at the local supermarket.
"You can log in online and do everything I can do standing inside the house," says Mancuso. "That type of control is starting to become more and more common because everyone has networks in their house that allow us to reach into a house remotely with much more ease."
If you're paying close attention, what Mancuso's really saying is that for those of us who don't have $25 million to drop, there is still hope.
The same sort of technology used to design Sierra Alta is available on some level on a much smaller scale.
"There are $600, one-room solutions," says Mancuso. "You could control your television, Xbox and some surround sound speakers. And if you want you could add in some lights and thermostat controls."
There are options currently available for all ends of the spectrum, says Mancuso, for the Wal-Mart customer to the Nordstrom customer.  Or in the case of Sierra Alta, the A-list customer.