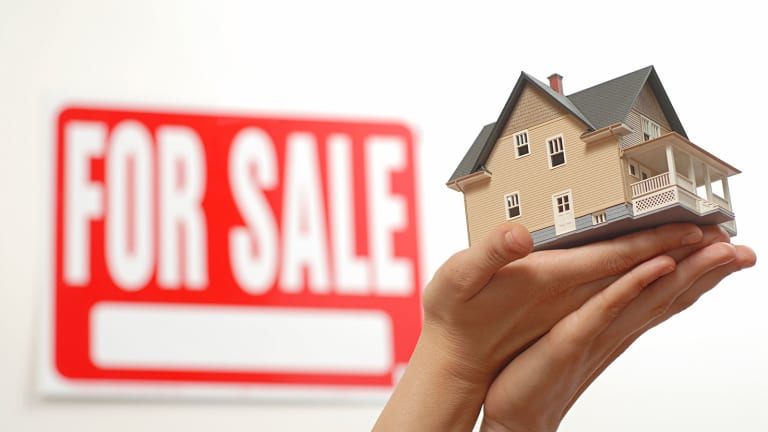 These Are the People Ruining Your Chances of Owning a Home
Housing inventory is down, all-cash sales are up and prices just keep soaring. Why? These are the people treating the housing market like their personal HGTV.
House flippers are eating into housing inventory, and that's making things tough on buyers.
A recent survey by TD Bank indicated that inventory was the greatest issue that homebuyers faced during their purchase decision (28%), followed by mortgage rates (21%) and knowledge/confidence in the financing process (21%). Almost half (48%) either just bought a home or are in the process of buying due to the pressure of rising rates, but they aren't going to find a whole lot of homes out there once they go looking.
"Those able to close on a home [in May] are probably feeling both happy and relieved," says Lawrence Yun, chief economist for the National Association of Realtors. "Listings in the affordable price range are scarce, homes are coming off the market at an extremely fast pace and the prevalence of multiple offers in some markets are pushing prices higher."
The median existing-home price in May was $252,800, surpassing last June's figure ($247,600) as the new peak median sales price. It's also up 5.8% from May 2016 ($238,900) and marks more than five years worth of year-over-year gains. Why so high? Because total housing inventory at the end of May was just 1.96 million existing homes. That's 8.4% lower than a year ago and marks two full years of falling inventory. Unsold inventory is at a 4.2-month supply at the current sales pace, which is far less than the six-month supply that the NAR considers ideal.
Meanwhile, all-cash sales -- commonly used by flippers -- were 22% of transactions in May. Individual investors, which is a lovely name for flippers, purchased 16% of homes in May, up from 13% a year ago. Some 64% of investors paid in cash in May.
"Home prices keep chugging along at a pace that is not sustainable in the long run," Yun says. "Current demand levels indicate sales should be stronger, but it's clear some would-be buyers are having to delay or postpone their home search because low supply is leading to worsening affordability conditions."
Those conditions aren't improving any time soon. Redfin, a Seattle-based real estate brokerage (among other things) just filed an initial public offering on the Nasdaq after raising least $167 million in venture capital in the last five years. However, the IPO revealed a new and wholly owned subsidiary, RDFN Ventures, operating as "Redfin Now" that's basically designed to flip houses. The company prospectus notes that "In the first quarter of 2017, we began testing an experimental new service called Redfin Now, where we buy homes directly from home sellers and resell them to homebuyers. Customers who sell through Redfin Now will typically get less money for their home than they would listing their home with a real estate agent, but get that money faster with less risk and fuss." This online version of a "we buy houses" sign tacked to a telephone pole is now operating in two markets and currently owns properties listed at $1.8 million.
As housing data firm ATTOM Data Solutions recently discovered, 193,009 U.S. single family homes and condos were flipped in 2016. For ATTOM's purposes, a home flip means that a property -- usually a rehabilitated property -- is sold for the second time within a 12-month period (typically for a profit) based on publicly recorded sales deed data.
That 5.7% flip share is up from 5.5% 2015, making it the highest level since 2006 (276,067). That's still well below the peak in 2005, when 338,207 single family homes and condos were flipped representing 8.2% of all sales.
"Home flipping was hot in 2016, fueled by low inventory of homes in sellable or rentable condition along with a flood of capital — both foreign and domestic — searching for the returns and stability available with U.S. real estate," says Daren Blomquist, senior vice president at ATTOM DataSolutions. "The combination of more home flips and a greater share of financing for flip purchases resulted in an 18% jump in the estimated dollar volume of financing for home flip purchases, up to $12.2 billion for the flips completed in 2016 — a nine-year high."
That's not great news, considering what's being flipped. There were 126,256 investors or businesses that completed at least one home flip in 2016, the highest number of home flippers since 143,266 did so in 2007. The peak in the number of active home flippers was in 2005, with 259,192. Meanwhile, the share of flipped homes that were purchased by the flipper with financing increased to an eight-year high of 31.5% in 2016 while the median age of homes flipped increased to 37 years — a new high going back to 2000, as far back as data is available — and the median square footage of homes flipped decreased to 1422 — a new record low going back to 2000.
"Meanwhile, the share of flipped homes that were purchased by the flipper with financing increased to an eight-year high of 31.5% in 2016 while the median age of homes flipped increased to 37 years — a new high going back to 2000, as far back as data is available — and the median square footage of homes flipped decreased to 1,422 — a new record low going back to 2000.," Blomquist says. "Given that many of these markets are more affordable, we are also seeing a higher share of the flipped homes sold to [Federal Housing Administration] buyers, with that share reaching a four-year high of 19.6 percent in 2016."
Those fllips are unquestionably driving up prices. Homes flipped in 2016 sold for a median price of $189,900, a gross flipping profit of $62,624 above the median purchase price of $127,276 and representing a gross flipping return on investment of 49.2%. Both the gross flipping dollar amount and ROI were the highest going back to 2000, the earliest home flipping data is available for this report.
Among 117 metropolitan areas with at least 250 home flips in 2016, there were 11 with an average gross flipping profit of $100,000 or more in 2016: San Jose ($145,750); Boston ($140,000); San Francisco ($140,000); New York ($127,250); Los Angeles ($127,000); San Diego ($111,000); Oxnard-Thousand Oaks-Ventura, Calif. ($105,000); Seattle ($102,000); Vallejo-Fairfield, Calif. ($101,000); Baltimore ($100,500); and Washington, D.C. ($100,000).
"Our strong wage growth is still supporting rising home prices, which when combined with the historically low number of homes for sale in Seattle, gives home flippers substantial returns on their investments," said Matthew Gardner, chief economist at Windermere Real Estate, covering the Seattle market, told RealtyTrac "I believe flipping serves as a negative for any housing market because it further erodes housing affordability, but if there's a demand for it in the market, it's a trend we will continue to see."
Among 5,625 U.S. zip codes with at least ten homes flipped in 2016, there were 39 zip codes where at least 20% of all home sales during the year were home flips, including zip codes in Texas, Tennessee, Florida, California, Ohio, Virginia, Pennsylvania, Missouri, Washington, the District of Columbia, Maryland, New York and New Jersey. Among 117 metropolitan statistical areas with at least 250 home flips in 2016, those with the highest home flipping rate as a percentage of all home sales were Memphis (11.7%); Clarksville, Tenn. (10.1%); Visalia-Porterville, Calif. (10.1%); Tampa-St. Petersburg (9.9%); and Deltona-Daytona Beach-Ormond Beach, Fla. (9.9%). Along with Memphis and Tampa-St. Petersburg, other metro areas with a population of at least 1 million and a 2016 home flipping rate of at least 7% were Las Vegas (9.2%); Miami (8.8%); Orlando (8.3 %); Phoenix (8.0%); New Orleans (7.9%); Jacksonville, Fla. (7.7%); Virginia Beach (7.6%); Baltimore (7.4%); Birmingham (7.4%); St. Louis (7.1%); and Nashville (7.1%).
Not surprisingly, the most successful flipping markets align well with those where it's hardest to find a home. The NAR notes that properties typically stayed on the market for 27 days in May, which is down from 32 days a year ago. That is the shortest timeframe since NAR began tracking in May 2011. In all, 55% of homes sold in May were on the market for less than a month (a new high). Realtor.com found that homes Seattle-Tacoma-Bellevue, Wash., were on the market for a scant 20 days. Meanwhile, homes in San Francisco-Oakland-Hayward, Calif., and San Jose-Sunnyvale-Santa Clara, Calif., were on for 24 and 25 days respectively. Salt Lake City, Utah and Ogden-Clearfield, Utah, both sold their homes in an average of 26 days.
"With new and existing supply failing to catch up with demand, several markets this summer will continue to see homes going under contract at this remarkably fast pace of under a month," said Yun.