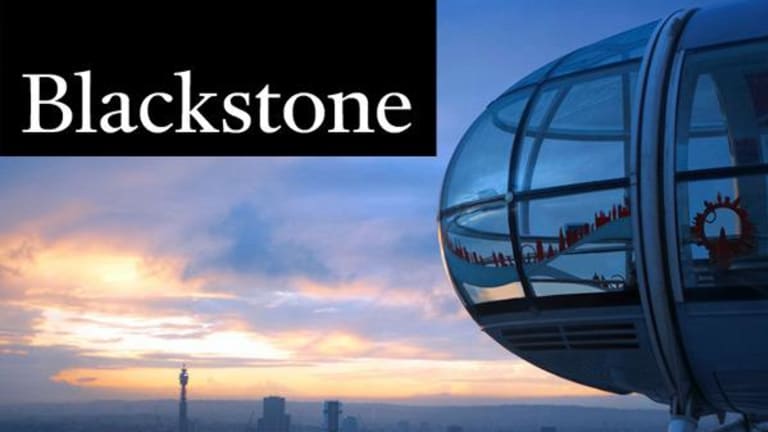 Here's Why Buying What Blackstone Is Selling May Prove Profitable
This company's bet on residential rental properties paid off. Now with its IPO of Invitation Homes, investors should own the stock.
This company's bet on residential rental properties paid off. Now with its IPO of Invitation Homes, investors should own the stock.
It seemed like a good idea at the time.
In 2012, private-equity investment company Blackstone (BX) - Get Report saw that there were numerous foreclosed single-family homes scattered around the nation. And while plenty of investors had been scooping up homes following the 2007 to 2008 mortgage crisis, the company was a little behind the curve.
Blackstone made up for that by going whole hog on buying properties around the nation. Hundreds of millions of dollars were being dumped on local markets weekly, and many people were buying homes sight unseen, resulting in the company investing some $10 billion in more than 48,000 houses around the U.S. in 13 markets.
The company's idea was to buy on the cheap, rent them out and eventually cash out on a high. It proved to be a lucrative idea.
And with the initial public offering of its Invitation Homes, that is exactly what the company is starting to do. The shares came to the market this week, raising some $1.5 billion at $20 apiece.
Blackstone itself is retaining some 70% of the company, but of course it could and can sell more of its shares in the coming months. As noted above, Blackstone's investment in rental properties isn't unique, as there are other companies both listed and unlisted including American Homes 4 Rent and Colony Starwood Homes.
Both those companies are newer to the market and up until the past trailing year did little for shareholders.
But in their defense, the general U.S. real estate investment trust market as tracked by Bloomberg was trending lower.
For the past year, both American Homes 4 Rent and Colony Starwood Homes have well outperformed the general real estate market, with gains of 52% and 44%, respectively, compared with Bloomberg index gains of just 7%-plus. They are solid cash-generating machines in a volatile broader market.
The U.S. housing market is all about location. However, there are some positive market trends favoring the rental market.
First, U.S. home ownership rates are bobbling along lows last seen in the mid-1960s, with the percentage at 63.7%.
And the idea that home ownership is a core value isn't what it once was.
In a recent survey of millennials, just 72% said that they see ownership as part of their longer-term life plans, down from 80% a year earlier.
This means more potential demand for rental properties for flexibility.
And while the nation is broad in variations, the vacancy rate for rental properties is down to 6.8%, compared with 8.6% when Blackrock entered the market and below the long-term average of 7.37%.
Rental prices are rising above the core rate of inflation, with the gains exceeding 3% for 2014 and 2015. But they have ebbed a bit for last year, only gaining some 1.8%.
That is still OK, as it remains above core inflation. And the average rental rate is sitting at just over $1,200 per month.
So, controlled supply, positive demand demographics and pricing power favor the strategy of the landlord. But there is a catch: the cost of running the operations.
Anyone who has rented out an apartment or house knows the headaches.
Those who try direct management face the challenge of finding and vetting renters and the risk of replacing them periodically at the end of leases. Then there are the 2 a.m. phone calls complaining about plumbing.
But those who contract with a management company, find that they still have to do a lot of things and those come at a cost.
With multifamily rentals, scale brings efficiency. But with tens of thousands of homes scattered nationwide, management costs can be daunting, which is perhaps why American Homes 4 Rent and Colony Starwood Homes had some teething issues in the market.
But Blackstone claims to have streamlined the management costs, and that will have to play out. With a significant ownership stake, Blackstone's interests are squarely in line with shareholders, and it already cut some interesting cost control deals that take advantage of U.S. taxpayers.
Invitation Homes has done a loan deal with Fannie Mae whereby Wells Fargo lent the company some $1 billion backed by the collateral of the homes. Then the loans were secured by credit guarantees by Fannie Mae.
Wells Fargo is a holding in Jim Cramer's Action Alerts PLUS Charitable Trust Portfolio. See how Cramer rates the stock here. Want to be alerted before Cramer buys or sells WFC? Learn more now.
The loans have been packaged and are being sold into the market, following other similar deals with Blackstone as well as with other real estate investment companies.
There is cheaper financing, thanks to the implicit guarantee of the U.S. Treasury, and that saves more of the costs of the company. And U.S. taxpayers take the risks of the properties and Invitation Homes defaulting.
So far, the market has been cool to post-IPO treatment of the shares, but with the leadership of Blackstone and the market trends, owning rental properties might just be worth the bet.
---
Warren Buffett made $4.9 billion by making this one small change to his investment strategy. It's the closest you'll ever get to NEVER losing money while investing. I made $185 every day over 1,586 days doing this. Is it time for a change that will lead to more money in your pocket? Get the full details here.
This article is commentary by an independent contributor. At the time of publication, the author held no positions in the stocks mentioned.