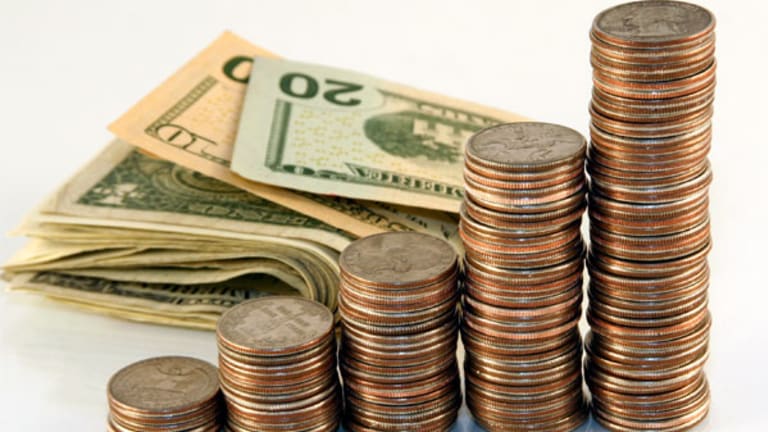 Real Costs of Wedding Day Cold Feet
Wedding couples stand to lose more than their relationship by calling off the ceremony.
BOSTON (MainStreet) -- Wedding couples who let a case of cold feet cancel their plans will be lucky if their relationship is all that gets lost in the exchange.
Wedding jitters and nullified nuptials are just fine when it's Julia Roberts'
lacing up the track shoes or Simon Pegg's
character on the lam from responsibility, but it can become a costly proposition for grooms or brides looking to bail out before the big day. The mean cost of an American wedding last year, including the engagement ring, was $26,984, according to
(XOXO)
and
Real Weddings
study. The fact that the total price dropped 5% from the year before likely comes as little consolation to former couples whose wedding investments were wiped out by second-guessing and doubt.
Wedding couples stand to lose more than their relationship by calling off the ceremony.
"There are a lot of costs associated with the wedding that are nonrefundable at the very beginning," says Amy Eisinger, associate editor of WeddingChannel.com. "Typically that includes the engagement ring -- even if she says no -- and the wedding ring. Same with your formalwear, wedding dress and bridesmaids' dresses."
By buying an engagement ring, which averaged $5,400 last year, couples are already putting a nearly 20% nonrefundable deposit down on their ceremony. Add on the average costs of a wedding gown ($1,099), groom's attire ($216), bridesmaids dresses ($139 a pop for an average of four bridesmaids) and groomsmen's gear ($146 apiece for an average of four groomsmen), and that $7,855 couples are forfeiting is already nearly 30% of the wedding's cost. That doesn't even factor in the average $784 and $572 that wedding research company
says couples spent on bride and groom wedding bands, respectively, in the first half of 2011.
"We have no data on cancellation costs or last-minute jitters," says Shane McMurray, chief executive and founder of The Wedding Report. "They are usually completely disengaged by this point."
What McMurray's firm does have, however, is a pretty good idea of what runaway brides and grooms are paying to make the panic go away. In the first half of this year the engagement ring, wedding dress, groom's attire and wedding bands were more than 31% of the $18,859 average total cost of the wedding, according to The Wedding Report.
The remaining portions aren't fully refundable, either.
Real Weddings
put the average cost of a ceremony venue at $1,393 last year, while a reception venue including food, drinks, bar service and fees went for $12,124. If a couple gets lucky and manages to put down only a 10% to 20% deposit, they'll lose only $1,350 to $2,700. If their split is somewhat more spontaneous, however, it could cost them more than $6,700 (or 50%) out of pocket. The Wedding Report puts the total venue cost at only $6,900 in the first half of this year, but that still puts couples on the hook for up to $3,450 if they break it off.
"You have to realize that when you put your deposit down, your vendor has put that date in their book and they are no longer taking any calls about that date," Eisinger says. "They're out potentially more money from someone else if you cancel that date."
Basically, the closer to the wedding date the bride or groom calls it off, the more it's going to cost them. Canceling six months out or more gives couples their best chance of getting most of their money back, according to Eisinger, but each day beyond that threshold exacts a price. Considering most couples have already contracted out an officiant (whose fee averages $233, according to the survey), photographer ($2,320), band ($3,081) or DJ ($900), florist ($1,988), cake baker ($540) or even an event planner ($1,683), they're putting as much as 37% of their total investment on the line by waiting until the last minute to make up their minds.
That's not such a bad thing for airlines, whose tickets are usually the least flexible portion of the $4,466 average price of a honeymoon. It isn't always so rough on vendors, either, especially if it opens up a date that's in heavy demand.
"Some vendors, if it's a really popular wedding date like 9/10/11 or if a bride keeps asking, will take down information from a couple and tell them that if they have any cancellations, they'll let them know," Eisinger says. "I think it's a smart idea to have a backup, especially during the summer months when it's the height of the wedding season."
A late cancellation doesn't bode well for the runaway bride or groom's chances of being invited to the family's holiday dinner the next year or for Friday night bar outings with their best friends. Bridesmaids and groomsmen who have already shelled out for dresses, tuxedos or suits are stuck paying full price. They're still getting off lightly compared with the bride or groom's parents, whom the survey says are on the hook for 45% and 12% of the total wedding costs respectively.
Even guests who didn't book a flight to the wedding or put up the cash for a hotel room can lose out if they suddenly find themselves saddled with an ugly, unwanted set of Parker bowls or other registry product from
Bed, Bath & Beyond
(BBBY) - Get Bed Bath & Beyond Inc. Report
,
Williams-Sonoma
(WSM) - Get Williams-Sonoma, Inc. Report
,
Target
(TGT) - Get Target Corporation Report
,
Macy's
,
Nordstrom
(JWN) - Get Nordstrom, Inc. Report
,
Sears
(SHLD)
or similar retail outlet.
"Most stores won't give you a cash refund and will only give you store credit, which can be very disappointing if you purchased a $200 gift certificate to Crate & Barrel or something like that," Eisinger says.
Unfortunately for everyone involved, there's no way to financially prepare for a case of wedding jitters. Insurance will cover illness or disaster, but not changes of heart. There's always legal recourse, but by the time the case is heard and the legal fees pile up, that $26,000 can whittle down to a sum less significant that what couples ended up paying for their unused custom stationery.
"These cases tend to get drawn out, long and really emotional," Eisinger says. "It's never like someone walks away with a huge sum of money when one person sues another over a canceled wedding, and it just feels spiteful."
-- Written by Jason Notte in Boston.
>To contact the writer of this article, click here:
Jason Notte
.
>To follow the writer on Twitter, go to
.
>To submit a news tip, send an email to:
.
RELATED STORIES:
>>4 Movie Weddings and their Real-Life Costs
>>5 Wedding Costs You Can Save On
>>5 Ways To Plan A Wedding In A Month
Follow TheStreet.com on
and become a fan on
Jason Notte is a reporter for TheStreet. His writing has appeared in The New York Times, The Huffington Post, Esquire.com, Time Out New York, the Boston Herald, the Boston Phoenix, the Metro newspaper and the Colorado Springs Independent. He previously served as the political and global affairs editor for Metro U.S., layout editor for Boston Now, assistant news editor for the Herald News of West Paterson, N.J., editor of Go Out! Magazine in Hoboken, N.J., and copy editor and lifestyle editor at the Jersey Journal in Jersey City, N.J.