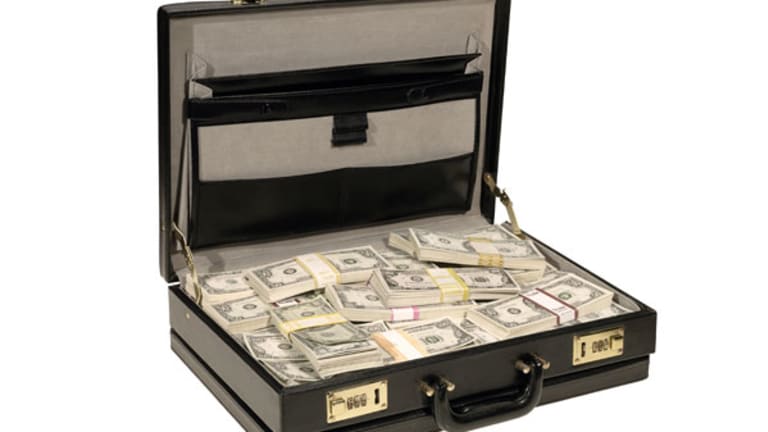 5 Jobs Under Government Attack
Food trucks, hypnotists and Las Vegas madams suffer from anti-business crackdowns.
BOSTON (TheStreet) -- While the mantra of "job creation" usually means big tax breaks and deregulation to keep industries from running to the border, many states are clamping down on professions and businesses they find undesirable or a threat to their existing constituents.
Some of these crackdowns are funny. Some are weird. Some are just plain shocking.
Are you getting sleepy? If so, is it because of a licensed hypnotist? In Florida, it had better be.
Texas requires computer repair technicians to get a private investigator's license, which could require a degree in criminal justice or three-year apprenticeship. Uncredentialed IT guys could face a $4,000 fine, one year in jail or a $10,000 civil penalty. Consumers who knowingly take their computers to unlicensed companies are subject to the same punishment. Since 2007, anyone in Texas who accesses nonpublic computer files to gather information is deemed by the state to have conducted an "investigation" -- thus the requirement.
New Jersey told yoga teachers and martial arts instructors two years ago that they had to get a state license or face fines of up to $50,000. Less than a year later a law was passed that eliminates the requirement. Similar rules are still on the books in other states, though.
In Washington, D.C., unlicensed tour guides can be punished for historical chitchat for up to 90 days in jail.
In Florida, officials threatened an interior designer with a $25,000 fine if she didn't complete a six-year apprenticeship and pass a test required to be recognized as a legal practitioner of that profession. A lawsuit followed, but last week the 11th U.S. Circuit Court of Appeals upheld the existing law. Similar lawsuits had been successful in New Mexico, Texas, Oklahoma and Connecticut, and an appeal in Florida is in the works, according to the Institute For Justice, which describes itself as a "nation's only libertarian public interest law firm."
"This is someone who gives you suggestions on how to arrange your furniture," says Bert Gall, senior attorney for the nonprofit firm, which has also represented those tormented Washington tour guides and casket-selling monks. "This is not someone who is going to build your house or tell you where to place fire exits. We are talking about somebody who says, 'These kinds of paintings would look good here.'"
Lousiana's Saint Joseph Abbey filed a lawsuit in August in U.S. District Court to challenge the constitutionality of a state requirement that its monks must be licensed as funeral directors to sell their handmade wooden caskets. Under Louisiana law, it is a crime for anyone but a licensed funeral director to sell "funeral merchandise." To sell caskets legally, the monks say they would have to "abandon their calling for one full year to apprentice at a licensed funeral home, learn unnecessary skills and take a funeral industry test." They would also have to convert their monastery into a "funeral establishment" by, among other things, installing equipment for embalming human remains.
What's behind these licensing oddities?
The political and financial clout of existing business and trade groups is a catalyst, Gall says.
"Cities, in combination with interest groups, have worked to pass regulations that protect their businesses and, unfortunately, courts haven't done a good job of saying these regulations are clearly protectionist and therefore unconstitutional," he says. "The problem is you get into a situation where the political marketplace picks winners and losers, not the economic marketplace. It used to be a very small number of businesses that required a license. Now just about everything you can possibly do requires a license. It is like a disease that spreads throughout the country, where entrenched economic interests are keeping out entrepreneurs. Right now, we need entrepreneurs. We don't need to be shutting them down."
Here are some other professions besieged by increased scrutiny and government regulations:
Hypnotists
Perhaps still imagining a mustached Svengali whose swinging watch makes grown men cluck like chickens, officials in some states are placing more scrutiny on hypnotists.
In Florida, state legislators debated a bill that would impose new restrictions on hypnotists, a move advocates said would effectively put 3,000 practitioners out of work.
Hypnotists in Florida already must be licensed medical professionals -- including doctors, dentists or chiropractors -- and attend a 50-hour hypnosis training program. The bill would have restricted the practice even further, allowing only psychologists to qualify.
The legislation was spiked because of that unintended consequence, says its sponsor, Republican state Rep. Jose Felix Diaz.
"I proposed
it to help deregulate what I felt was an overcomplicated and excessive regulation, which currently criminalizes the practice of hypnosis without a medical degree, or under the supervision of same," he wrote. "In these rough economic times, I know how important it is to preserve Florida's work force. My intent was never to threaten anyone's career or profession."
Among those closely watching the situation in Florida was Michael Ellner, a New York City-based medical and dental hypnotist and a hypnotism-law watchdog.
Diaz' yanked legislation was good news, Ellner says, as was Indiana officials late last year reversing many of their most onerous hypnosis restrictions.
"There is a small group of psychologists and psychiatrists who seem to put a lot of time and energy going around to local state legislatures and lobbying for restrictions to hypnosis," Ellner says. "More often than not they are shot down because there are no complaints. They are also setting up an additional bureaucracy that is very expensive and that usually prevents any of these things from getting off the ground."
"We have a secret weapon," he adds. "Many of the organizations have formed unions, joining the AFL-CIO. In these situations, when the AFL-CIO shows up and says, 'We have an interest in this,' people pay attention."
Food trucks
The popularity of food trucks has been on the rise, tailgated by laws restricting them.
A federal lawsuit filed in January involves mobile food vendors in
El Paso
, where officials recently made it illegal for them to operate within 1,000 feet of any restaurant, convenience store or grocer. The city also prohibits vendors from parking to await customers, which forces the vendors to drive around until a customer flags them down -- then move on as soon as the transaction is complete.
"That was passed for purely protectionist reasons," Gall says. "Like similar restrictions in cities all over the country, with the upsurge in popularity of food vendors and food trucks I think you are going to see a lot more attempts to regulate them out of existence or make it very hard for them to compete, because they are perceived as a threat to bricks-and-mortar businesses. People are literally hungry for the new options that they provide, and restaurant owners just don't want the competition."
"They don't even try to hide the protectionist intent. There's no health or safety purpose that is served by saying that a food truck can't be within 1,000 feet of another restaurant. Does a food truck suddenly become dangerous if it's within 1,000 feet of a restaurant, but not when its in front of an office supply store? It is only meant to crowd vendors out of the scene," Gall says.
Cities and states from Portland, Ore., to New York and New Jersey are ticketing and towing, and even Los Angeles' ubiquitous taco trucks are being squeezed more frequently. Several groups, including Save our Food Trucks and the Asociacion de Loncheros, have sprouted as a mouthpiece for the rolling restaurants there, using such slogans as, "Carne asada is not a crime!"
Prostitutes
The world's oldest profession is under attack in Nevada.
Contrary to what many believe, prostitution -- though abundant -- is not legal in Las Vegas. But outside its county line, a variety of legal brothels dot the desert landscape.
Cat houses are in the doghouse, however, for Democratic U.S. Sen. Harry Reid, who wants to shutter the state's approximately 25 brothels.
At a recent, in-district meeting, a cross section of Nevada -- including doctors, madams and county officials -- countered that legal, regulated prostitution provides much-needed taxes, employment and health screenings (all "employees" are required to undergo regular blood tests).
Florists
One might think floral arrangements hold little for the government to get worked up about. Louisiana officials beg to differ.
That state requires florists to pass a written exam to ply their trade. Until recently, earning the right to work as a florist in that state also required passing a four-hour, hands-on review in which four arrangements had to be created and judged competent by a panel of state-licensed florists.
A statement by the Institute for Justice described a partial victory against the practice in July as: "licensing scheme pruned back after florists file civil rights lawsuit." The group praised a bill signed into law by Republican Gov. Bobby Jindal, saying, "Louisiana florists will no longer find themselves fenced out of the industry by an arbitrary, subjective and antiquated licensing exam in which their own future competitors decide whether they are 'good enough' to sell floral arrangements."
That legislation abolishes the demonstration portion of the floral licensing exam while leaving in place a short written component -- which once asked would-be florists to identify the state's commissioner of agriculture by name and 79 other questions.
Day laborers
If you've ever made an early morning trip to
Home Depot
(HD) - Get Home Depot, Inc. Report
or
Lowe's
(LOW) - Get Lowe's Companies, Inc. Report
, you've probably spotted the day laborer scene in action.
Each day, men and women looking for manual labor wait outside stores to be chosen for a day's work in construction or food service.
In Georgia, a bill is being debated that would strike at these employment seekers. Republican state Sen. Jeff Mullis is among those championing laws that would make it illegal to solicit for day labor in public places, allowing police to take action against any driver who picks up workers.
According to Mullis, the annual fiscal burden on Georgia taxpayers from illegal immigration is more than $1.6 billion.
The
National Day Laborer Organizing Network
is opposing that proposal, as well as similar legislative prohibitions in Arizona.
"The law creates new criminal offenses, ostensibly relating to traffic safety, that apply only to individuals engaging in or receiving employment solicitation speech," it said in a statement. "These provisions cause irreparable harm to day laborers and those who seek to employ them by curtailing their First Amendment rights."
Last summer, a federal appeals court ruled that authorities in Redondo Beach, Calif., were able to act against money and work solicitations by approaching motorists, overturned a lower court's objection on First Amendment rights.
-- Written by Joe Mont in Boston.
>To contact the writer of this article, click here:
Joe Mont
.
>To follow the writer on Twitter, go to
.
>To submit a news tip, send an email to:
.
RELATED STORIES:
>>10 Paths Congress Can Take to Job Creation
>>Your Neighbors Are Killing Job Growth
Get more stock ideas and investing advice on our sister site,