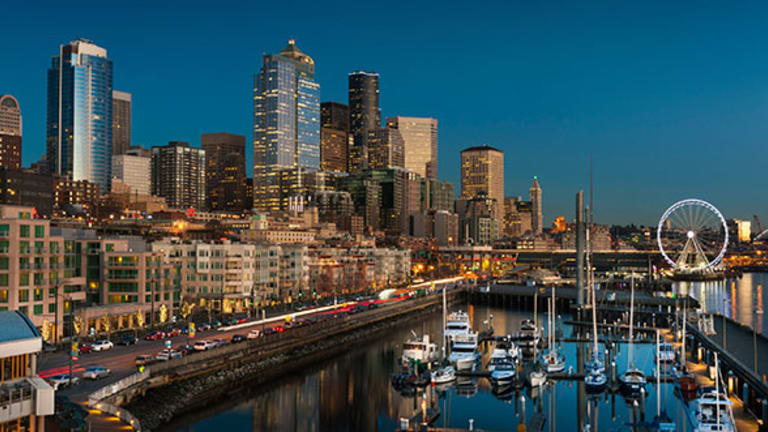 NEW YORK (MainStreet) — You knew you were priced out of rentals in San Francisco - the nation's most expensive apartment market - and also Manhattan, prime Brooklyn and Los Angeles. Those all are places where $3,000 a month is not unexpected for a one bedroom. But here is the worse news: evidence mounts that you also may soon be priced out of rentals in prime neighborhoods of what have been second-tier cities. Pacing the list are Seattle and Dallas - but lots of towns from Atlanta to Chicago are facing a perfect storm of nothing to buy, no new middle-income apartment construction and a flood of Millennials who want to rent in cities. That means pressures on rental markets are flat-out intense.
Don't expect matters to get better soon. "This is a generational shift in where people want to live," said Jerry Hoffman, president of Hoffman Strategy Group, a mixed use real estate consulting firm. A few decades ago this demographic maybe wanted a single family home in the suburbs. No more, said Hoffman. "They are moving from homogenous suburbs - where their parents bought - and into diverse urban cores," he said. 
John Deely, principal managing broker at Coldwell Banker Bain in Seattle, added that in some cases Millennials just do not want to buy, in other cases they have had trouble getting mortgages because of too much student debt. Either way, said Deely, rents for a one-bedroom in core Seattle now are around $2,000 monthly, "double what it was just a few years ago."
Of course, in Seattle, for instance, Deely said it usually takes two years to get permits for a new multi-family building. Add in construction and time-to-market, and that's three years away before the project begins to bring in income - a timeframe that makes some lenders skittish, said Deely.

Even in cities where there is significant new construction, don't necessarily expect rent relief. Steve Joung, co-founder of Pangea Properties, which focuses on providing housing for the working class, said call Chicago real estate "a tale of two cities."
"There are a lot of cranes going up, and yet rents are at all time highs," he said. "The buildings that are going up are highly amenitized, with yoga studios, for instance. They are high end apartments."
He added: "There is not a ton of money investing in underinvested communities." That's a polite way to say nothing much is happening to alleviate the shortage of middle income housing.
"Instead of building condos developers are building high end apartment building for rentals," added Andrew McLeod, chief strategic officer with RentMoolah, a service that lets renters pay electronically, not with checks.
It comes down to brass knuckles economics. "The money [for new high end construction] influx is caused by developers and investors chasing yield," said Patrick Sprouse with Urban Igloo, an apartment rental website. Yield right now looks to be in pricey rentals. It definitely is not believed to be in middle-income housing.
Headlines touting cheap housing also may now be working against the nation's midsection. Nela Richardson, chief economist at real estate website Redfin, elaborated that particularly gloomy news for Dallas, Atlanta, and the rest of inland America is that although people in search of cheaper housing may have been flocking there, reality has caught up with them. "As more people come it increases rent," said Richardson.
Every arriving UHaul pushes rents up.

Said Michael Park, president of Renters Warehouse Dallas: "It's estimated that over the past few years, nearly half a million people have moved to Texas, and of that group, roughly 128,000 settled in the DFW market."
Those folks have to be housed, and many have good jobs. As a result, the demand for more costly housing increases.
Word of advice for frugal renters from Richardson: "This trend is not affecting every part of every city. It happens in some neighborhoods, but not in others a few miles away."
Sprouse said similar but with a different twist: "Some renters will certainly get priced out of in-demand neighborhoods and pushed to longer commutes or lower tier/quality properties."
The good news in that: find a neighborhood before it is discovered and the reward will be lower rents. Maybe you cannot afford South Boston - but what about Dorchester? Park Slope, Brooklyn may have priced you out, but what about Jersey City? In just about every city, said multiple experts, there are neighborhoods with great rents waiting to be discovered. So discover them.
This article is commentary by an independent contributor. At the time of publication, the author held TK positions in the stocks mentioned.