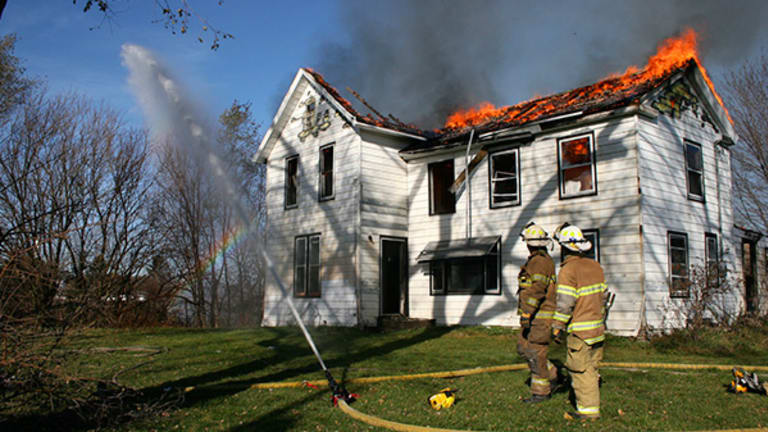 Preventing Fire and Other Home Hazards as Winter Kicks Into Gear
Consumers are ramping up their usage of their fireplaces and heaters so taking precautions will prevent fires and other hazards such as carbon dioxide poisoning from occurring.
As consumers head into the thick of the winter season and ramp up their usage of their fireplaces and other heating appliances, taking some precautions will prevent fires and other serious hazards such as carbon dioxide poisoning from occurring.
With the Farmer's Almanac predicting an onslaught of below average winter temperatures on the horizon and a storm set to slam the East Coast this weekend, consumers should prep their homes and be more aware of any risks ranging from their fireplaces to leaving candles lit. Home fires tend to peak in December and January, according to data from Travelers, the Hartford, Conn.-based insurance company.
Lighting a fire can be a cost effective way to heat up a home, but if you have not had the chimney inspected since last year, have it checked and cleaned out, said J.B. Sassano, president of Mr. Handyman, an Ann Arbor, Mich.-based commercial and residential repair company.
What Not To Burn
Avoid burning freshly cut wood, which is also called green wood since it can consist of 100% moisture. Instead, stick to burned seasoned wood that has 20% moisture. Artificial logs are also not a good choice to burn inside your home either, because they wind up producing a large amount of creosote, the soot residue that can be carcinogenic. Other items such as wrapping paper, pizza boxes and Styrofoam should never be burned indoors.
"Save artificial logs for summer campfires, and use crumpled up newspaper and kindling for starting fires in the fireplace," he said.
Both the fireplace and furnace need to be cleaned each year, especially if the burner in the furnace was caked in rust and scale. If it starts to burn improperly and catches the furnace on fire, the fire can spread to any belongings that are stored too close to the furnace, said Reggie Marston, a home inspector in Springfield, Va. who examines hundreds of homes each year.
"Many issues can exist for years, but the stars haven't aligned perfectly to start a fire," he said. "The house can catch on fire from the fireplace flue that had a buildup of creosote from not being cleaned. It catches on fire and the fire jumps out of the flue and catches the attic on fire."
Burning candles safely can be accomplished by making sure they are within your sight at all times and out of reach from pets and children, said Carol Freysinger, executive vice president of the National Candle Association, the Washington, D.C.–based trade organization.
"The most home candle fires are reported during the winter season due to unsafe holiday decorating and the increased threat of temporary electrical power outages," she said. "The yearly incidences of home fires caused by candles have dropped over 50% in the last ten years."
Instead of burning candles, which can easily ignite items such as fabrics, plastic or paper products, opt for using battery-operated candles to "avoid the hazards of an open flame," said Scott Humphrey, a vice president in risk control at Travelers, the Hartford, Conn.-based insurance company.

Cooking Hazards
Removing highly combustible food wrappers, taking off oven mitts and cleaning up grease while you cook can decrease your odds of a kitchen fire igniting. Skip wearing loose clothing which can hang down and catch fire from your stove top too easily, Humphrey said.
"If grease spills or splatters, don't leave it," Humphrey said. "Built up grease can catch fire in the oven or on the cooktop. Never throw hot grease in the garbage can. Instead, let grease cool and dispose of it in an old metal can."
Look For Those Cords
Not addressing minor issues can lead up to disastrous situations where a fire can occur within a matter of seconds or even minutes, said Marston. One of the largest causes of problems can be attributed to electrical issues such as overloaded circuits, damaged wiring or improper installation of fixtures.
"A major concern comes from amateur workmanship, where the homeowner did their own electric work and did it improperly, but did not realize that it could be a fire or an electrocution hazard," he said. "Homeowners appear to be either oblivious to the seriousness of the issues in their homes or have chosen to live with the issues."
Not maintaining heating systems whether it is gas, oil or electric systems once a year means they can turn into a fire or carbon monoxide hazard.
Other consumers either have outdated or non-working smoke and carbon monoxide detectors, Marston said.
"I inspect many homes where the smoke detectors are non-existent, the occupants never installed a detector or since they've never maintained them, the detectors don't work," he said. "I find out of date detectors in numerous homes since the life expectancy of a smoke detector is 10 years and carbon monoxide detectors are five. I was in a home recently and the only carbon monoxide detector was manufactured in 1999."
Homeowners can protect themselves from a fire occurring by maintaining and cleaning their heating systems regularly, said Marston.
"An electrician or competent home inspector should inspect the electric system every three to five years, including inside the main fuse or breaker electric panel," he said. "All appliances that produce any type of heat whether it is gas, oil or electric should be inspected and serviced at the start of every heating season. Fires in homes don't just happen - there is always a reason and the reason is usually the occupant is not paying attention and regularly inspecting and maintaining the home."