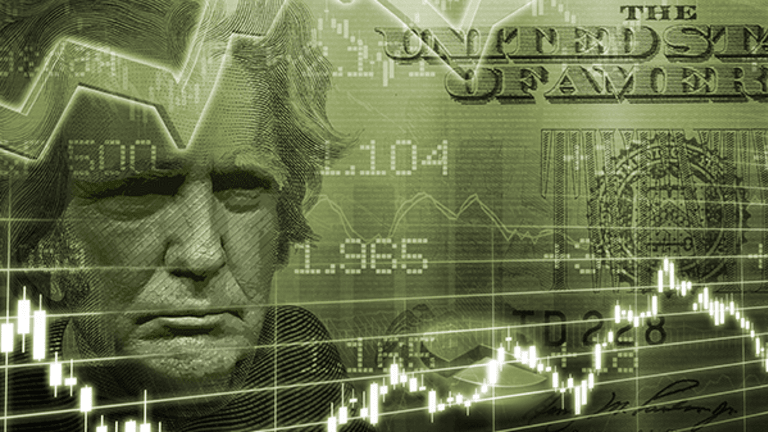 President Trump Grades Out Well in the Eyes of Financial Advisors
For the Trump White House, it's "so far, so good" on the economy - at least in the eyes of these American money management specialists.
President Trump has been in the office for a little over a month, and love him or hate him, financial industry specialists seem fairly bullish on his performance from an economic point of view.
That's the takeaway from a single question posted to a handful of highly-respected U.S. financial advisors - "how would you grade President Trump's economic performance one month into his term?"
All the advisors contacted by TheStreet stated, in unison, that it's very early in the Trump presidency, and that events can change on a dime when it comes to key consumer financial issues like jobs, the stock market, gross domestic product, the housing market, and consumer spending.
But the reaction from virtually all the money managers in touch with TheStreet.com was positive, with a healthy share of As graded out. Here are those grades, and why wealth managers are, for now at least, putting. Trump at the head of the class:
Peter Brooks, Esq., Business Affairs Executive and Legal Counsel, New York City - "With chagrin, so far I feel compelled to award President Trump an A. However reckless his style may be, by nature as a promoter, he has continued his campaign into the presidency arousing the fickle animal spirits of which Keynesian economists are so fond. Long term, though, history may not view his magical stirring of the markets' animal spirits as economically favorable as the investing public does now."
Ty Young, CEO at Ty J. Young Inc. Wealth Management, in Atlanta - "With the markets at all-time highs almost every other day, I'm giving President Trump an A+. In addition to the markets, housing prices continue upward, unemployment rates are declining, and consumer sentiment is the highest in years. Combine all that with his leveraging of major corporations to keep jobs in the country, it's a record-setting performance. That said, speed bumps await. The trading markets are expecting significant tax and regulatory reform. Will the Congress not only pass Trump's proposals, but will they also have the spine to combat the negative media narrative? That could impact Trump's future grade."
Ilene Davis, a certified financial planner bases in Cocoa, Fla. - "Considering he has only just been in for a month, and has worked well, in spite of news media, judiciary and Congress, to keep his campaign promises, I'd give him an A+.
Larry Solomon, OptiFour Integrated Wealth Management, in McLean, Va. - "The grade I would give President Trump so far is an O for orange. Orange is generally good and it might be the new black, but it also can mean 'caution' or 'slow down ahead.' Solomon points out the following market points - all in favor of Trump:
Solomon points out the following market points - all in favor of Trump:
Since the November, 2016 Trump election through February 17, 2017, stocks have soared, with the S&P 500 up more than 11.04%, while U.S. small cap stocks represented by the Russell 2000 have gone up 17.88%.
International stocks and emerging market stocks have gone up 7.00% and 5.88% respectively.
Meanwhile, investment grade debt, represented by the Barclays U.S. aggregate has declined 1.83% and muni bonds have fared even worse as interest rates spiked.
Plus, the 10-year treasury went from 1.86% on 11/8 to 2.43% as of February 21.
"We think that over the long haul, policies to reduce corporate and individual tax rates are good news; they will stimulate investment and capital expenditure for both people and companies," he said. "Ditto for U.S. infrastructure spending, which is sorely needed and could be an additional stimulus for economic growth. Interest rates have needed to normalize for a long time, and now that they finally have gone up, it will be an incentive for individual savings and a plus for banks, insurers and brokerage firms. This is all to the good. The caveat is that we worry that stocks will go up and interest rates re-inflate too quickly, but we are cautiously optimistic, and that is why we assign Trump a cautious O for orange, grade so far."
Howard Marella, president of Icon Alternatives, a futures trading firm in Chicago - "Although you wouldn't be able to grade anyone after just one month of school and you definitely can't give anyone a fair grade before they begin, there are factual places to pre-grade this president. If we're looking at the markets, the economy and business confidence, then the idea, intent and expectations of the Trump influence would score on the upper percentile of any scale. To grade Trump, though, one must do so by solely by sticking to the facts and not the emotional drama we have seen over the last few months."
Here's how Marella grades Trump on a category-by-category basis:
Markets 90% + - "This is graded on all-time highs in all three of the major indices (S&P Dow and Russell), and increased volume and surprisingly stable trade across many sectors. Plus, the push for more U.S. oil is keeping OPEC from manipulating the prices to skyrocketing levels."
Economy 90% + "The Empire State Manufacturing survey is the strongest in years and the Philly Fed Index -- another manufacturing number -- has hit levels they haven't seen since January 1984. And that's not to mention many other stronger than expected economic numbers."
Business 85% + - "Many of the business numbers come in with lagging indicators. That said, this grade could only be associated with partial information. What we do know is that non-farm payrolls and small business hiring have increased. Confidence numbers and small business stocks have gained a lot of lost momentum."
Housing: (Incomplete) - "The U.S. housing market will be affected indirectly by what happens above and will be graded best in the years to come. However, a general change in confidence will give many Americans the boost they need to take the risks associated with buying a home. An increased economy should create higher interest rates, which will open lending from banks that have been reluctant to lend. This, in turn, will come full circle and increase activity on the entire economy."
David Reiss, Professor of Law, Brooklyn Law School, Brooklyn, N.Y. - "I give President Trump a first term grade of C- for the housing market. He has indicated that he wants to roll back Dodd-Frank and the Consumer Financial Protection Bureau that it created. That will have a negative impact on homeowners who are protected by Dodd-Frank's Qualified Mortgage and Ability-to-Repay rules. Trump started the process of rolling back Dodd-Frank with a vague executive order directing Treasury to review financial regulations. If Trump decides to completely gut the homeowner protections contained in Dodd-Frank, his grade will plummet further as predatory lending rears its head once again in the housing market."
With media mavens, political activists, and even Main Street Americans squaring off over one of the most controversial Presidents in history, the outlook from financial specialists -- with the exception of Reiss -- on the economy is a bullish one, even if it's only a month or so into the Trump administration.
And for the Trump White House, there's likely much satisfaction in acing this early test on the economy, with many more to come.