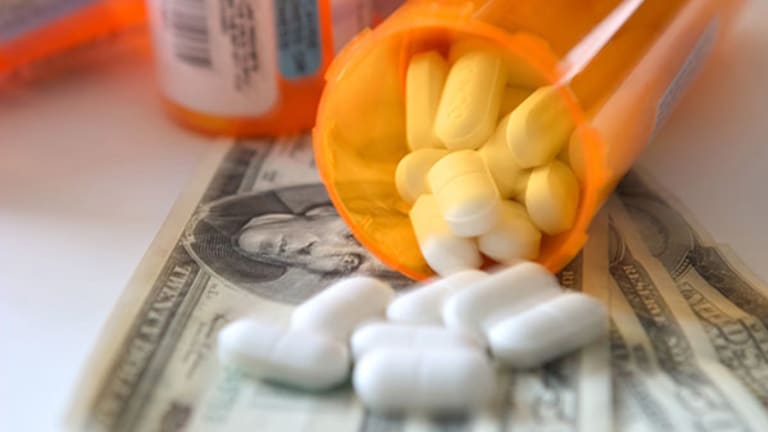 Prescription Drug Costs Rising Again Even Among Generic Medications
Prescription drug prices are expected to spike again, especially among some generic medications, following last year's swift increase.
Prescription drug prices are expected to spike again, especially among some generic medications, following last year's swift increase.
Prescription drug prices are expected to spike again, especially among some generic medications, following last year's swift increase.
Even among generic medications, prices have risen several hundred percentage points, increasing the burden for consumers who are already saddled with higher healthcare costs and other debt. The rapid increase has been a surprise even to some pharmacists, prompting the Senate Subcommittee on Primary Health and Aging to look into the issue last November. Hillary Clinton has even made the fight for cheaper drugs a significant campaign issue. While the price to produce drugs could have some effect, the fact that the number of competitors has lessened due to mergers and acquisitions could be a larger contributor.
"Competition is the most important factor in driving prices down," said Peter Pitts, president of the Center for Medicine in the Public Interest,a  New York-based healthcare non-profit organization. "The rise in the price in generics is an unfortunate play by insurance companies and pharmaceutical companies to increase profits at the expense of consumers. The continued contraction of the generic industry is not good for consumers, especially when it comes to certain drugs."
The rise in the cost of generic drugs is alarming, because they entail 80% of all prescriptions, according to the U.S. Food and Drug Administration.
A May report by the AARP Public Policy Institute, a Washington, D.C.-based non-profit consumer advocacy organization, found that while 73% of generic medications declined in price in 2013, 27% of them rose. The costs skyrocketed among some commonly used drugs such as doxycycline hyclate, an antibiotic, which rose steeply from $20 for 500 100-milligram capsules in October 2013 to an astounding $1,849 in April 2014. A cholesterol medication, Pravastatin sodium, climbed sharply from $27 to $196 for a one-year supply of 10-milligram tablets.
Options for Cheaper Drugs...


A recent survey conducted by the Kaiser Family Foundation, a Menlo Park, Calif.-based non-profit organization focusing on national health issues, found that 54% of Americans are taking a prescription drug currently with 24% who said paying for these medications is difficult. The survey also found that 72% of people said the cost of prescription drugs is unreasonable.
After jumping 11% during 2014, prescription drug prices have been climbing again over the past year, especially branded drugs which rose by 15.7% and specialty drugs which increased 9.43%, said Stephany Verstraete, general manager at Truveris, a New York-based drug pricing and benefits analytics company.
"We expect this trend to continue for consumers who rely on prescription medications," she said.
Shopping around is essential, because prices can vary widely among pharmacies even in the same zip code, said Michael Rea, CEO of Rx Savings Solutions, an Overland Park, Kan. healthcare software company used by companies to help their employees find lower cost alternatives to the drugs and cheaper pharmacies. Depending on where you go, a month's supply of a generic medication used to lower cholesterol can vary from $17 to $150, he said.
Don't hesitate to check with your pharmacist, doctor or an online tool which can compare prices before you head out the door.
"In every facet of life, Americans are savvy shoppers with the exception being healthcare," Rea said. "If you're simply looking up a price for a medication in your zip code, check out www.medfisher.com."
Another strategy is to get a second opinion and see if there are other existing therapies which can treat your condition, he said. Companies are overspending money on prescriptions by 22%.
"In 2014, prescription drug prices saw the largest price increase across all of the segments of healthcare," Rea said. "This year is expected to lead the way with the increased use of specialty medications as well as the price spikes seen on many common generic medications that have been around for decades."
Another smart tactic to employ: bypass the national pharmacy chains and shop at independent community pharmacies to find cheaper alternatives, because those locations are "often able to negotiate lower prices and are price competitive," said Kevin Schweers, spokesman of the National Community Pharmacists Association, the Alexandria, Va.-based organization which represents independent pharmacies.
Local pharmacists can recommend generic or alternative medications or inform patients of manufacturer coupons and discounts, he added.
Check your health insurance plan to determine what type of coverage it provides for certain medications or if it is even covered, said Anthony Lopez, senior manager small business at eHealth.com, an online health insurance exchange based in Mountain View, Calif.
"If the drug is not covered or only covered at a high price, ask if there are alternative drugs available that might cost you less out of pocket," he said. "Some mental health drugs like Abilify can run $900 a month, so it's worth asking if less costly options are available."

Choosing a plan with a lower deductible can sometimes help consumers save money, because the coverage for prescription drugs might be more comprehensive, requiring them to shell out less money for out of pocket expenses.
"The first time when people buy coverage on their own, they tend to look only at the monthly premium and overlook copayments and deductibles," Lopez said. "If you use prescription drugs, copayments and deductibles should matter a lot to you."
Supplemental forms of coverage such as critical illness insurance can be helpful if you have a family history of cancer or other serious medical diagnoses. The payout from a critical illness plan can cover your deductible and other personal costs during an illness or treatment, he said.
Certain medication types are also worth keeping an eye on to avoid eye-opening price tags. 
"Cancer drugs are notorious for being costly and can put you on the line for your full deductible in no time," Lopez said.
The outlook for drug prices is not promising because dips in prices are not likely to occur in the near term, said Verstraete.
"Consumers will find they need to do the leg work themselves to contain the cost of expensive drugs in the current environment," she said.