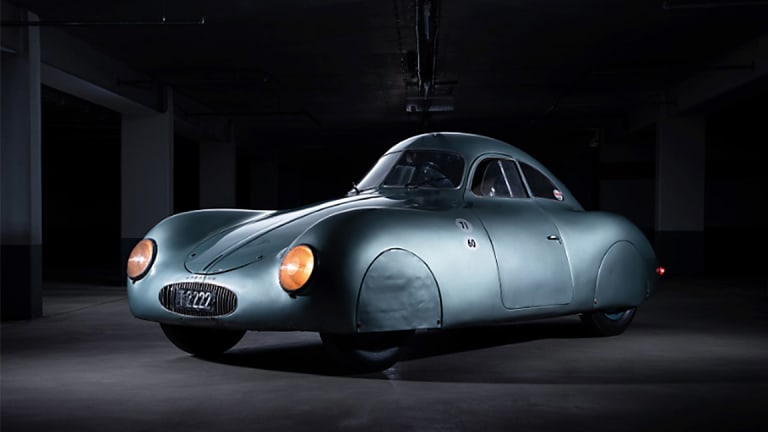 Classic 1939 Porsche Type 64 - 'The Ancestor of All Porsches' - Goes to Auction
It might be a little worse for wear, but it comes with spare parts. Take a look at these pictures of the 90-year-old race car that birthed today's Porsches -- and which could fetch millions at auction this month.
If your grandfather had not survived World War II, would you be here today? Today's Porsche 911 might ask itself that question. The German auto company built the Porsche Type 64 in 1939; it was intended to compete in a race that never happened when war broke out across Europe.
The Type 64 is considered the antecedent of Porsche's historical evolution, according to RM Sotheby's, which is auctioning the first and only remainder of the original three examples this month.
The company, founded in 1931 by Ferdinand Porsche, first designed the Volkswagen Beetle. The Porsche Type 64 actually used many components from the humble Beetle -- in 1938, Ferdinand Porsche proposed a sports car version of the "people's car" to run in the 1939 Berlin Rome race to promote Germany's new autobahns.
War broke out and the race was canceled. Porsche, an important engineer in his country, drove the car until after the war.
Fast forward to 2019, when the Type 64, the only surviving example and the personal car of Ferdinand Porsche and and his son Ferry, and the direct ancestor of the Porsche 356, is being auctioned Aug. 17 at this year's Pebble Beach Concours d'Elegance near Monterey, Calif. 
The oldest car to wear the Porsche badge, the Type 64 was raced in Austria from 1949 to 1953 and has a 70-year documented chain of three private owners since the Porsche family, including successful private racing driver Otto Mathé, who owned it for 46 years until his death in 1995.
"Without the Type 64, there would be no Porsche 356, no 550, no 911," said Marcus Görig, a car specialist at RM Sotheby's, in a press release. "This is Porsche's origin story, the car that birthed the company's legend."
"The Type 64 helped define what a sports car is today," said Gord Duff, global head of auctions for RM Sotheby's, "and it carries many of traits we've seen throughout seven decades of Porsche production."
Sotheby's hasn't published an auction estimate, but some reports say this Porsche, essentially in its original condition, is expected to go for as much as $20 million. That would top a 1970 Porsche 917k sold by Gooding & Co. at Pebble Beach in August 2017 for $14.08 million, among the most expensive cars ever sold at auction.
All key components of the Type 64 are original as built in 1939/1940, according to the auction house, making it historically significant and desirable to collectors, but likely not for the faint of heart.
Feast your eyes on what RM Sotheby's calls "the ancestor of all Porsches."