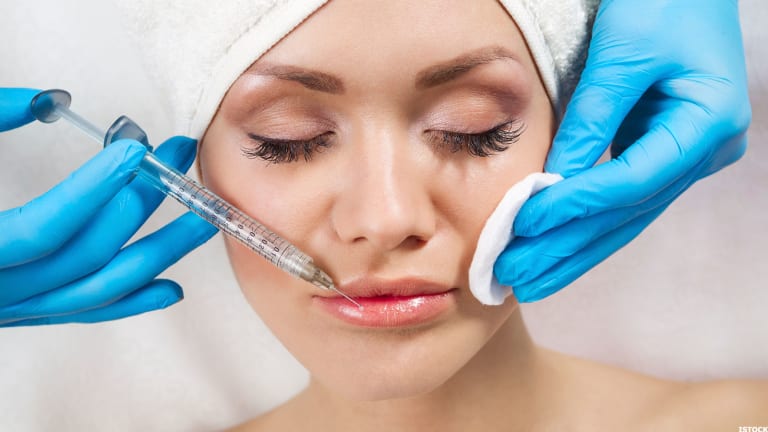 Plastic Surgery is Now More Important Than Children and Home Purchases
A new study shows women are delaying major life events such as marriage, college and kids, in favor of cosmetic surgery
NEW YORK (MainStreet) — In the competition among women to stay slim, beautiful and youthful, (and we all know there is such a competition), things appear to have taken a new turn.
A recent survey conducted by the website RealSelf shows that women are now putting off major life events and milestones - such as getting married, buying a house or even child rearing - in favor of undergoing plastic surgery.
The website, which had 51 million unique visitors last year and is devoted to gathering and sharing information about elective procedures, polled 700 people on the topic. The site asked individuals who had contacted a doctor about cosmetic surgery if they put off any major activity, in favor of going under the knife.
The answers are more than a little surprising.
About 44% of survey participants said they delayed at least one big purchase or life event, in order to have money for altering their appearance. One-third of respondents said they delayed a vacation. Home improvements were second on the list of activities sidelined in favor of seeking physical perfection. Further down the list, at 14% and 6% respectively, were delayed child bearing and postponed marriages.
"It's something that's becoming more available and socially accessible," Tom Seery, CEO of RealSelf, says of the trend. "We're seeing in our data that people come from all over the country, all demographics, and all slices of household income."
In other words, cosmetic surgery is fully out of the closet. There is no shame in it anymore. Quite the contrary, it is now very middle America, and no longer just the provenance of billionaires' wives or the Beverly Hills demographic. By some accounts, it's becoming so commonplace, that those not undergoing anti-aging or self-maintenance procedures are the ones being viewed askance.
A recent report from the American Society of Plastic Surgeons supports such notions.

The 2014 Plastic Surgery Statistics Report says that a staggering 15.6 million cosmetic procedures were performed in 2014. Americans spent $12.9 billion on those procedures, among the most popular of which is breast augmentation.
But beyond it simply being more widely accessible, why exactly has it become so commonplace and such a top priority?
"The real drivers are a very strong cultural factor and personal factor - improvement, our culture is somewhat obsessed with self," says Seery. "There is this expectation, for better or for worse, that has been shifted onto all of us."
In order to meet those expectations, people are tapping lines of credit, withdrawing 401(k) funds and delaying other significant purchases or life events, says Seery.
In addition, says Seery, the RealSelf survey responses are an indication of people simply planning carefully for major purchases in their life. Before taking on the lifelong expense of a child, for instance, they're getting other big-ticket goals or dreams out of the way, such as self-improvement.
"It's about being thoughtful, and making sure the timing is right and that you have the appropriate resources," he says.
Last October, Texas resident Chipo Marowah started saving for a home purchase. A professional nurse, she managed to set aside nearly $12,000 toward her goal.
But at the same time Marowah's savings account was growing, so were her body issues.
"My body image kept bothering me," says the 35-year-old mother of three. "I'm always doing things for the kids. So I wanted to do something for me."
Marowah, who is from a very traditional African family, says there was little support for her decision. None of her family members were in favor of a cosmetic procedure. But she underwent breast augmentation anyway, enlisting a friend to drive her to and from the procedure and paying for it with $10,000 she had set aside for a home.
"I'm so happy with it, I wouldn't trade it, or take it back," Marowah says now of her surgery, adding that the procedure has made her more confident and happier about proceeding with other goals in her life, such as a new home.
"And once I did it, I realized a lot of other people had done it as well," she adds. "They all started showing me. It seems like at least 60 percent of my company had breast augmentations, but they don't talk about it."
Still have we reached new heights in delaying marriages, children and home purchases? And is there any negative impact when our pursuit of physical improvement is prioritized over other experiences?

Not necessarily, says Austin plastic surgeon and RealSelf contributor Dr. Jennifer Walden. The pursuit of happiness takes all forms and sometimes a cosmetic procedure provides a much-needed emotional boost, she says.
"I think it's whatever gets you there - to a state of feeling happy with your life, and comfortable with the skin you're in," explains Walden. "If that's adding to your family and having more children, so be it. I come from a liberal, feminist standpoint. There are a lot of very normal women who seek cosmetic surgery just because they want to look as good as they used to. I don't think it's bad or vain. I think it can do the trick for some people just like a two-week vacation in Bora Bora can for some people. If done well, these are definitive results and can last 15 or 20 years."
Walden says the increasing number of people engaging in cosmetic improvements may also be fueled by the fact that many procedures no longer require surgery, and involve very little down time.
Indeed, of the 15.6 million procedures performed last year, only 1.7 million were surgical procedures. The lion's share, around 13.9 million, were minimally invasive cosmetic procedures. The top minimally invasive procedures are Botox and other soft tissue fillers. Meanwhile, the majority of those undergoing cosmetic procedures, 49%, are 40 to 59 years old.
No matter how you parse the numbers, the increasing acceptance of cosmetic surgery in America has been great for business, says Walden.
"Austin is interesting," says Walden. "Texas is a very conservative state, but Austin is this liberal, booming city, and I'm up to my ears in patients who want plastic surgery."
Meanwhile, Marowah, the Texas nurse who recently underwent breast augmentation, has a bit of advice for others who may be contemplating a procedure: do what makes you feel good about yourself.
Among her circle of friends and acquaintances, Marowah says she knows of one person who is putting off continuing education in favor of undergoing plastic surgery first and another who is delaying a car purchase.
"Don't listen to what anyone thinks," says Marowah. "At the end of the day, when you're looking into that mirror, it's your self image... Whenever you are happier about your body image, you are happier to do other things."