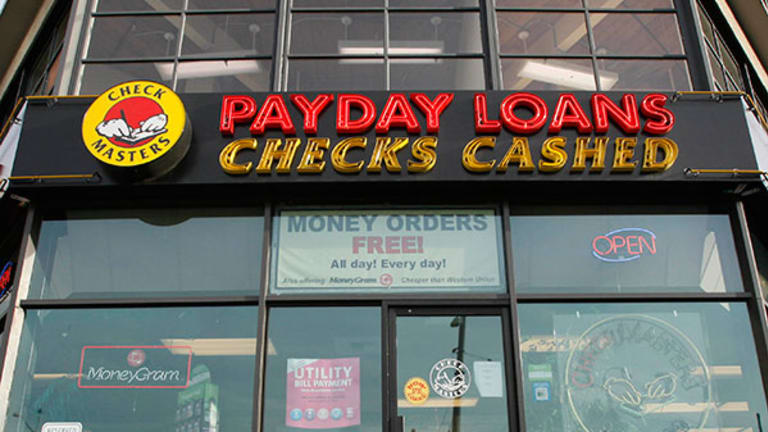 Payday Loans Alternatives: How to Avoid a a Vicious Debt Cycle
Payday loans are often predatory, we all know that, but do those sneaky practices apply to all bad credit lenders?
NEW YORK (MainStreet) — With flashing neon signs promising "same day cash," billboard ads toting "everyone's approved" and seemingly endless "no credit check" pop-up ads, it seems like payday loans are unavoidable. And for many, they are.
According to The Pew Charitable Trusts, 12 million Americans use payday loans every year through 20,000 storefronts, hundreds of websites and a growing number of banks that now offer payday-style loans to customers.
And the cost is huge. "Fast cash always comes with a price," says Cary Carbonaro, CFP board advisor and author of the The Money Queen's Guide (Morgan James, 2015). For payday lenders that means high interest, and since the loan term is generally set for two weeks, the interest shoots into hyper drive, accumulating at a terrifying pace.
"Finance charges are from 15 to 30% of the amount being borrowed," says Jeff Motske, CFP, president of Trilogy Financial Services and author of The Couple's Guide to Financial Compatibility (Da Capo Lifelong Books, 2015). "Since it's 15 to 30% on just a few weeks, it is comparable to getting a loan with an annual percentage rate close to 800%." 
To put it another way, Pew found borrowers paid an average of $520 in interest on a small $375 payday loan.
The Cycle Begins
Due to the quick turnaround and high interest rates, many customers won't be able to repay the full balance by their next payday. The lenders have a solution for that: extensions.
By paying more fees, customers can extend their loan through another pay period. But any money paid at the time of the extension will be put toward interest, not the principal, meaning the total owed will continue to grow.
It creates what Motske calls a "vicious cycle." After studying more than 12 million storefront payday loans over a 12 month period, the Consumer Financial Protection Bureau found only 15% of borrowers could afford to repay the loan on the first try. On the last sequence of their loan cycle, 80% of borrowers who took an extension owed the same or more as they did originally. It really is hard to kill a payday loan.

Fool Me Once
In all fairness, payday loan borrowers aren't going in blind. Federal laws require that all lenders—even shady ones who use pop-up ads and spam emails—explain what a customer is getting into in writing, up front.
According to Carbonaro, payday loans fall under the Federal Truth in Lending Act, a law that requires all lenders to clearly define terms and disclose interest rates and fees up front. Consumers are also protected by state laws. "The Cash Advance industry is highly regulated by state officials across the country," she says. "State laws typically limit the principal amount on an advance, set maximum fees, limit a customer's ability to renew an advance and require various disclosures."
You could argue (and many experts do) that payday borrowers should know better than to fall into the debt traps created by high interest payday loans. But do better options exist for consumers with bad credit or limited income?
Searching For an Alternative
When faced with a financial challenge, some consumers are locked out of banks, unable to qualify due to past credit problems or limited income. In the past, left without other more desirable options—like borrowing funds from friends or family—consumers turned to payday loans. Now, many are turning to a new kind of quick cash lender.
Often web-based, these lenders offer fast processing and turnaround times, and many are willing to work with borrowers who have bad credit or other extenuating circumstances. For example, Lending Club—a web-based company that issues loans through WebBank--offers personal loans up to $35,000, and claims to fund "in a few days." Another company, Springleaf Financial, offers a variety of personal loans with customer testimonials claiming approvals come within a matter of hours.
The loan amounts and variety of payment schedules feel closer to personal loans through a traditional bank, but some tactics of this new breed of lenders feel awfully familiar. After all, promising "online approvals" and "fast cash" is typical of payday loan companies, but does that mean the new guys are just as predatory?
After analyzing the options available through our example lenders, Carbonaro doesn't think so, at least not entirely.
"From what I can tell they are a little better and a little less predatory," she says, "Both are options for people with bad credit."

Do Your Due Diligence
That isn't to say those examples should be taken as a recommendation. Anyone considering a loan, even an alternative to a payday loan, should do the research. Many lenders won't utter the word "payday," but that doesn't mean the company is legit.
After all, if it walks like a duck, and quacks like a duck, it is probably a duck (or in this case, a high interest lender). Look for tell-tale signs like promises of instant application approvals, overnight funding and no-paperwork-needed loans. Trust us, legit lenders will at least want to verify your employment.
If the lender passes the first test, dig into the company's background.
"Ask yourself: 'How long has the company been in business?'" says Motske. "If they have only been in business for a few years, it could be a red flag. Have consumers lodged complaints online and with the Better Business Bureau? Does [the lender] follow Community Financial Services Association of America Best Practices?" 
If the company still seems on the up and up, make sure you read the full disclosures, no matter how much you resent the tiny font face and endless legal terms. Some lenders will sneak some truly terrible terms into those disclosures, and you should know what you're getting up front.
And if you do sign up, make sure you do so with a way to repay the loan. The lender might be a cut above a payday storefront, but any loan comes with a debt cycle risk.